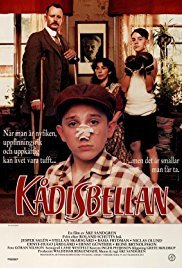 | | None | Light | Moderate | Heavy |
| --- | --- | --- | --- | --- |
| Language | | | | |
| Violence | | | | |
| Sex | | | | |
| Nudity | | | | |
What You Need To Know:
The subtitled film, THE SLINGSHOT, details the misadventures, both humorous and brutally painful, of a ten-year-old boy in inter-war Stockholm, Sweden. Plagued by foul language, this otherwise well-made film avoids childhood sentimentalism in illustrating the resilience of the human spirit.
Content:
(H, LLL, VV, S, N, Ab, M) Humanism; 35 obscenities & profanities; main character repeatedly bullied by brother & teachers, & implied murder; voyeurism, sexual discussion among adolescents & implied prostitution; naturalistic male nudity--injections, spanking and bathing; many characters (including Christian) portrayed as anti-Semetic; and, discussion & humor related to condoms, injustice consistently victorious & rebellion against (unjust) authority.
More Detail:
The film, THE SLINGSHOT details the misadventures, both humorous and painful, of ten-year-old Roland Schutt in inter-war Stockholm. The result is amazement at how a child could survive such an upbringing. Roland is the son of a socialist shopkeeper and a Russian Jewess, and he is confused. He is told by his sadistic teacher that he cannot be both a Jew and a socialist. As if things weren't bad enough at school, Roland has a sadistic older brother who practices his boxing on his smaller sibling. Finally, there are Roland's peers, who enjoy making him the brunt of their cruel pranks, and Roland's parents who seem to have good intentions, but are inept in their roles as providers and nurturers.
The premise of the film seems to be that, given the worst possible environment, the resilience of the human spirit can still triumph. The film's lasting impression is one of dismay at the brutality of the childhood experience. While the film does not espouse a particular ideological point of view, it is nevertheless purely humanistic and materialistic. In spite of foul language and some other mild objectionable material, this is an extremely well-made film. THE SLINGSHOT concludes with Roland reassuring himself of his adaptability and an underwater sequence perhaps meant to imply baptism into a new phase of life.