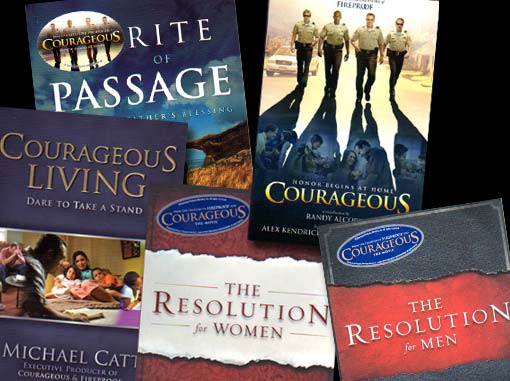 The movie COURAGEOUS has drama, action and comedy enough for the price of several tickets, but it's much more than an entertaining movie. People making a typical movie hope that you'll feel you got enough entertainment value that you'll encourage friends to spend their money on the movie and that you'll choose to buy the DVD when it comes out.
The people who made COURAGEOUS hope the movie will trigger a life-changing commitment. Just as "The Love Dare" was an integral part of the movie FIREPROOF "The Resolution" is an integral part of COURAGEOUS. The Resolution is a list of commitments that, if lived out, would make you a courageous and exemplary Christian father. In the movie a small group of fathers joins in formally resolving to live up to The Resolution.
The makers of COURAGEOUS want the movie to do well in theaters and on DVD sales, but the measure of success they're really looking for is in fathers who will step up and become exemplary Christian leaders of their families. That's a lot to expect of a movie. It's not a lot to expect of God. The filmmakers are hoping God will use the movie to change hearts.
A very large part of the world's current economic crisis is the result of the irresponsibility of fathers. Much of the cost of welfare, police, courts and prisons can be attributed to the failure of fathers to do what God expects of them. COURAGEOUS reminds the world what God expects of fathers and lovingly says, "You have a choice. You can be a godly father and reap what you sow or you can be an ungodly father and reap what you sow." The world is reaping the fruits of a lot of ungodly sowing. The world can reap the fruit of godly sowing if fathers will be "courageous."
The movie is associated with several books and a frame-able resolution a father can choose to sign. THE RESOLUTION FOR MEN is a book clarifying and explaining the value of each section of "The Resolution." It recognizes that men are often the way they are because of the way they were brought up but it calls for an end to excuses. It challenges men to look squarely at what God expects of them and to pursue it wholeheartedly. The introduction begins, "This book is an unapologetic call for men to live courageously for their faith and their families. It is designed to strategically challenge you to become the man God created you to be."
THE RESOLUTION FOR WOMEN, written by Pricilla Shirer, includes three parts: "This is who I am," "This is what I have" and "This is what matters to me." This book opens with an admission that resolutions are easy to make and hard to keep, however, whoever accepts Jesus Christ as Lord has made a resolution. This book simply breaks that resolution down into parts that explain what the Lord Jesus would have women commit to do as wives and mothers. Too often people accept Jesus Christ as Lord but have a very weak concept of what that means. This book provides women with a clearer understanding. The great news is that rather than being hard, following Jesus actually results in blessing. Living a blessed life is preferable to the alternative. It leads to a successful marriage and healthier, happier children.
COURAGEOUS LIVING is a book by Michael Catt, the pastor of Sherwood Baptist Church. It is a call to show courage in a culture that expects Christians to keep their mouth's shut and accept moral decline. Pastor Catt has shown the courage to be supportive of the Kendrick brothers in their desire to reach the world with movies from Albany, Georgia — not exactly Los Angeles. It takes courage to stand up to a culture bent on destroying marriages, turning girls into sex objects and boys into wimps. America needs more men of courage like Pastor Catt. His book explains how to be courageous and should inspire you to do so.
RITE OF PASSAGE: A FATHER'S BLESSING is a book by Sherwood Baptist's executive pastor Jim McBride. Jim is the fourth member of the Sherwood Pictures leadership team. He is the financial manager. He played "bad" guys in FLYWHEEL and FACING THE GIANTS. He's actually a wonderful guy. His book deals with fathers taking a very intentional approach to raising a child to be a successful adult and actually having a ceremony where a child is given a father's blessing as a young adult. Too often children behave like children far beyond the age when they should be responsible adults. This book deals with training children to be responsible.
Finally, Randy Alcorn has written the novel COURAGEOUS based on the screenplay by Alex and Steven Kendrick.
You can expect that when the movie becomes available on DVD it will be used, along with these other materials, to call both men and women to be courageous. These will make great tools for Sunday school classes and small church groups.
MOVIEGUIDE® congratulates Sherwood Pictures on the work they've done both on the movie COURAGEOUS and on the associated materials aimed to strengthen fathers, mothers and families.