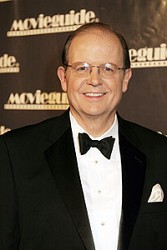 Every weekday many radio networks and stations broadcast the two-minute MOVIEGUIDE® movie review radio program and many others broadcast the biweekly five-minute radio program, both hosted by Dr. Ted Baehr.
Every week many television networks broadcast the weekly 2 minute MOVIEGUIDE® TV programs.
Dr. Baehr will be speaking at the following locations.
11/11-13/10 Kansas City, MO
11/24-28/10 Suwon, South Korea
02/03-06/11 Palm Beach, FL
02/17-19/2011 Movieguide Annual Faith & Values Awards Gala & Report to the Entertainment Industry,
Los Angeles
02/26-03/01/11 Nashville, TN
03/24-28/11 Dallas/Fort Worth, TX
05/19-21/11 Mclean, VA
07/30/11 Washington DC
09/29-10/1/2011 San Francisco, CA