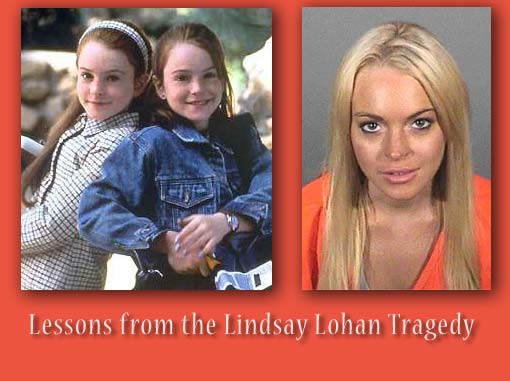 By David Outten
At the age of 21, on August 23, 2007, Lindsay Lohan released a statement that said: "It is clear to me that my life has become completely unmanageable because I am addicted to alcohol and drugs." There's a profound lesson to be learned from Lindsay's tragic experience.
Hollywood does a poor job of protecting child actresses from the moral values prevalent in Hollywood. Little girls in Hollywood tend to move from making family-friendly movies into more and more adult fare because many in the entertainment industry consider family fare to be pandering to immature audiences and vulgar adult fare to be true art. Seldom will you ever see an actress nominated for an Academy Award for a family-friendly movie.
Young actresses learn that to be "taken seriously" as an actress they must shed their goody two shoes image. Sadly, they're encouraged to take off more than just their shoes.
Lindsay's tragedy has been in the news several times recently. The former child actress, who starred in the family friendly movie THE PARENT TRAP when she was 12, recently signed to play Linda Lovelace, known for her role in the controversial porn movie DEEP THROAT. Lindsay was later released from the role because she was deemed uninsurable because of her drug and alcohol use. The Academy Award program director Bret Ratner, who resigned after using a homosexual slur, appeared on Howard Stern's program announcing that he had sex with Lohan when she was 19 or 20 and that he had her checked for diseases before doing so.
Below is the motion picture career path of Lindsay Lohan. Clearly she travels from PG and G family-friendly movies into PG-13 and R rated movies, shedding fans and box office along the way. Her career will not be rescued by starring in nastier and nastier movies and her current reputation would exclude her from starring in movies that are written to attract family audiences. Hollywood has thrown her in the trash and word is that Hugh Heffner's organization will be the next to use her and throw her away.
Age 12

THE PARENT TRAP
(1998 – PG – **** + 1)
Walt Disney Pictures
$66,308,518

Age 14

LIFE SIZE
(2000)
Walt Disney Pictures
television

Age 16

GET A CLUE
(2002)
Walt Disney Pictures
television

Age 17

FREAKY FRIDAY
(2003 – PG – *** -1)
Walt Disney Pictures
$110,222,438

Age 18

CONFESSIONS OF A TEENAGE DRAMA QUEEN
(2004 – PG – ** -1)
Walt Disney Pictures
$29,331,068
MEAN GIRLS
(2004 – PG-13 – *** -3)
Paramount Pictures
$86,047,227

Age 19

HERBIE FULLY LOADED
(2004 – PG-13 – *** -3)
Walt Disney Pictures
$66,010,682

Age 20

JUST MY LUCK
(2006 – PG-13 – ** -3)
20th Century Fox
$17,326,650
A PRAIRIE HOME COMPANION
(2006 – PG-13 – **** -3)
Picturehouse
$25,978,442
THE HOLIDAY (cameo)
(2006 – PG-13 – **** -2)
Sony Pictures
$63,280,000
BOBBY
(2006 – R – *** -3)
MGM
$11,242,801

Age 21

GEORGIA RULE
(2007 – R – ** -3)
Universal
$18,882,880
I KNOW WHO KILLED ME
(2007 – R – ** -4)
Sony Pictures
$9,669,758
CHAPTER 27
(2007 – R – Not Reviewed)
Vitagraph Films
$56,215

Age 23

LABOR PAINS
(2009 – PG-13 – Not Reviewed)
First Look Studios
$0

Age 24

MACHETE
(2010 – R – ** -4)
20th Century Fox
$26,593,646
---
Wouldn't it be nice if little girls making family movies could do so in a community that held traditional (biblical) values and encouraged the girls to maintain those values into adulthood?
Wouldn't it be great if little girls grew up hoping to win a Grace Award for most inspiring performance in a movie or television program rather than an Academy Award?
It's not too late for Lindsay Lohan. She's only 25. Her tragedy can be turned into a testimony. God loves Lindsay Lohan and the many girls around the world whose lives have been ruined by adopting Hollywood values.
While Lindsay Lohan's struggles make the news, countless girls around the world fall into the same trap without media attention. Girls who loved THE PARENT TRAP when they were 12 have problems with drugs, alcohol, and illicit sexual behavior today. God loves every one of them. God has something better for every one of them. Jesus Christ paid the price for our sin on the cross and He wants to set us free from bondage to sin. The steps to recovery are (1) recognize that you're a sinner (you have done what God has declared wrong) (2) Ask and receive God's forgiveness paid for by Jesus Christ and (3) repent. Redirect the very base motivation of your being from serving your own desires to hearing from and obeying God. God will give you a new heart, directed by his Holy Spirit.
If you hunger and thirst after righteousness, you will no longer fall victim to the things that have made Lindsay Lohan's life such a mess.
The path ahead for those who adopt, and keep, values God has warned against is tragic. It would be sad to see Lindsay continue to spiral downward until she meets an early death due to a drug overdose, a drunk driving accident, or liver disease. It's sad that every day there are young people dying from behavior God calls out for them to stop. Precious lives are being wasted. Parents are left grieving. Families are shredded because the values fed to Lindsay Lohan are being fed to children around the world.
If you wish to help stop the cycle of tragedy being promoted by Hollywood, one thing you can do is to support the Movieguide® Faith & Values Awards Gala. The February 10, 2012 Awards event will be the 20th year of encouraging good in Hollywood. Tremendous progress is being made, but there is a long way to go. With your assistance, we can help some young actress to avoid the path taken by Lindsay Lohan. There are people in Hollywood who want to encourage children to adopt and maintain biblical values. It's our delight, at Movieguide®, to encourage them, honor them, and work with them to change Hollywood.
Imagine the day when even the Academy Awards seeks to reward those who encourage little girls to avoid drugs and alcohol and to save sex for marriage. Movies can be a powerful tool in encouraging good behavior. More such movies are being made but much remains to be done if fewer and fewer girls are to follow in Lindsay Lohan's footsteps.