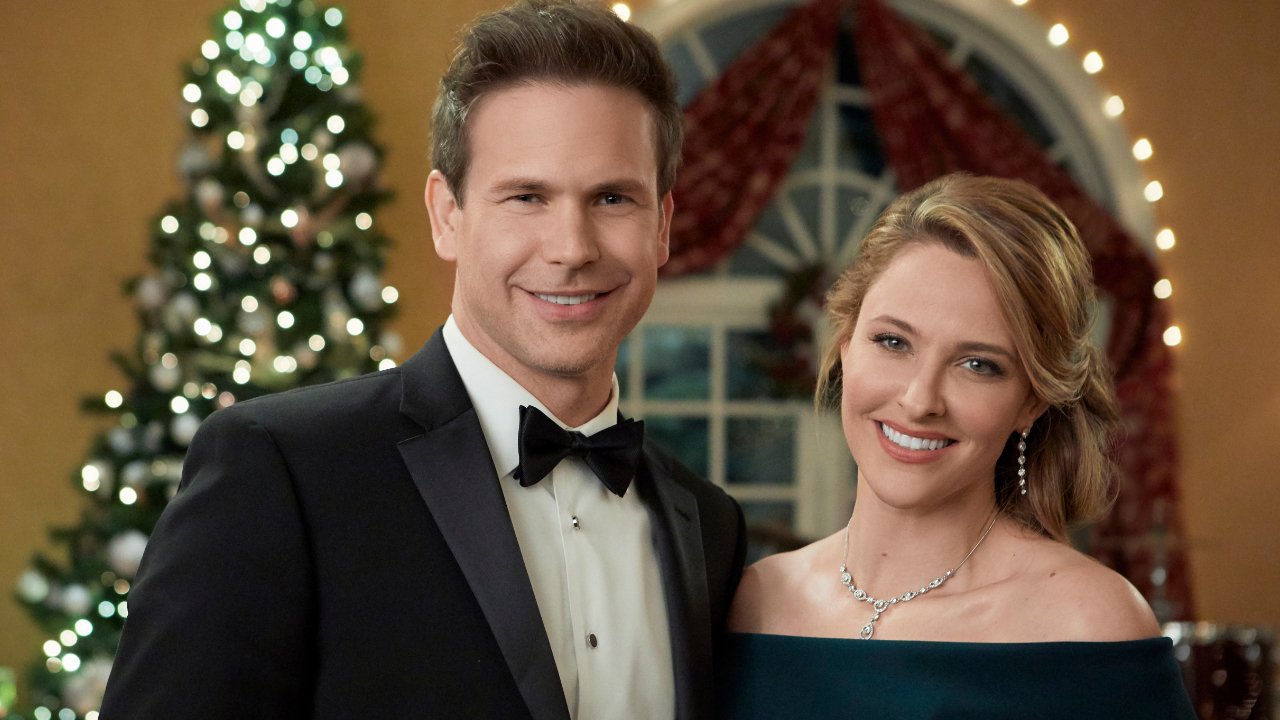 Why CHRISTMAS WISHES & MISTLETOE KISSES Promotes a Solid Work Ethic and Family Values
Editor's Note: In honor of The 28th Annual Movieguide® Gala and Report to the Entertainment Industry, we're highlighting nominees for the upcoming ceremony. The Gala will be broadcast at a later date on the Hallmark Channel.
Below is a portion of the review from WHEN CALLS THE HEART: Home for Christmas, which is nominated for an EPIPHANY PRIZE® FOR INSPIRING TELEVISION PROGRAM.
For the full review, click here
CHRISTMAS WISHES & MISTLETOE KISSES is one of the best Hallmark Christmas movies. The plot may seem slightly familiar, but the execution is superb, with wonderful acting, poignant dialogue and unexpected plot twists.
Abbey is working in a dead-end job putting up Christmas decorations when Caroline asks her to apply for a job redecorating the beautiful mansion, called Windsor Hills. Caroline has an ulterior motive. Her son, Nick, heads the family foundation that owns the mansion, and she wants Nick and Abbey to get together. However, another friend of Abbey's, Ham, wants her to get together with Doctor Mike from the pediatric hospital that the foundation is supporting.
Abbey is wary of applying for the job, because she's committed to spending all her spare time with her son, Max. Her father, Phil, urges her to apply. When she does apply, Nick tells his mother he's too busy to see her and sticks her with his executive assistant, Kate, an attractive brunette, who has her own designs on Nick. When Nick sees Abbey, however, he breaks into the interview, but it's clear Kate doesn't like Abbey. Abbey tells Nick and Kate they're incredibly rude and starts to walk off, but Nick finds her and offers her the job.
On Abbey's first day, it's clear this is an overwhelming job. She has to re-decorate the mansion and prepare for a big fundraising party at Christmas in the mansion in very little time. Kate does everything she can to frustrate Abbey. When Abbey is about to give up, Nick finds out and decides to take some time and help her.
After work, Abbey rushes back to see her son's preparation for the Christmas pageant, and her father tells her she has to get her life back together, in other words go on a date.
Abbey decides to go on a date with Doctor Mike. Nick finds out and invites Kate on a date and heads to the same restaurant, where he sits Kate and himself at Mike and Abbey's table. Just when it looks like they're starting to have a romantic interest in each other, Kate reads Nick the riot act that he's jeopardized a big deal because he's taken his eye off his job.
When it looks like all is lost, only a Christmas miracle will save the day.
CHRISTMAS WISHES & MISTLETOE KISSES is constantly emotive, poignant, emotive, heartrending, and interesting. The good news is woven throughout. Many Christmas carols are sung. Mick starts off being a Grinch and has to rediscover the joy of Christmas. Abbey has to rediscover her faith, and Kate must learn how to do the right thing. The plot has a great unexpected twist. Although the storyline is similar to other Christmas TV movies, the execution of CHRISTMAS WISHES & MISTLETOE KISSES is much better.