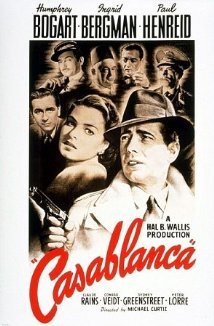 | | None | Light | Moderate | Heavy |
| --- | --- | --- | --- | --- |
| Language | | | | |
| Violence | | | | |
| Sex | | | | |
| Nudity | | | | |
What You Need To Know:
The re-release of the movie CASABLANCA, whose theatrical opening coincided with the Allied armies reaching Casablanca in North Africa, combines screen action, romance and intrigue, all in unforgettable dialogue and mystique. The movie, despite its inauspicious beginning, with its seamless editing and overall unity, is one of the all-time favorite film classics.
Content:
(C, B, S, V, A/D) CASABLANCA proclaims with love such lofty values as self-sacrifice (Rick's urging Ilsa to remain with her husband) and discretion. Furthermore, there are no obscenities or profanities, but there are an implied possible immoral relationship (nothing shown), two shootings by military police, and considerable drinking on screen.
More Detail:
Beginning 50 years ago as a low-budget movie, all-time favorite CASABLANCA returns to the silver screen as a "perfect film," seamlessly combining action, comedy, romance, and unforgettable dialogue. Of course, the plot has something to do with some "letters of transit" that are swiped from two German couriers and wind up in the hands of nightclub owner Rick Blaine, a cynical ex-resistance fighter. Rick has a heart–a broken one, which becomes apparent when the beautiful Ilsa Lund Laszlo and her husband, underground hero Victor Laszlo, show up in Casablanca. She and Rick were lovers until she learned Laszlo had not been killed, as she believed. She then disappeared without warning. In the end, Rick brings Victor and Ilsa to the airport and gives them the letters of transit they need, telling Ilsa her place is at her husband's side.
The triumph of CASABLANCA is best summed up by director Koch: "The values that CASABLANCA represents–that some things are worth sacrificing everything for–go beyond entertainment." No doubt the ambiguity of CASABLANCA explains some of its success (those were the days of Motion Picture Code). How refreshing to review a movie that contains lofty values such as self-sacrifice and discretion.