"Monsters from the Id"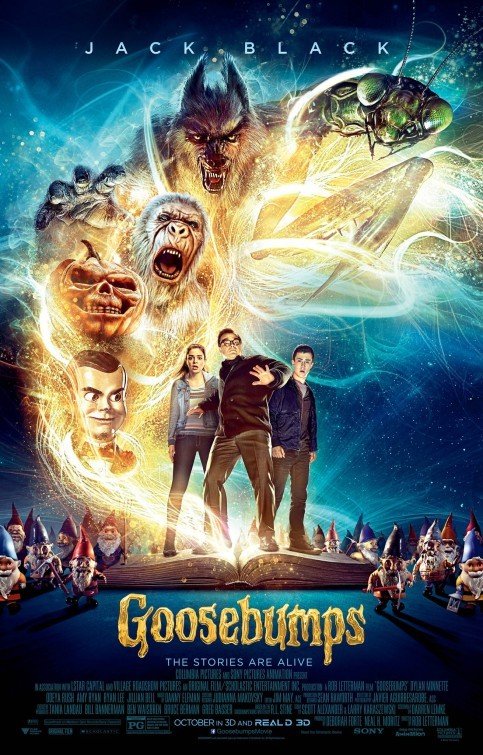 | | None | Light | Moderate | Heavy |
| --- | --- | --- | --- | --- |
| Language | | | | |
| Violence | | | | |
| Sex | | | | |
| Nudity | | | | |
What You Need To Know:
GOOSEBUMPS is a comedy about a teenager accidentally letting loose all the monsters from author R.L. Stine's popular series of children's horror books. Zach Cooper has just moved to the small town of Madison, Delaware with his widowed mother. He happens to live next to R.L. Stine and his teenage daughter, Hannah. Zach accidentally lets loose two of Stine's monsters, including Slappy the Dummy, Stine's alter ego. Slappy unleashes all the other monsters to punish Stine and destroy the town. So, Stine has to write another story to return the monsters to the world of his imagination. GOOSEBUMPS is a wild ride with humor and scares. It's intended not to be too scary, however. It also has a lot of powerful metaphors about revenge, love, creation, and evil to give it some gravitas and a strong moral worldview. That said, the movie is sometimes a little over the top and unreal. One of the scariest sequences involves the werewolf, who chases the heroes around a grocery story. GOOSEBUMBPS also has some mostly light foul language. So, caution is advised for older children.
Content:
(BBB, C, O, LL, VV, M) Very strong moral worldview with some redemptive elements including family and parents extolled and honored, love extolled, anger and revenge rebuked, people thank God after being rescued or surviving harrowing experiences, with some magical elements that are able to make monsters come alive or banish them, but the elements are also metaphorical and symbolize good and evil and reveal the consequences of negative feelings and bad behavior; two or three obscenities and nine or 10 light exclamatory profanities such as OMG and one "Good God!"; some scary violence and action violence includes werewolf bares its scary-looking canines and lunges at people, monsters chase people, little garden gnomes come alive and attack people with knives and other sharp objects, but no one is cut, and people smash gnomes into pieces, giant insect smashes buildings, aliens use guns to freeze people, zombie-type ghouls come out of graves and menace people, magical books release or suck up monsters in whirlwinds, villains set books on fire; no sex but two teenage couples kiss, and dance floor is crowded with dancing teenagers, plus principal warns teenagers before dance about not dancing in a lewd manner; no nudity but high school cheerleaders show their legs in uniforms; no alcohol; no smoking or drugs; and, revenge and anger but rebuked and father seems a bit over-protective of his daughter and appears mean but he's not really.
More Detail:
GOOSEBUMPS is a horror comedy about a teenager accidentally letting loose all the monsters from author R.L. Stine's popular series of children's horror books. It stars Jack Black as a fictional version of Stine, who's depicted as an angry recluse who grew up mad at the world and created the monsters for revenge but now regrets his decision. The movie opens with Zach Cooper and his mother, Gail, moving to the small town of Madison, Delaware from New York City, so she can be vice principal of Zach's high school. Zach is still grieving over his father's death, but he's trying to put on a happy face for his concerned mother. While moving into their new home, Zach has an encounter with their grumpy neighbor, who tells Zach to stay on his side of the fence. However, Zach also notices the man's teenage daughter, Hannah.
One evening, Zach sees Hannah and her father having a terrible argument. Zach gets concerned and calls the police, but when the goofy sheriff and his tense, rookie female deputy show up, everything appears to be fine. Zach isn't satisfied, however. So, he lures Hannah's father out on a wild goose chase and sneaks into their house late at night through the cellar door while his new nerdy friend, Champ, stands guard. Zach becomes even more concerned when he finds the basement floor is covered with bear traps. Scared to be alone, Champ comes with him. Upstairs, Zach and Champ discover a bunch of locked books by GOOSEBUMPS author R.L. Stine on the bookcase, and a key lying on a desk nearby. They unlock one of the books and out pops a real Abominable Snowman. Hannah comes rushing into the room, and Hannah, Zach and Champ manage to scare the Snowman away.
Hannah tells Zach they have to use the book to recapture the Snowman, or else he'll destroy the town. What they don't realize is that, in the fight with the Snowman, one of the books fell on the floor and popped open. They find the Snowman in the local hockey rink, where Hannah's father appears at a crucial moment to send the monster back into the book. Zach is surprised to learn that Hannah's father is the real R.L. Stine. Stine tells Zach that, when he was a boy, he had lots of allergies and was bullied by the other children. So, he grew up mad at the world and created the GOOSEBUMPS books out of revenge. However, his anger and his mysterious, magical typewriter somehow made the monsters real, so now he and Hannah have to make sure the monsters remain locked up between the covers of his original manuscripts.
When they all return to Stine's house, they discover that Slappy the Dummy, one of Stine's most clever and most scary incarnations, has escaped and taken all the books and the key that unlocks them. Slappy tells Stine and the teenagers he intends to unleash all the monsters and lead them in a plan to control the world. To ensure his plans for world domination, Slappy will burn the books to make sure the monsters can always roam free. Stine and the teenagers try to stop Slappy, but he evades their clutches and escapes in a "haunted" car released from one of Stine's books. The only way to stop Slappy is for Stine to write a new story to trap the monsters using his typewriter, which Stine donated to display at the high school. So, the question becomes, Can they get to the typewriter in time and distract Slappy long enough for Stine to write the new story? GOOSEBUMPS the movie is a wild, fun ride.
It has some scary moments, of course, which include an extensive encounter with a scary looking werewolf on the loose in a grocery store. However, there are also a lot of funny, clever, exciting moments. The whole concept in the movie of the monsters being created by the anger and hurt that R.L. Stine felt as a lonely child is brilliant. It evokes memories of the "monsters from the id" in the classic science fiction movie FORBIDDEN PLANET, where an invisible monster is unleashed by a man's mind, fueled by a technology so far advanced that it's almost like magic. Of course, Slappy the Dummy is Stine's alter ego, his shadow, and this fact is helped by the decision to have Jack Black do the character voice for Slappy as well as Stine.
These are all potent metaphors that give GOOSEBUMPS more gravitas than your average horror comedy. GOOSEBUMPS is also just as much an exciting adventure story as it is a horror comedy about monsters on the loose in a small town. As a horror comedy, however, it evokes the power of both classical comic structure and classical horror movie structure. Thus, the unleashed monsters in GOOSEBUMPS have disrupted the natural order of society, including the lives of the characters and the town where they live, to create comical chaos. The chaos is also scary and terrifying, however, so, eventually, as in many horror movies, the heroes must find a way to banish the monsters by either killing them or by sending them back to where they came.
There's a theological parable to all this too. For example, in the story, it is Stine's anger and desire for revenge – in effect his sin – that make the monsters real in the first place. However, it's his love for his daughter and desire for good that also give him the power to create a new story that can banish the evil monsters once again. All that said, GOOSEBUMPS is not a perfect movie. It's a bit over the top, including part of Jack Black's performance as R.L. Stine and Slappy. Even so, that's part of the fun of this kind of movie. Despite all its brilliant subtext and powerful metaphors, GOOSEBUMPS isn't meant to be a serious, boring drama for art house aficionados, but a movie designed to entertain a mass audience. It pretty much succeeds in doing that.
GOOSEBUMPS has some incidental foul language. The language includes some light exclamatory profanities, but there are also several exclamations saying, "Thank God!" when the heroes are saved from a monster. Furthermore, while GOOSEBUMPS does have its fair share of scary moments, it's not on the same level as a monster movie like JAWS. The monsters are intended not to be too scary or too horrifying. The scariest moments are when the Abominable Snowman or the werewolf bare their teeth or lunge at people. Zombie graveyard ghouls from the cemetery are also a bit scary. Finally, a giant preying mantis terrorizes the town and the people. In addition to all this, Zach shares a kiss with Hannah at the end, as does Champ and a cheerleader whom he saves from the werewolf.
All in all, therefore, MOVIEGUIDE® advises caution for older children for GOOSEBUMPS. Unlike some of the GOOSEBUMPS books, the movie eschews a lot of occult content.