"Mixed Blessings"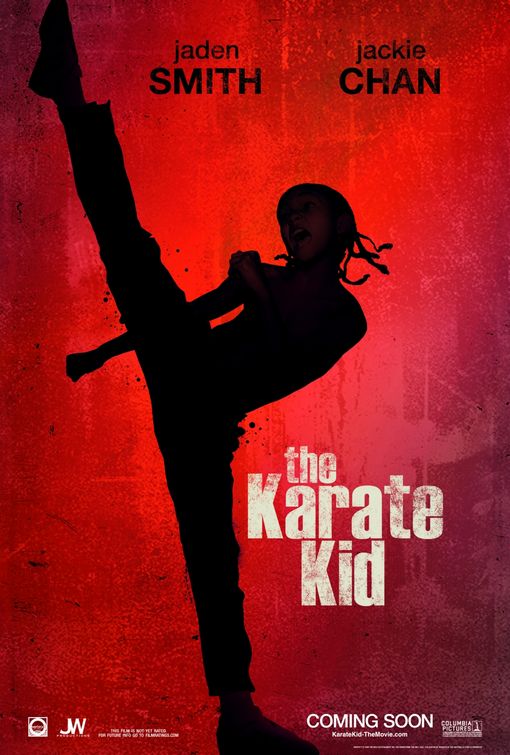 | | None | Light | Moderate | Heavy |
| --- | --- | --- | --- | --- |
| Language | | | | |
| Violence | | | | |
| Sex | | | | |
| Nudity | | | | |
What You Need To Know:
The new KARATE KID (2010) remake is a mixed blessing. In the story, a young American boy, Dre, and his mother move to China. Dre is bullied as he seeks to fit into his new surroundings. He decides to learn kung fu to defend himself against the ruffians. Under the teaching of Mr. Han, a wise, quiet maintenance man, Dre not only learns kung fu, but also a great deal about respect for others, self-control and perseverance. Dre forms a sweet bond with a young girl. Despite her parents' aversion to their friendship, Dre's character and respectfulness prove that kindness and love can break cultural barriers. Eventually, Dre learns to pick himself up again after life knocks him down, both literally and figuratively.
THE KARATE KID (2010) is very entertaining, if a bit long and predictable at times. It is light on foul language and features moderate violence in keeping with kung fu, but includes one display of drunkenness. The movie has some positive moral messages, namely that respect should be shown to everyone and that peace is desired over violence. However, caution is suggested due to some propagandistic references to Eastern spiritual mysticism.
Content:
(PaPa, B, C, FR, L, VV, N, AA, M) Strong mixed pagan worldview with some solid moral elements and light redemptive elements in story about a young American boy who learns kung fu in order to defend himself against bullies at his new school in China includes strong moral themes of respect, friendship despite cultural barriers, and self-control, a couple redemptive scenes of forgiveness and reconciliation, false Eastern mysticism emphasizing the importance of one's qi, or energy flow, as an inner force that "gives power from within" with images of the Yin Yang, a central emblem of ancient Chinese astrology and mysticism, main character is told to drink of a Yin Yang fountain called the "Dragon Well" so that "nothing can defeat [him]," a woman is able to "control" a snake by "being still," piquing the main character's curiosity about manipulation but he is rebuked and told he needs only to control himself; four obscenities using a** but boy is rebuked for using the term by an elder mentor and one light exclamatory profanity; moderate action violence includes realistic martial arts action (including during martial arts tournament), two particular scenes show main character being beaten up by a relentless bully, but no blood is shown; no sex; some upper male nudity during training; implied alcohol use in one scene with depicted drunkenness; no smoking or drugs; and, bullying and boy is upset at his mother for moving them to China, where he has trouble fitting in with other boys.
More Detail:
THE KARATE KID (2010) is a wonderful, entertaining and poignant family film that underscores the importance of respect, self-control, kindness toward others, and friendship, while depicting kung fu as a means of establishing peace, not for bullying or violence. It has some pagan Eastern mysticism, however, so caution is advised.
The story opens with a young boy, Dre Parker (Jaden Smith), and his mother (Taraji P. Henson) leaving Detroit to move permanently to Beijing. In China, not only does the 11-year-old fish out of water have a language barrier to contend with, but "SpongeBob SquarePants" is in Chinese and there's no hot water.
It hasn't even been a week at his new school, and Dre finds himself in a fight with the school's most accomplished kung fu student, Cheng (Zhenwei Wang). Cheng bothers Dre after Dre shares musical tastes with a pretty violinist, Meiying (Wenwen Han).
Lucky for Dre, the maintenance man responsible for restoring his apartment's hot water is more than a curmudgeonly custodian – he is a topnotch kung fu master. One day after school, Dre is on the run from Cheng and his not-so-merry men. Cornered with nowhere to run, Dre is beaten up once again. Just before Cheng can deliver the "death blow," he's stopped by Mr. Han (played by Jackie Chan) who proceeds to skillfully fend off Cheng's gang by amazingly turning them against each other with mind-blowing anticipation, stellar reflexes, and extraordinary focus.
After Dre and his reluctant teacher go to Cheng's teacher to make peace, they witness Cheng and his kung fu peers chanting, "No weakness! No pain! No mercy!" during the training. Mr. Han reluctantly makes a deal that Dre must enter an upcoming kung fu tournament to prevent himself and Mr. Han from facing the wrath of Cheng's cruel instructor, Master Li (Rongguang Yu), who is incensed to learn it's Mr. Han who is responsible for Cheng's black eye.
The training begins, but not the way Dre imagined it would. Day after day, rain or shine, Dre is given the mundane task of taking off his jacket, hanging it up, dropping it, putting it on, and repeating this sequence ad nauseam. Meanwhile, he and Meiying "pinky swear" that each will attend the other's tournament and audition, respectively.
When Dre refuses to endure the monotony of his single drill, his frustration precipitates a stunning sequence in which Mr. Han proves the drill's significance by forcing his young student to apply its kung fu elements. From that point, Dre's dedication intensifies as he and his teacher traverse China, learning the principles of kung fu and implementing them in grand locations, such as the Great Wall. It is during these outings that Taoist and other mystical Eastern spiritual philosophies are mentioned and alluded to as Mr. Han explains inward energy or qi ("chi") to Dre and introduces him to "magic kung fu water."
Quite unexpectedly, Mr. Han gives Dre a day off from his training. Dre coerces Meiying to give herself a day of fun as well, and the children show off their dance moves before Meiying learns her audition has been rescheduled for that afternoon. After her marvelous performance, Meiying's parents tell her she can no longer be friends with Dre. Upset by this news, Dre runs to Mr. Han, only to learn the reason for the training hiatus.
Rushing into Mr. Han's house, Dre finds his teacher drunk, bashing the car he's been repairing in his house. Viewers find out that this day is the anniversary of a car wreck in which his wife and son died. In one of the tenderest moments of the film, Dre pulls his despondent tutor from the car, and the two begin to train again in an exquisite mock fight sequence in which their silhouettes dance beautifully against a brick wall illuminated by the car's headlights.
It's back to training montages as Dre prepares himself to be a worthy opponent for the kung fu punks. The climactic tournament is chock full of action and suspense that will have viewers clapping and cheering right along with the characters. By the final round, both Dre and Mr. Han epitomize their mantra that "life will knock us down, but we can choose to get back up."
Though 140 minutes, THE KARATE KID's leisurely pace allows time to explore the beauty and culture of China, including Tiananmen Square and the Forbidden City. Both Jaden Smith and Jackie Chan give terrific performances, aptly blending humor and levity with sincerity and firmness. Almost everything works to give moviegoers a very entertaining, if a bit long and predictable, time at the cinema.
There is a solid moral undertone throughout the movie as respect, wisdom, kindness, self-control, and honor are affirmed by Mr. Han and exhibited by Dre. Regrettably, there is also a pagan worldview expressed whereby an individual garners power from within by mystical means. As expected in a martial arts movie, there is substantial action and fighting violence, but this is either tempered by the context of kung fu or appropriately punished and shown as immoral.
The movie's pagan elements require significant caution. Parents, teachers and Christian leaders must teach their children, students and disciples the differences between biblical truth and reality and other religions and philosophies, including Eastern mysticism. Eastern mysticism often teaches disciples they must become one with the universe around them. This often leads to the fatalism that stagnated the nations of the East for so many centuries. This is completely different from the good news that the Creator of the Universe has a wonderful, liberating, fulfilling, plan for each person's life in the communion and fellowship with God that Christians experience when they accept Jesus Christ as their Divine Savior.
Now more than ever we're bombarded by darkness in media, movies, and TV. Movieguide® has fought back for almost 40 years, working within Hollywood to propel uplifting and positive content. We're proud to say we've collaborated with some of the top industry players to influence and redeem entertainment for Jesus. Still, the most influential person in Hollywood is you. The viewer.
What you listen to, watch, and read has power. Movieguide® wants to give you the resources to empower the good and the beautiful. But we can't do it alone. We need your support.
You can make a difference with as little as $7. It takes only a moment. If you can, consider supporting our ministry with a monthly gift. Thank you.