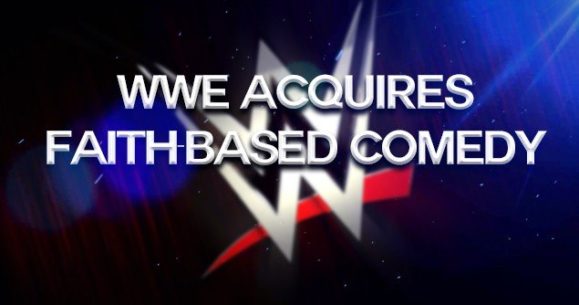 WWE Makes Redemptive Acquisition of Faith-Based Comedy
By Diane Howard, Contributing Writer
July 29, Variety reports  that WWE (World Wrestling Entertainment) Studios has acquired worldwide rights to the faith-based comedy THE RESURRECTION OF GAVIN STONE from Harvest Bible Chapel's Vertical Church Films. Variety reveals that Brett Dalton, star of ABC's "Agents of SHIELD," portrays the title character. The movie recently wrapped production. It also features Anjelah Johnson-Reyes, D.B. Sweeney, Neil Flynn, and retired WWE star Shawn Michaels.
Variety further shares that Vertical Church films founder Dallas Jenkins has directed "Resurrection" from a script by Andrea Nasfell. Dalton plays a former child star, who has become a washed-up and troubled actor. When Gavin Stone receives a 200-hour community service sentence, he pretends to be a Christian so he can play Jesus in a mega-church Easter production to fulfill his service hours. However, he then discovers the most important role in his life is not in Hollywood.
"It is a privilege to be working with the Harvest Bible Chapel and Vertical Church Films, as they share our understanding of the importance of a strong foundation for storytelling," WWE Studios president Michael Luisi has said. "THE RESURRECTION OF GAVIN STONE is a heartwarming tale of faith and redemption that will allow us to continue growing our audience as we expand into new genres."
"We're excited to combine resources with a dynamic company like WWE on such a funny, but meaningful project," said Fred Adams, Harvest Bible Chapel Executive Business Pastor. Director Dallas Jenkins has said, "Gavin's story is such an entertaining one to tell because the 'fish out of water' aspect is so relatable, no matter what the setting."
Harvest Bible Church is a Bible-believing body that states, "… We believe the sixty-six books of the Old and New Testaments to be the full record of God's self-disclosure to mankind.  Different men, while writing according to their own styles and personalities, were supernaturally moved along by the Holy Spirit to record God's very words, inerrant in the original writings…. Scripture is fully trustworthy as our final and sufficient authority for all of life… We believe in the one living and true God, eternally (John 17:3) existing in perfect unity as three equally and fully divine Persons: the Father, the Son, and the Holy Spirit (Matthew 28:19-20)."
Vertical Church Films was launched in 2012 because of Pastor James MacDonald's vision of producing professional films through Harvest Bible Chapel. Dallas Jenkins, who is the producer and director of short and feature films, relocated from Los Angeles to Chicago to fulfill MacDonald's vision. Their first project was the Christmas short "The Ride," which garnered festival recognition around the country and is now being distributed internationally. Their Easter short film "Once We Were Slaves,"  brought similar recognition. Their debut feature film is THE RESURRECTION OF GAVIN STONE.
At 25 years of age, Dallas Jenkins produced the independent feature HOMETOWN LEGEND, which garnered a Movieguide® Award and was distributed by Warner Brothers. His directing debut was of the short "Cliché." His next short film was "Midnight Clear," that featured Stephen Baldwin. This film won a Crystal Heart Award from the Heartland Film Festival and opened the San Diego Film Festival. Jenkins has been the co-executive producer of THOUGH NONE GO WITH ME a Hallmark Channel feature. In 2007, Dallas Jenkins directed and produced the feature MIDNIGHT CLEAR that was based on the short film of that title. It won awards in festivals all over the country, including the Cinequest Film Festival's Special Jury Prize for "Best First Feature," and the "Audience Favorite" award at the Kansas International Film Festival. It is currently available on DVD from Lionsgate. His latest feature WHAT IF… also a Movieguide® Award Winner featuring Kevin Sorbo, who won the MOVIEGUIDE(r) Grace Award and was released in theaters in 2010 and is currently available on DVD. Dallas is the Senior Director of Media at Harvest Bible Chapel, which is a mega-church in the Chicago area.
In 1988, James MacDonald, along with a small group of ministry partners, started Harvest Bible Chapel that now has 13,000 people meeting at seven locations across Chicago. "Walk in the Word," is a Bible-teaching television and radio broadcast ministry that was established in 1997. The radio program has an outreach to three million people daily and the television audience is around the world. In 2002, the Harvest Bible Fellowship was founded and has established more than 100 churches across North America and around the world. The extensive ministry of this group includes the following: a training center for pastors, a year-round camp, a center for biblical counseling, a disaster-recovery organization, and a Christian school. James McDonald is the author of several books: "Vertical Church," "Authentic," "Lord Change My Attitude," "When Life is Hard," "Always True," "Come Home," and "Act Like Men."
Written by Diane Howard, Ph.D. (Performance Studies), dianehoward.com, for Austin Movie Examiner