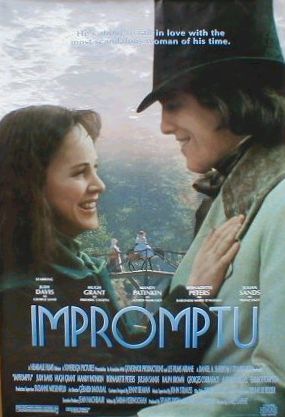 | | None | Light | Moderate | Heavy |
| --- | --- | --- | --- | --- |
| Language | | | | |
| Violence | | | | |
| Sex | | | | |
| Nudity | | | | |
What You Need To Know:
A farcical period piece about 19th-century French novelist George Sand and her love affair with Polish composer Frederic Chopin. Sand, an outcast among the cookies-and-tea decadent idle rich, overcomes her self-centered ways to win Chopin's love and ends up in bed with him--a decadent message.
Content:
(L, S, A/D) 3 obscenities and a few profanities, sexual innuendo, implied sexual promiscuity and adultery, and substance abuse.
More Detail:
IMPROMPTU is a farcical period piece about 19th-century French novelist George Sand and her shameless pursuit of Polish composer Frederic Chopin.
George Sand (born Amandine Aurore Lucie Dupin) is an amorous female author whose independent nature and habit not only of using a male name, but also of wearing men's' clothes flout mid-19th century customs. Not only does Sand cross-dress as a man, she also rides a horse like one, too, and smokes: in public, no less. For this, Sand is labeled an outcast, though she moves freely among the decadent, idle rich.
Having left her husband, Sand has pursued a succession of other men for temporary sexual affairs. "I used to think I'd die of suffocation when I was married," she tells her best friend. "Now, it's my freedom that's killing me." Then, she hears the inspired piano playing of the great Frederic Chopin and believes that he is the answer to her aspirations. As she puts it, "We shall all be in our graves, but Chopin is eternal." Sand maneuvers to win the attention of the talented young composer, but Chopin, who doesn't know what to make of this possessed fan, rebuffs her brazen, impromptu advances.
Set in the country home of a provincial duke and duchess, IMPROMPTU boasts rich, elaborate period costumes and sets. It begins slowly, but develops into a somewhat beguiling tale that has equal parts romance and comedy. In addition to Sand and Chopin, who have fled to the country home for sustenance and support, other guests include: rakish but besotted poet Alfred de Musset; painter Eugene Delacroix; pianist Frans Liszt and his often-pregnant mistress, Marie d'Agoult, played by Bernadette Peters; and, Emma Thompson as the culture-starved country duchess who imports these talents to her chateau.
The cookies-and-tea set and intellectuals might enjoy the stuffy, parlor entertainment; the young and the restless will find that the film moves slowly. Marie d'Agoult, who left her husband and children to live a miserable itinerant life as Liszt's strumpet, jealously undermines Sand's efforts to lure Chopin. Sand, in turn, is still pursued by a gilded, violent lover, who has a tendency to demand duels at dawn.
The premise of IMPROMPTU, that of a scarred outcast attaining redemption through the love of another, has been done before, but is worked out here through the interplay of intellects and the lusts and longings of the heart. It further conveys the message that Sand, who behaves in a selfish, obsessive, socially unacceptable manner, must change in order to win Chopin's love, yet erroneously tells us that once certain character flaws are overcome, it's okay to hop in the sack.
Which is what happens. Sand and Chopin appear in bed with the obvious implication that sex has occurred. In another scene, involving two other characters, sexual fondling takes place and adultery is later implied. The series of wrong notes continues to pile up with instances of opium smoking, obscenity and profanity.