"Honesty Is the Best Policy"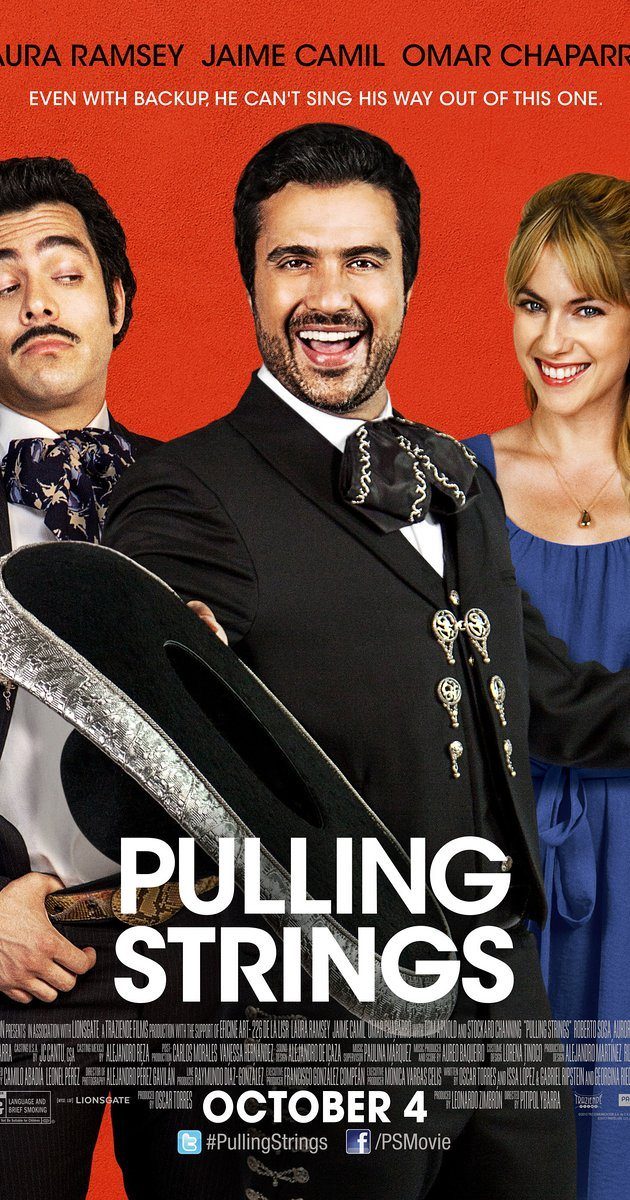 | | None | Light | Moderate | Heavy |
| --- | --- | --- | --- | --- |
| Language | | | | |
| Violence | | | | |
| Sex | | | | |
| Nudity | | | | |
What You Need To Know:
PULLING STRINGS is a Mexican romantic comedy. Rachel is an American white woman working for the United States Embassy granting or denying visas to America. Alejandro is a hardworking Mexican mariachi singer and single parent father. Alejandro begins to believe he's not the best thing for Maria, despite their strong bond and love for each other. He decides to get Maria a visa to send Maria to her grandparents in America. Rachel denies him the visa but later needs his help to find her boss's laptop she misplaced. Alejandro comes up with a dishonest plan to convince Rachel he deserves a visa. In the end, they overcome their problems and fall in love.
PULLING STRINGS is entertaining and funny. The music is well done, and the songs are heart stirring. The movie's Christian, moral worldview extols honesty, forgiveness, and good parenting, with some references to God and Heaven. However, the positive worldview is marred by some foul language and some heavy kissing, which leads in one scene to a closed bedroom door. So, MOVIEGUIDE® advises caution and discretion for older children.
Content:
(CC, BB, Pa, LL, V, S, AA, M) Strong Christian, moral worldview as protagonist tries to take care of his daughter and "earn" a visa for her, learns that honesty is always best, girl attends private school run by stern and orderly nuns, several songs sung by protagonist reference God, Heaven and love, marred by some immoral pagan behavior; 14 obscenities including and two strong profanities; light violence as man runs into man he owes money and friend defends Alejandro by pushing and smashing sandwich in man's face; implied fornication as couple kisses passionately, and woman slams bedroom door behind them and later comes out wearing just man's shirt; no nudity, but woman's bare bare back/shoulder in bra shown as she redresses into her own shirt; alcohol use at bar party and woman gets drunk; no smoking or drugs; and, lying, stealing, threats from loan sharks, school kids tease, school board adults frown on protagonist's occupation as a singer/guitarist in mariachi band, and protagonist struggles as single parent.
More Detail:
PULLING STRINGS is a Mexican romantic comedy bringing together an American and Mexican from two different worlds. It's an appealing movie with positive, heartwarming elements, but there is some negative content.
Rachel (Laura Ramsey) is a white woman working for the United States Embassy granting and/or denying visas to America. Alejandro (Jaime Camil) is a hardworking mariachi singer and single parent father.
The movie opens with Alejandro at his daughter Maria's school, where he's having a conference with Maria and the school board of nuns. They believe Alejandro isn't the best example for Maria due to his night job as a mariachi. Alejandro begins to believe he's not the best thing for Maria, despite their strong bond and love for each other. So, he decides to get her a visa to send Maria to her grandparents in America. However, Rachel denies him a visa and doesn't even look at him as Alejandro tries to plead his case, hoping to give his daughter what he thinks would be a better life.
Rachel gets a promotion and will be moving to London, but before she leaves her boss Art (Tom Arnold) gives her one last duty. He entrusts her to pick up his laptop, full of highly confidential files and keep it safe until he returns from out-of-town business. Her best friend finally convinces Rachel to go out for drinks. It just so happens that the entertainment for the evening is Alejandro's mariachi band, and he hopes that he can somehow convince her he must get the visa.
By the end of the evening, Rachel is asleep on a bus stop bench drunk, and Alejandro gets her a cab to take her home. She's impossibly incoherent, so Alejandro cannot get her to go to her house, and he lets her sleep on his couch.
In the morning, Rachel realizes she doesn't have her boss' invaluable laptop, which Alejandro has hidden so he can pretend to help her find the laptop, and she will approve the visa for Maria. His plan is full of rerouted strategies, and the unexpected surprises such as Alejandro and Rachel falling in love. When Alejandro's plan has a major backfire and is exposed, Rachel decides to leave his life forever, but in the end, love covers a multitude of mistakes and the couple reunites.
PULLING STRINGS is entertaining and funny. At times, the white subtitles are hard to read, but there's a clear storyline. Alejandro is the main character who does learn an important life lesson and learns to live and love again, but it's Rachel's character that has the greatest transformation. She begins to trust and decides to let go of her "gypsy" life of wandering. The music is well done, and the mariachis don't disappoint in vocals or musicianship. The songs are heart stirring. Rachel begins to see the real Alejandro through the music he writes and performs.
Caution is advised for older children for PULLING STRINGS, due to some foul language and a few instances of heavy kissing with one instance leading to implied premarital sex. This content mars the movie's strong Christian, moral worldview, which stresses honesty, forgiveness, God, and love. Eventually, Alejandro has to ask forgiveness from Rachel for his dishonesty, which she eventually does. Also, many of the songs in PULLING STRINGS make reference to God, Heaven and love. In the opening, Alejandro attends a parent conference with his daughter Maria and the nuns of the school board at Maria's private school. Ultimately, forgiveness and the value of honesty are the movie's two major moral, redemptive themes.
Two other themes prevalent in PULLING STRINGS are finally articulated by an old wise man Alejandro and Rachel encounter in a bar. He tells Alejandro to stop being afraid, and Rachel to stop running. The decisions they make as the story develops point back to these two themes. By the resolution of PULLING STRINGS, both characters have matured to overcome their issues. For Alejandro, he no longer fears not being able to care for Maria, and Rachel finally stops running and settles down.
Spiritually speaking, PULLING STRINGS resolves nicely as the inner challenges of Alejandro and Rachel are not so different. When we are people without God or faith, we often allow our fears and perceived inadequacies to put us on the run so we don't have to be responsible, or risk failure, or let others get close to our heart. However, God's love is always there to point us to His hope and a place of healing and wholeness. His perfect love is what casts out all fear (1John 4:18) and draws us into His love.