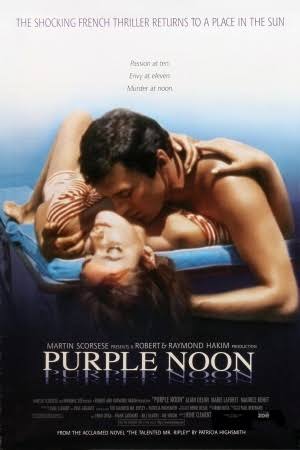 | | None | Light | Moderate | Heavy |
| --- | --- | --- | --- | --- |
| Language | | | | |
| Violence | | | | |
| Sex | | | | |
| Nudity | | | | |
What You Need To Know:
PURPLE NOON is a French re-release from 1960. A thriller set in the Mediterranean, it tells the story of Tom who is hired and fails to bring Philippe back to America. Instead, Tom kills Philippe and assumes his identity, until tragedy strikes. Slow and sometimes dull, this movie is a picturesque and restrained thriller with no foul language, implied sex and two bloodless murders.
Content:
(Pa, VV, SS, A, D, M) Pagan worldview featuring murder out of envy & frustration; no objectionable language; man stabbed in chest resulting in death, man hit over head with heavy object resulting in death & sadistic behavior such as exposing man in hot sun to get sunburn & man treats girlfriend with contempt; implied fornication & 2 men kiss & caress clothed woman; alcohol use & abuse; smoking; and, cheating at cards & deception
More Detail:
Last year, he brought us BELLE DU JOUR; this year, Martin Scorsese brings us PURPLE NOON, a picturesque French thriller from 1960. The move starts out with Tom, played by Alain Delon, and his rich friend Phillippe having a drink in Rome at an outdoor café. Tom will be paid $5000 by Phillippe's father to find Phillippe in Europe and escort him back to San Francisco. Phillippe, however, is in no hurry to return to the U.S. He is having too much fun with his girlfriend Marge. Tom becomes increasingly frustrated at Phillippe, murders him and assumes his identity. When another murder occurs and investigators start to sniff around, Tom decides that Phillippe must be "killed-off" through a bogus suicide. Tom pens the suicide note, Marge gets the money and all seems well for a fine future, but when Phillippe's boat is sold, a big, revealing clue emerges sealing Tom's doom.
For all the intrigue and beautiful people on beautiful locations, there were only a few captivating moments in this movie. Most of the movie is like a beautiful, leisurely travelogue with handsome people showing off the beauty of the Mediterranean. It is slow, boring and in great need of some comic relief. It, nevertheless, is a restrained thriller with no foul language, implied sex and two bloodless murders.
Now more than ever we're bombarded by darkness in media, movies, and TV. Movieguide® has fought back for almost 40 years, working within Hollywood to propel uplifting and positive content. We're proud to say we've collaborated with some of the top industry players to influence and redeem entertainment for Jesus. Still, the most influential person in Hollywood is you. The viewer.
What you listen to, watch, and read has power. Movieguide® wants to give you the resources to empower the good and the beautiful. But we can't do it alone. We need your support.
You can make a difference with as little as $7. It takes only a moment. If you can, consider supporting our ministry with a monthly gift. Thank you.