"Winsome"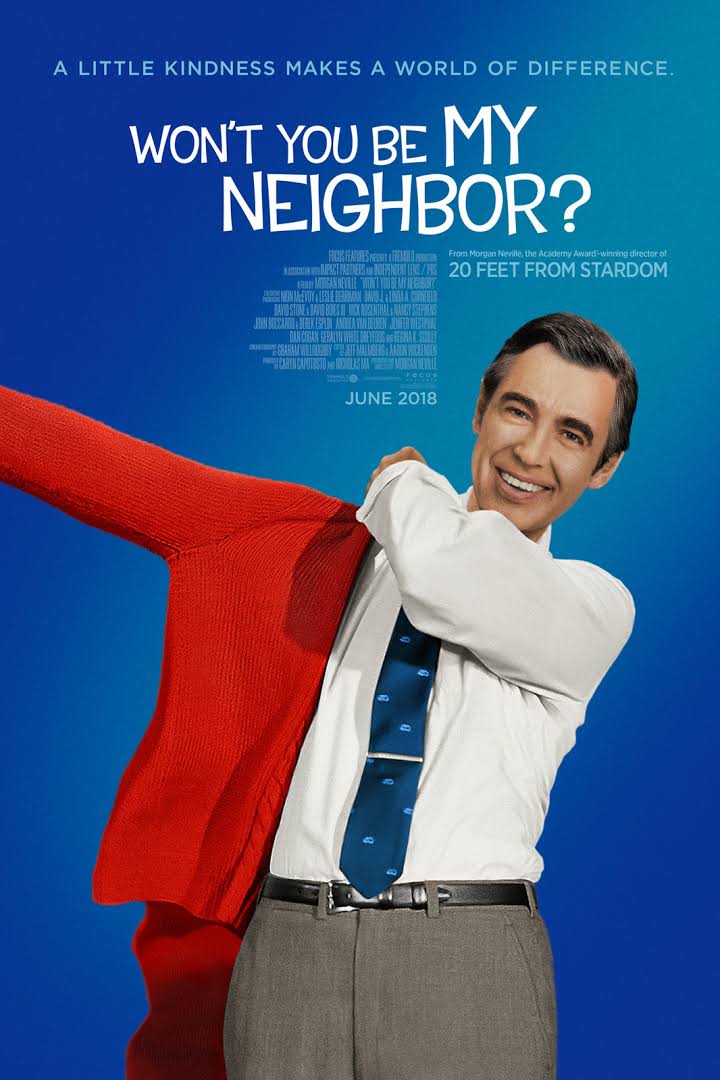 | | None | Light | Moderate | Heavy |
| --- | --- | --- | --- | --- |
| Language | | | | |
| Violence | | | | |
| Sex | | | | |
| Nudity | | | | |
What You Need To Know:
WON'T YOU BE MY NEIGHBOR? is a documentary about the late Children's TV host, Fred Rogers, and his work with children on his program MISTER ROGERS' NEIGHBORHOOD. The movie presents a general biography of Rogers, including his Children's TV program and philosophy. It contains past interviews with Rogers and interviews with people who worked with him, including his wife. It also contains typical excerpts from his programs, which featured lots of puppetry and songs for preschool children.
WON'T YOU BE MY NEIGHBOR? does a good job giving viewers an introduction and concise overview of Fred Rogers and his career as a TV celebrity and child educator. According to the documentary, the core of Rogers' approach toward children centered on promoting biblical love and kindness. He also taught children that each of them is totally unique and special. However, the documentary sometimes gives a politically correct spin to its topic. It also contains references to one cast member's closeted homosexual identity, several obscenities, and a photo of rear male nudity involving a secret backstage prank. MOVIEGUIDE® advises caution for older children.
Content:
(CC, BB, Ro, PC, HoHo, L, V S, N, MM):
Dominant Worldview and Other Worldview Content/Elements:
Strong Christian worldview about teaching children to be loving and kind and which also takes the attitude of approaching children in a gentle, kind, and loving manner, with some Romantic, political correctness that seemingly includes a positive affirmation of homosexual behavior;
Foul Language:
Six obscenities (including three "a" words), no strong profanities, and two light profanities (someone says, "God, no!" and someone uses OG), plus a couple references to "butt";
Violence:
Brief newsreel footage of the Vietnam War, terrorism, riots, and Robert Kennedy's assassination, plus some verbal references to war and injury and some images of cartoon violence on TV, such as people getting hit with pies in their face, which the subject of the documentary and the movie speak out against;
Sex:
No sex scenes, but one man discusses and tries to validate his openly homosexual, immoral lifestyle, which the movie also seems to affirm;
Nudity:
One shot of a photo of rear male nudity when one man discusses how he liked to take photos on a famous Children's TV program and make copies of him "mooning" other people, cameras, and copy machines with his nude rear end, as a regular prank;
Alcohol Use:
No alcohol use;
Smoking and/or Drug Use and Abuse:
No smoking or drugs; and,
Miscellaneous Immorality:
Filmmakers seem to overdo their political spin on their movie's subject matter to the point of overstating their case and perhaps distorting the facts, a couple references to pacifism, and a reference to TV crew members being "hippies" with long hair.
More Detail:
WON'T YOU BE MY NEIGHBOR? is a documentary about the late Children's TV host, Fred Rogers, and his work with children on his program MISTER ROGERS' NEIGHBORHOOD. WON'T YOU BE MY NEIGHBOR? is an engrossing movie with a heart for helping children love themselves and their neighbor, but the PG-13 movie sadly has some politically correct moments on one of the on-camera visitors to the Neighborhood, a closeted homosexual, whom Mr. Rogers refused to allow to reveal his psychological condition, and on one of the TV crew, who liked to take secret photos of his rear end to get a laugh.
The beginning introduces Fred Rogers, who became an ordained Presbyterian minister, and his first Children's TV show in Pittsburgh. His program eschewed the frenetic delivery and slapstick violence of most live and filmed programs for children at the time (and even now), in favor of a calm, gentle, soft-spoken delivery where Rogers used puppets to address children and talked to children and other adults directly.
In 1968, according to the movie, Rogers moved to Boston to nationally broadcast his program for National Education Television (NET), the precursor to the government-funded TV network, PBS. The first week of the national telecast, Rogers decided to talk about issues of war and conflict. He used his puppet, King Friday XIII, to create a story where King Friday wants to go to war. As the movie notes, the skit clearly expressed Rogers' pacifist opposition to America's war against the murderous communist atheists in North Vietnam, who had organized a terrorist campaign against civilian and political leaders in South Vietnam opposed to communist, atheist tyranny and totalitarian control.
Rogers developed his national program's "Neighborhood of Make Believe" sections with King Friday and his citizens, which featured a trolley, a castle, and the Eiffel Tower, for a Canadian show that ran three years. In 1966, Rogers bought the rights for that show and moved it back to the Pittsburgh TV station, where he began his career in children's programming in 1954. That local program also ran in Boston, New York City, and Washington, D.C. before it was picked up by NET.
The rest of the documentary features interviews with Rogers over the years, plus recent interviews with people who worked with him, including renowned cellist Yo-Yo Ma. It also features segments from Rogers' various programs over the years, including iconic scenes of Rogers feeding the fish on the show, taking off his coat and shoes to put on a sweater and tennis shoes, visiting with adults who played characters on the program such as a policeman, a delivery man, or Lady Aberlin (the niece of King Friday), and talking to children about issues like divorce, anger, the death of pets, and personal identity. In the "Make Believe" portion of each program, Rogers usually played many of the puppets, including King Friday, Daniel Striped Tiger, and Henrietta Pussycat. The puppets often talked to Lady Aberlin about the program's daily topic in a winsome way.
According to the documentary, the core of Rogers' philosophy toward children centered on promoting love and kindness. He also taught, just as the Bible does, children that each of them is totally unique and special. This second theme is expressed in the lyrics to a song Rogers wrote about loving your neighbor, titled "It's You I Like":
"It's you I like. It's not the things you wear. It's not the way you do your hair. It's you I like."
The movie draws some sociopolitical conclusions from that biblical mandate. For instance, in addition to the movie's brief segment about the program's approach to the Vietnam War in 1968, the movie does a brief interview with Francois Clemmons, the man who played the policeman for 25 years on MISTER ROGERS' NEIGHBORHOOD. Clemmons discusses his homosexuality, which Rogers wouldn't let Clemmons reveal on the program, even though Clemmons decided in 1974 to divorce his "wife" and live openly as a homosexual. Despite that, Clemmons and Rogers remained friends, and Clemmons says he felt that Rogers was the father he sought.
Fred Rogers had a long career as a television programmer and host, and as an expert in early childhood education. So, it stands to reason that WON'T YOU BE MY NEIGHBOR? leaves a lot of material about Rogers' career and educational philosophy on the cutting room floor. That said, it does a good job of giving an introduction and concise overview of Fred Rogers and his career and public persona, which was pretty much identical to his private persona according to all reports, including this documentary. Also, the movie doesn't shy away from noting the Christian background to Fred Rogers and his unique "Neighborhood," though it may be argued that the movie perhaps downplays the influence Christianity had on Fred Rogers. Even so, he did once tell a group of PBS affiliates that "looking for the best in people and life is something holy" (Terry Jackson, "Mr. Rogers Says PBS Should Adopt His Philosophy," http://articles.chicagotribune.com/1998-06-19/features/9806190298_1_mister-rogers-neighborhood-pbs-fred-rogers, The Chicago Tribune, June 19, 1998).
However, although it gives a good summary of Fred Rogers and his career and teachings in Children's TV, WON'T YOU BE MY NEIGHBOR? sometimes gives a politically correct spin to its topic. In fact, during a couple brief moments in the movie, the filmmakers even seem to be using Rogers and his teachings to make an implied attack against Pres. Trump. MOVIEGUIDE® looked at other biographical sites on the Internet of Fred Rogers and his career, and they weren't quite so politically correct or leftist.
There is one problem with Rogers and his views on teaching children, however. Although his gentle, loving way of talking to children and their character development and education is the right approach, it was a little too divorced from his Christian training as an ordained minister in the old United Presbyterian Church, which has become the Presbyterian Church (USA). A proper approach to teaching children must involve making overt and direct references to Jesus Christ and His Gospel and to the Word of God, the Bible. In addition, some room has to be made for the discipline of children. Finally, when we teach children about love and kindness, we also must teach them about God's Justice and His rejection of evil.
Sadly, WON'T YOU BE MY NEIGHBOR? also includes an interview with one of the longtime crew members of the Mister Rogers program. In part of that interview, the man talks about a frequent prank he pulled behind the scenes of the program. In the prank, he would take photos or make copies of his nude rear end. One day, he even secretly took a photo of his naked rear end using a personal camera Fred Rogers brought to the set that day. The documentary includes a picture of that photo. The man in that interview also uses a few light obscenities. Hence, WON'T YOU BE MY NEIOGHBOR? is rated PG-13. Needless to say, we could have done without this part of the man's interview.
Editor's Note from Dr. Ted Baehr: At my invitation, Mr. Rogers spoke at the evangelical National Religious Broadcasters in the 1980s. Fred proclaimed his faith in Jesus Christ and discussed his theory of education. He noted that he was both an educator and a Christian minister. The national PBS programmers were anti-Christian and secular at the time, so he focused he program on educating children to manifest the fruit of the Holy Spirit: love, joy, peace, patience, kindness, goodness, faith, gentleness, and self-control.