"New Scientific Discoveries"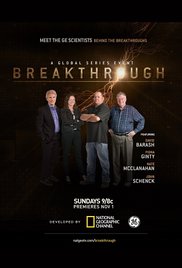 | | None | Light | Moderate | Heavy |
| --- | --- | --- | --- | --- |
| Language | | | | |
| Violence | | | | |
| Sex | | | | |
| Nudity | | | | |
What You Need To Know:
BREAKTHROUGH is a National Geographic series of new scientific methods. FIGHTING PANDEMICS is the first episode of National Geographic's series, called BREAKTHROUGH. The series is executive produced by acclaimed Director Ron Howard. FIGHTING PANDEMICS is directed by Peter Berg, Director of LONE SURVIVOR. This episode focuses on world Pandemics; talking about how incredibly fast these can spread. One specific pandemic that is devastating the world today is Ebola. Ebola is an infectious disease that spreads with rapid speed throughout the body and is incredibly painful for those it infects.
Scientists are working constantly all around the world to try to fight this pandemic of Ebola, but we also never know when the next pandemic will come. BREAKTHROUGH is very well done, entertaining and has a moral worldview to it with scientists pushing scientific discoveries for the betterment of mankind. The actual scientists are putting themselves in harms way many times in order to help others. Though there are mentions of evolution, and this episode has a lot of blood due to the nature of Ebola. Thus, a light caution is advised.
Episodes:
More Detail:
BREAKTHROUGH is National Geographic's newest series from Executive Producer Ron Howard. The series follows different scientists that are making an impact on the world today. These scientists are creating things that help with crucial human needs. The episodes are on pandemics, aging, the water crisis, human engineering, decoding the brain, and new methods of energy.
BREAKTHROUGH is extremely interesting and the quality is top notch. Each episode is directed by different Hollywood directors, giving each one a slightly different feel, but overall very well made. Though, there is mentions of evolution, the main focus is on advancing scientific discoveries. Additionally, while it is filmed in documentary style, the first episode is very entertaining.