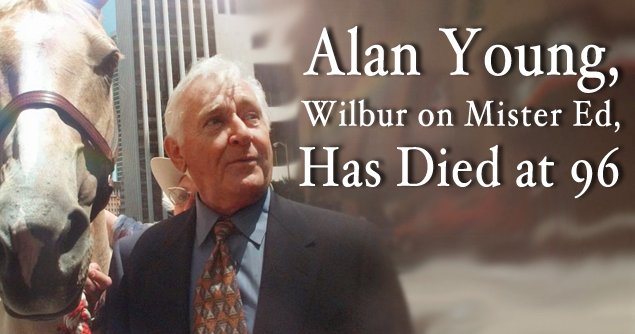 Alan Young, Wilbur on 'Mister Ed,' Has Died at 96
By Dan Wooding, Founder of ASSIST News Service
Talented actor Alan Young, who played the hapless yet protective owner of a talking horse on the popular television comedy "Mister Ed," has died at age 96, according to officials at the Motion Picture & Television Home in Woodland Hills, California.
According to CNN, he died Thursday of natural causes with his children at his side, the organization said.
Young also was a "well-received voice actor," with appearances as Scrooge McDuck in many Disney productions and as Farmer Smurf and other characters in the 1980s-era cartoon.
Young appeared on several shows before being cast as Wilbur Post on "Mister Ed," which became one of the most popular shows of the early 1960s. One of his previous shows, "The Alan Young Show," won a prime-time Emmy.
According to a 1990 story in the Los Angeles Times, famed comedian George Burns financed "Mister Ed" and told his co-owner they should cast Young because "he looks like the kind of guy a horse would talk to."
Young told the newspaper that Wilbur Post was bumbling while Mister Ed was wily.
"I think it's the same chemistry that made Laurel and Hardy, and Jackie Gleason and Art Carney," he said. "It's the one guy making a fool of the other guy."
The show, which ran weekly from 1961 until 1966, featured a horse, who talked (with help from a never-seen human voice actor), but Mister Ed spoke only to his owner, much to Wilbur Post's frustration.
Young had 101 acting credits, according to the Internet Movie Database, including a beloved role in the 1960 science fiction film "The Time Machine." He also appeared in the movie "Androcles and the Lion," another charming role. He made many guest appearances on television after taking a long break after the end of "Mister Ed."
How To Play Opposite a Talking Horse
I first got to know Alan Young, who was born in the north of England in 1919 as Angus Young and grew up in Scotland and Canada, and began his entertainment career on the radio at age 13, shortly after I moved to Southern California in 1982.
I was introduced to him by another transplanted Brit, Andy Thewlis, who was then working for Walt Disney as the head of Disney's accounting. Andy had become fascinated with my tabloid background and wanted to see if we could develop a TV sitcom called "Keyhole" about a tabloid based in Florida.
So to try and map it out, he brought two other friends, Alan Young, and Tony Hawes, a well-known BBC scriptwriter who had also moved to Southern California and was married to Lois Laurel-Hawes, the daughter of Stan Laurel.
We would gather in a backyard shrine to Laurel and Hardy at the couple's home in Tarzana, to try and develop the show, and Alan Young would "voice" all of the main characters in a quite extraordinary way.
It was during one of those gatherings that I asked Alan how he could so convincingly play opposite a horse, and, with a sly smile, he replied, "Dan, it was because I believed every word that Mr. Ed said." We all roared with laughter, though none of us really believed him.
Besides these extraordinary gatherings in that shrine full of Laurel and Hardy memorabilia, I would often have extended lunches with Alan, so I could learn more about this fascinating man.
He told me that he had also voiced Scrooge McDuck and numerous other animated characters, as well as guesting on dozens of TV shows.
He proudly shared that in 2005 "Mr. Ed" won a TV Land Award for most heart-warming pet-owner interaction. Young also directed four episodes of "Mr. Ed." The show was one of the first to start in syndication, achieve success, then get picked up by a network.
While he will be most remembered for "Mr. Ed," Alan Young had a long and busy acting career, but we also often talked about our religious beliefs, and he shared that he was longtime member of the Christian Science faith, and had become communications director for the Christian Science headquarters in Boston in 1968. He later spent time as a lecturer for the church before returning to acting in the mid-'70s.
Although we often disagreed  (I am an evangelical Christian),  he was always respectful to my personal faith and always politely listened to what I had to tell him.
So now, I have lost a true friend who will be sorely missed, but I can still see him regularly on the repeats of "Mr. Ed" on TV here. The one thing he taught me was you can always share your faith with others without anger coming into play.
Alan Young is survived by four children.
Editor's Note: Ever since we began our Movieguide® Annual Faith & Values Awards Gala & Report to the Entertainment Industry some 24 years ago, a regular journalist, who has covered just about all of them, has been international journalist, Dan Wooding, who runs the highly respected ASSIST News Service (www.assistnews.net ), which provides news from around the world from a Christian perspective. Now, Dan, who is also on our Board of Advisors, is offering to all of our Movieguide® friends and supporters a free subscription to global news service, so you can receive his unique stories, including many from our activities, into your in-box, which will keep you up to date with what is happening in God's World. All you have to do is to send your name and e-mail information to Dan at assistnews@aol.com, and he will be glad to add you to his list. Dan has made it clear that your e-mail address will not be used for anything but to send the stories right into your in-box. I hope you will take advantage of this free offer from an award-winning journalist, who has been a close friend of Movieguide® for so many years. This article is reprinted by permission.