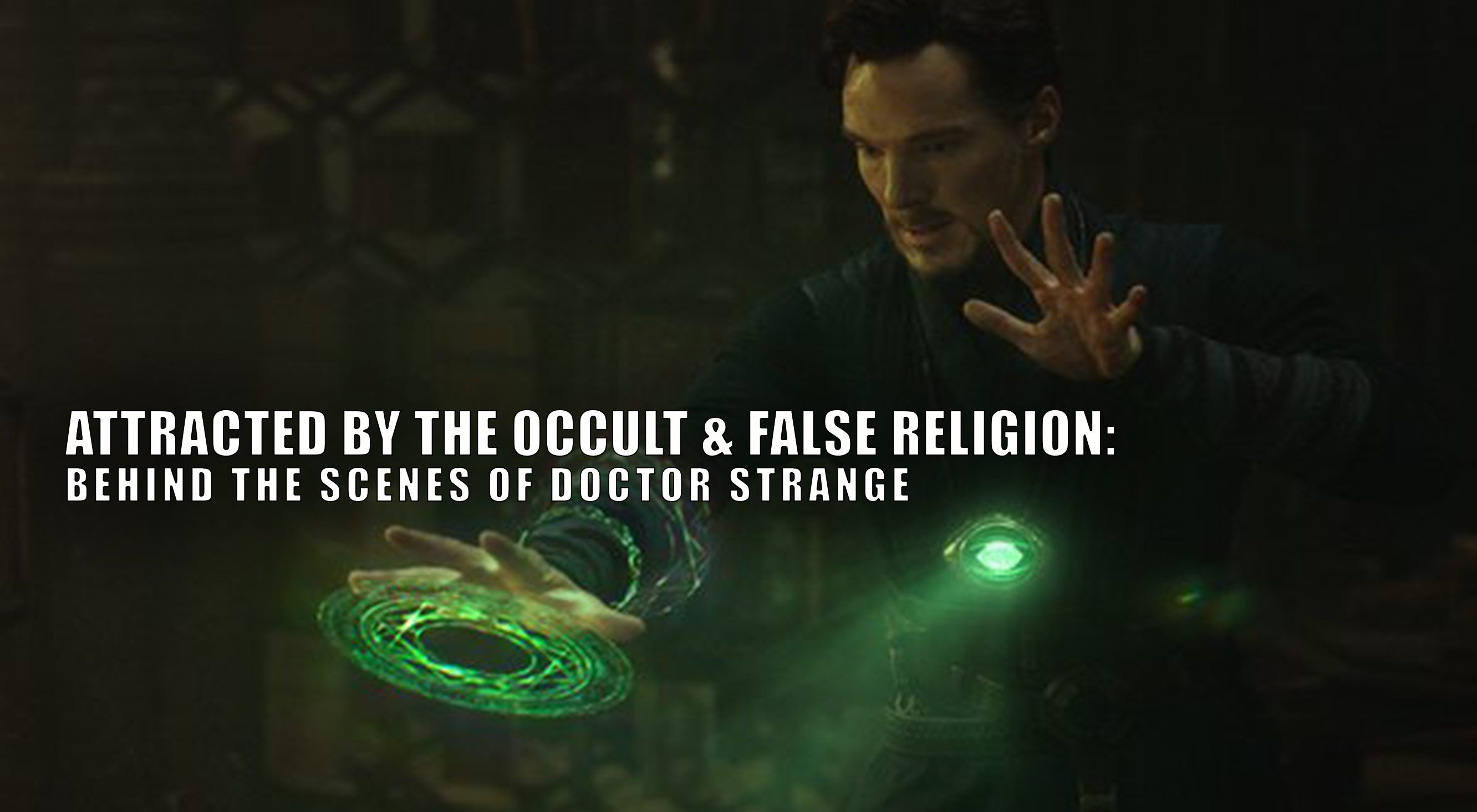 Attracted by the Occult and False Religion:
Behind the Scenes of DOCTOR STRANGE
By Evy Baehr, Executive Managing Editor, with Tom Snyder, Editor
The newest Marvel movie, DOCTOR STRANGE, shows a very different type of super hero, a sorcerer.
In the movie's occult story, a famous neurosurgeon, Doctor Stephen Strange, played by Benedict Cumberbatch, gets in a car crash, seriously damages his hands and is unable to operate any more. Strange refuses to accept this as an option and seeks out a former hospital patient with paralyzing neurological damage, who's now healed.
Wanting to find a cure, Strange follows the advice of the healed man and goes to Katmandu to find answers. There, Strange meets "The Ancient One," played by Tilda Swinton, a mystical guru who teaches Strange sorcery, mind power and Eastern philosophy to conquer his problems.
Movieguide® had the chance to hear from some of the filmmakers, who described what they personally found attractive in the movie's occult philosophy.
Tilda Swinton calls Producer Kevin Feige, who currently shepherds all the Marvel movies, including DOCTOR STRANGE, the "Sorcerer Supreme." Feige said DOCTOR STRANGE is Marvel's 14th movie, adding:
"We always say we have to push the boundaries. We have to keep surprising people. We have to keep making [the movies] them unique and different. Certainly this movie and this character fits all of that. Also, tapping into other dimensions and tapping into sort of that supernatural realm of the Marvel Comic Universe is going to come in handy as we move forward throughout the Cinematic Universe. So, the timing was perfect."
At first, the filmmakers wondered if DOCTOR STRANGE may be over the top and "too trippy," said Director Scott Derrickson.
"When I came in to meet on DOCTOR STRANGE," Derrickson recalls, "my approach was let's make this as weird in the MCU as the comic was in the comic book world in the Sixties, and that's what we tried to do."
Swinton noted that the 1960s stressed "opening one's mind" by exploring "New Age" religion. She said she believes such ideas are relevant today.
"I wouldn't say that the Sixties had it all," she admitted. "I would say, if anything, maybe more than ever, we need to concentrate on opening our minds, and in particular to knowing that our minds are ours. . . . There's something really radical that's said in this film, which is that ego and fear are things to be lived beyond. Let's face it, this is a hot topic. We really, really need people to remind us right now that ego and fear are not necessarily the only option we can live through."
Cumberbatch agreed with Swinton.
"This is a film for now," he said. "But, I think, like Swinton was saying, the strongest message is the idea that you, with your mind, have the power to change your reality, and that's a great, wonderful, freeing, egoless message."
Of course, it's been said by some skeptics of this Sixties mentality that, all too often, people open their minds so much that their brains fall out.
As Christian theologian G.K. Chesterton once said, "If men will not be governed by the Ten Commandments, they shall be governed by the ten thousand commandments."
Also, letting go of your ego may be a good idea, but only if you surrender your ego to the one true, loving, God, Jesus Christ, and His Gospel, who sets you free and gives you an abundant life.