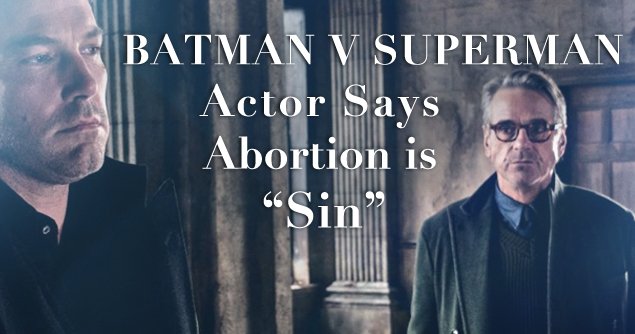 Academy Award Winner Jeremy Irons, who most recently played Bruce Wayne's butler Alfred Pennyworth in BATMAN V SUPERMAN:  DAWN OF JUSTICE is receiving heated criticism for speaking out against abortion.
In an interview with The Guardian, Irons stated, "Our society is based on a Christian structure. If you take those religious tenets away, then anything goes, and it will become terrible – and you usually get into trouble."
On the subject of abortion, the acclaimed British actor said, "I think the church is right to say [abortion's] a sin." He continued, "Abortion harms a woman. It's a tremendous mental attack, and physical, sometimes. But, we seem to get that muddled. In a way, thank God the Catholic church does say we won't allow it, because otherwise nobody's saying it's a sin."
It didn't take long for the anti-Christian website Jezebel to call the actor a "Stupid fartbag," even though in the interview, Irons did state how he believed women should be allowed to choose abortion. While being a self-proclaimed Catholic, the Guardian interview also takes some bizarre routes as he explained his Eastern spiritual influences and some seemingly libertarian political ideologies.
Irons may not be the greatest representation of conservative causes or values, but it's a shame one can't be pro-life in Hollywood without receiving an onslaught of intolerant hatred from the intolerant left, which has become led by tyrants who hate free speech.