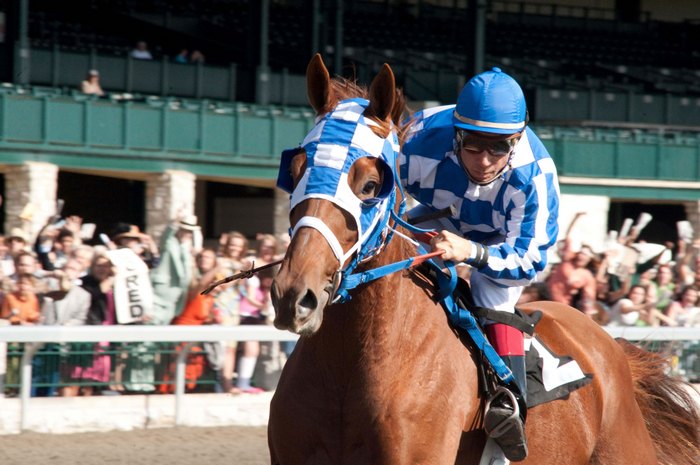 By Tom Snyder, Editor
"Do you give the horse his strength or clothe his neck with a flowing mane? Do you make him leap like a locust, striking terror with his proud snorting? He paws fiercely, rejoicing in his strength, and charges into the fray. He laughs at fear, afraid of nothing;


he does not shy away from the sword. The quiver rattles against his side, along with the flashing spear and lance. In frenzied excitement he eats up the ground; he cannot stand still when the trumpet sounds. At the blast of the trumpet he snorts, 'Aha!' He catches the scent of battle from afar, the shout of commanders and the battle cry."
– Book of Job 39-19-25.
O happy day! O happy day! When Jesus washed. When Jesus washed. When Jesus washed all my sins away. O happy day!
– "O Happy Day" by Edward Hawkins
Disney's SECRETARIAT is a stirring, joyful and inspiring movie about the champion horse that amazed America in 1973 with his spectacular racing feats.
During the editing process for the movie, Director Randall Wallace, who wrote BRAVEHEART and wrote and directed WE WERE SOLDIERS, found himself looking to the Book of Job and the Gospel song "O Happy Day" for inspiration.
"I wanted something that told us that that spirit of the horse was timeless, and it was about transcendence," Wallace said.
"I thought that what Secretariat had done had transcended what anybody imagined was possible. That also meant that I wanted the music in the end to capture a spirit of joy and celebration.
"This was a movie in which it is unalloyed joy," he added. "It glories in love and courage. And, 'Oh, Happy Day' did that in a way that I thought cut through every culture, but reached every heart.
When pressed about the references to Scripture and to Jesus in his movie, Wallace noted that, at one screening, a woman came up to him and told him that, though she's Jewish, she wants the song "O Happy Day" to be played at her funeral.
Disney's SECRETARIAT is not only about the famous racehorse. It's also about his owner, Penney Chenery Tweedy, who took a risk by backing her beloved horse in every way possible.
Diane Lane, who plays Penny, says she was inspired by her time with Penny while preparing for the role.
"It was very surreal to spend time with the real Penny Chenery," she said, "because, invariably, it's unusual to spend time with somebody that you're going to be bringing to the screen. It raises the stakes."
Lane added, "I just feel very grateful and daunted by the prospect of living up to Penny's legacy on screen, and it really is very gratifying to know that she's happy with it."
John Malkovich, who plays Secretariat's flamboyant trainer, Lucien Laurin, said, "It's hard for me to say what I brought to this film or any film. That's up to the audience. I hope I communicated the love that I felt for that horse and for this story. If I didn't communicate that, then I'm a failure."
"What we had in our cast was an absolute authenticity and a breadth of things to do," Wallace said. "Diane's character not only has to have her father die, she has to project courage in the face of loss and good humor to her children, she has to lose her temper, and she has to weep alone in a phone booth."
He said John has one of the most tender, funniest roles he's ever played.
Wallace added, "One of the most crucial decisions that we talked about extensively was using real jockeys to play these characters and not actors pretending to be jockeys.
"The cast lifted each other in a way that I found remarkable," he noted.
Wallace discussed his personal approach to filmmaking.
"A turning point for me, in my career, was when I decided to do stories that made my heart sing. If it didn't get to my heart, then something was wrong and I either had to not do it or change what I was doing. That is where the game is won or lost.
In terms of making SECRETARIAT, Wallace said, "That meant we had to experience these races as participants and not as observers. That required that we shoot the movie in a way that no horseracing movie had ever been shot with an approach to filming where you were subjectively in the race. You're not seeing what it's like to have watched Secretariat run, but you're experiencing what it was like to run like Secretariat. There's a world of difference in that.
He added, "We also had to understand what it was like for the characters when they're alone. Some of the most evocative moments in this movie, for me, are when the characters are by themselves."