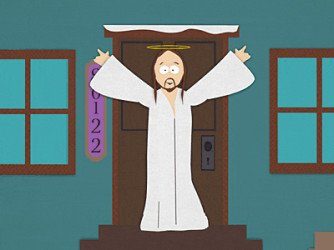 Movieguide® and the Christian Film & Television Commission® has joined the coalition Christians Against Religious Bigotry to help stop the production of the proposed blasphemous TV show by Comedy Central entitled "JC."
This animated program, from the network that brought us SOUTH PARK, is an irreverent show about Jesus Christ "adapting to life in the 21st Century."
Dr. Ted Baehr, founder of Movieguide® and the Christian Film & Television Commission®, is leading the fight to stop this mocking of Jesus and has joined the Coalition Against Religious Bigotry in hopes of marshalling people of all faiths who believe that mockery of Jesus is not appropriate.
Press reports describe the show as Jesus "wanting to escape the shadow of his 'powerful but apathetic father' and live a regular life in New York City."
"Blasphemy and the trampling of another's faith is not comedy," Dr. Baehr says. "I am personally asking people from all across the country to take a moment and sign the petition and let their voice be heard."
Movieguide®'s petition can be signed HERE.
at  HYPERLINK "https://www.movieguide.org/jcpetition" www.movieguide.org/jcpetition.