Published: August 12, 2021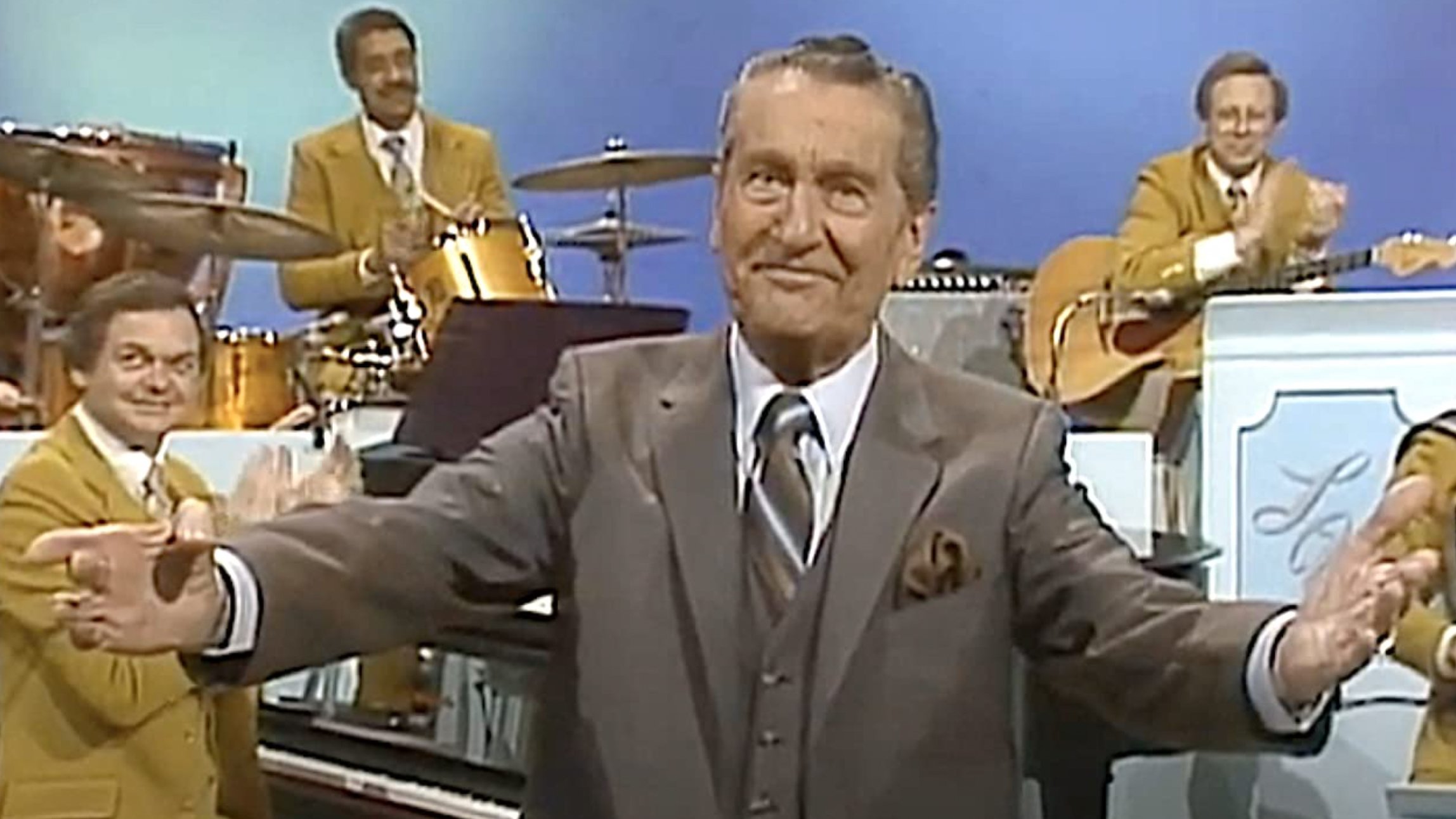 Lawrence Welk Credits the Trinity for Giving Him Confidence in Public Speaking
By Movieguide® Staff
Note: This story is part of our Faith in Hollywood series. For similar stories, click here.
Musician and host of THE LAWRENCE WELK SHOW, Lawrence Welk, is famous for entertaining audiences through his unique style of music through live performances, radio and television, which became known as "champagne music."
But for as much time Welk spent in front of large crowds, he also confessed he was extremely shy.
Welk recalled in an article from 1957:
Seventeen years ago, on a hot night in Chicago, I made my first attempt to say a few words in public. Before me was an outdoor dance floor crowded with people. Behind me were my musicians, tense but hopeful.

What would happen when I opened my mouth?

Our future bookings depended on those few words, or so I thought. For thirteen years, since I had formed my first "band," consisting of one drummer and myself, we had been trying to make the Big Time.

This was it! The Edgewater Beach Hotel, on the shore of Lake Michigan, was the dream and goal of every Midwest orchestra.

While I was numb with shyness, it wasn't stage fright. I had plenty of confidence in my music. But in my home town of Strasburg, North Dakota, I could simply nod to my friends, smile, play loud on my accordion without having to speak.
However, not many in the audience would even hear Welk's speech on that night in Chicago.
"I shut my eyes tight and for a few minutes didn't see or feel what was happening about me. 'Lady and Gentlemens,' I began. Then came some faltering words about our 'deep privilege.' When the speech was finished, I opened my eyes to find myself alone!" Welk wrote. "I was stunned, until I realized that a sudden summer thunder storm had driven my audience and musicians to cover, and that it was drenching me."
He continued: "What little confidence I had gained in saying my speech dissolved completely. And the rest of our engagement at the Edgewater Beach Hotel, in my opinion, was a failure. I decided right then that to spend the rest of my life speaking publicly would be more than torture. It would be impossible."
However, the success of Welk and his band meant that more speaking requirements had to be fulfilled. Two weeks after Welk's disaster in Chicago, he and the band made their way to Milwaukee.
Although only fourteen days separated the two concerts, Welk revealed that he used the time to confront his fears honestly.
"During those 14 days before that Milwaukee engagement, which was the turning point in my life, I looked squarely at my fears and asked myself some direct questions," he said. "First, was there something in my make-up to which I was attaching a wrong importance, something that made me feel self-conscious or inferior?
"Of course there was: I had completed only the 4th grade in school, not at all unusual for the son of a North Dakota farmer," he added. "When my father and mother escaped from Alsace-Lorraine, in advance of the Prussian invasion, they brought with them, and passed on to their eight children, their deep fear of poverty. Among the homesteaders in our farm country, wealth was measured in productive land and a large family to work it.
"It was natural that I should work on our farm as soon as I was old enough. What was unnatural was that a farm boy from a sod house should eventually stray off to the bandstand of the Edgewater Beach Hotel. It was then only, by comparison, that I felt inferior."
However, in evaluating his life and education, Welk recalled the crucial lessons that his parents taught him.
"My mother taught us constantly, by both word and example, the things she had found to be vital in life. We were a devout Catholic family and she taught us to pray, to be faithful in our devotions, to put God first," he said. "If I missed school, I never missed church, and if necessary we drove our old horse and wagon through Dakota blizzards when we could barely see each other's faces. If I didn't know square root, I did know the infinite comfort and unity that stem from family prayers."
As the 14 days came to a close, Welk noted that he was no less shy than he was while working on the farm for his family.
"Knowing for myself the very real suffering of the truly shy, I wish I could say that in those 14 days I overcame it, and thus could offer a sure solution for this problem," Welk said. "But the fact is that I am just as shy today as I was 17 years ago—with this difference: the torture and misery are gone. I am not afraid of shyness anymore, because I found a way to live with it."
"I have learned to come to terms with my own personality and fears, recognize my limitations and be myself. If this includes shyness, plus a mixed-up tongue, then I express that," he continued. "It means also I must literally try to 'give myself away.' This is more than just getting myself off my mind, or getting unself-conscious. Any shy person will try to do that. But the way to do it is to go into action, not dwell on my own questionable value, but confident that each of us has been given something to give away, and that someone is waiting to receive it.
"Today, I have accepted my shyness just as I accept my height and the color of my hair. It is no disgrace to be shy unless we become inactive because of it. Since I've stopped fearing it, I have even found that shy people often have an extra something to give."
However, Welk said that without faith, he would not have faced his fears honestly.
"If shyness is faced honestly, divorced from self-consciousness, and grounded in a sincere attempt to follow Christ's teaching, it can bring about a feeling of humility, gentleness, modesty and compassion," he said. "Within my own heart, I would rather strive for these things than for all the self-confidence in the world. I do not believe that I would have had the courage to face up to my shyness, however, had I not first recognized God as my Creator, shyness and all, Christ as my strength and example, and the Holy Spirit as my source of constant inspiration."