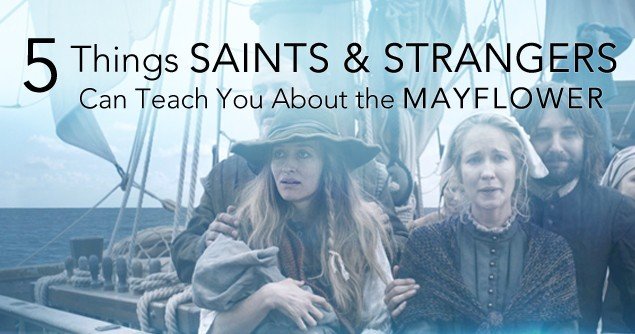 5 Things SAINTS & STRANGERS Can Teach You About the Mayflower
National Geographic's new mini-series SAINTS & STRANGERS encores Thursday, November 26th. It tells the story of the Mayflower and its many passengers. The story of the Mayflower is not a new one, but it's never been told quite like this before. Here are five things that everyone should know about the upcoming two-part event.
1. It focuses on the lives of the Protestant passengers aboard the Mayflower.
The miniseries focuses largely on the Protestant passengers aboard the Mayflower, who called themselves Saints. Their story unfolds as they follow God's lead to the New World in order to worship him freely and without persecution. It may not have been easy, but the Pilgrims had a purpose for making the journey and they held onto it.
2. It shows that life wasn't easy on the Mayflower, but the Protestants aboard never lost their faith.
We all know the trials that the passengers went through while traveling to the New World. Many people died, and no one knew what to expect when they arrived on land. However, SAINTS & STRANGERS shows the courageous way these Protestants kept hold of their faith even in the most challenging of circumstances. They came to the New World in order to have religious liberty and worship freely and they never lost sight of that.
3. The Protestants were not alone on the Mayflower.
Among the passengers on the Mayflower were merchants and adventurers along with the Protestants. Normally, history focuses on the Protestants being the main passengers on the Mayflower. SAINTS & STRANGERS sheds light on the fact that the Protestants were not alone on the voyage. Not only were they not alone, but the other passengers were not very respectful of their faith or their values. At first, the others hated them for their faith, but the Protestants stayed strong. Keeping their faith brought the other passengers to eventually come to respect them for it.
4. It tells the Christian history of the United States.
SAINTS & STRANGERS tell the gritty true story of the New World and the values that this country was based on. After watching the miniseries it's hard to deny the colony was founded on Biblical principles. The Protestants standing for their faith laid the foundations for the United States completely.
5. It shows everything to be thankful for.
With Thanksgiving quickly approaching, looking back on the foundation of our nation and of the holiday will make anyone grateful for where we are today. Grateful for the way they stood firm in their faith. Grateful that God saved them from so much hardship. Grateful for the freedom available today because of these people's steadfast faith.