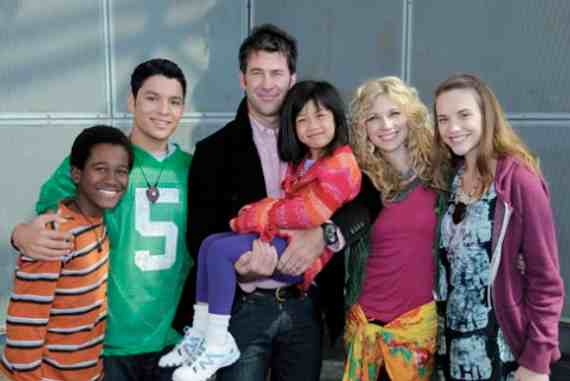 Quality: * * * Acceptability: +2
Language: None
Violence: V
Sex: None
Nudity: None
RATING: TV-G
AIR DATE: January 8, 2011 at 8 pm E/P Time, 7 pm C on Fox-TV
TIME: 100 minutes
STARRING: Brooke White, Joe Flanigan, Phylicia Rashad, Jayme Lynn Evans, Bobby Soto, Jakobe Dempsey, Clarissa Suwoko, Randy Jackson, Jeff Burton
DIRECTOR: John Kent Harrison
PRODUCER: Steve Solomos
EXECUTIVE PRODUCERS: Karen Hall, Jeff Grant, Brian Wells, Joel S. Rice
SUPERVISING PRODUCERS: N/A
WRITERS: Karen Hall and John Kent Harrison
BASED ON THE NOVEL/PLAY BY: N/A
DISTRIBUTOR: Wal-Mart/Procter & Gamble
CONTENT: (C, BB, PC, Ro, Pa, V, M) Light Christian worldview with a real, intentional prayer to God but no mention of Jesus, strong moral elements and real issues where people need to choose sacrifice over selfishness, with some politically correct elements, including a lot of multicultural elements and some lightweight New Agey Romantic/pagan references to believing in mankind; no foul language; aftermath of a fight is shown with high school boy with bloody nose and another boy with blood on his shirt, the aftermath of a car accident is shown with boy in hospital and his arm in a sling, and discussions of death and dying; several husband and wife kisses and one husband wife under covers in bed talking to one another; no nudity; no drinking; no smoking; and, selfishness, but rebuked.
GENRE: Drama
INTENDED AUDIENCE: All ages
REVIEWER: Dr. Ted Baehr
REVIEW: CHANGE OF PLANS has a good heart, and it is one of the best so far of the Wal-Mart televisions specials. If the script had been tighter, it would have been terrific. As it is it is very enjoyable to watch.
The story opens with Sally singing at a country and western bar. Her career is on the fast track. She calls her husband, who's receiving an award from the Air Force for a jet engine he has designed. She makes it to the ceremony just in time.
They both are the ultimate yuppies. They've got everything life could offer, including all the toys and a beautiful apartment.
Then, on the verge of an anniversary trip, Sally picks up a call that her best friend in the Peace Corps died and she is appointed legal guardian of the four children. Sally and her husband, Jason, don't want children. He is about to get the dream job of a lifetime, test piloting the plane he designed. Sally is about to get her big music break.
Dorothy, the child services representative, tells them that they are the only family these children have. Three of the children were adopted from Third World countries. So, the oldest, Jordan, turning 16, is Caucasian, the second, Javier, is Latino, the third, Kaleb, is Ugandan, and the fourth, Sung Lee, is Chinese.
As Sally and Jason take care of the children, they start moving upon their own self-interest and start learning how to love and care for others. At their first meal, which Jordan has to cook because Sally is a modern woman who can't cook, Jordan has them say a very real, heartfelt prayer to God.
Of course, getting to know the children presents a lot of problems and situation comedy. What's worse, though, is Javier gets into a fight at school, and Dorothy says, if there's one more incident, they're taking the children and splitting them up in different families.
At first, Sally and Jason want to get rid of the children, but then they learn to love them. Now the question is, Can they keep them? Naturally, another crisis puts that in jeopardy.
CHANGE OF PLANS is a very good concept. It shows what love is about and makes a wonderful visual dramatic case for moving beyond selfishness into sacrifice. There are some clear redemptive moments and real prayer.
However, there's some strange political correctness. It seems weird that these children represent the four corners of the globe. Some of the statements about global harmony seem a little New Agey. Clearly, the producers wanted to play it safe. In doing so, they have diminished the story's power.
Although the movie is very watchable and highly recommended, the first third is too "getting to know you" with lightweight dialogue and drama. The jeopardy doesn't grab the audience in a serious way until halfway through the movie, although it is foreshadowed.
In many ways, this movie is Hallmark light. And, since Hallmark has been getting lighter, any lighter might just become vacuous. That said, this is good family viewing, and we urge everyone to watch it.
Please address your comments to:
Rupert Murdoch, Chairman/CEO, News Corp.
Chase Carey, President/COO, News Corp.
Tony Vinciquerra, Chairman/CEO, Fox Networks Group
Peter Rice, Chairman of Entertainment
Kevin Reilly, President of Entertainment
Fox Broadcasting Company (The Fox Network)
10201 West Pico Blvd.
Los Angeles, CA 90035
Phone: (310) 369-1000
Website: www.fox.com