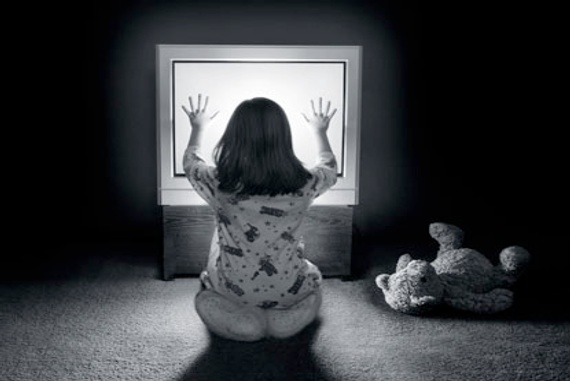 By John A. Murray
"A massive global assault has been launched upon us, and it is the arts more than any single force that predominate as an influential agent, molding our character, our values, and our beliefs. Never before in history has so much been at stake as is now in the hands of the image-makers of our time."
–Ravi Zacharias
Growing up as a member of "Generation X" (a.k.a the MTV Generation), I experienced firsthand both the positive and negative impact that films, TV shows, music, video games, and computers can have. Although I accepted Jesus Christ as my Lord and Savior at age 15, it was not until I was teaching 6th graders in an Atlanta private school at age 24 that God opened my eyes to the negative influence media was having on young people.
As a teacher of creative writing and literature, I thought long and hard how best to reach the visually stimulated "Generation Y." I clearly saw their need for visual literacy. But how would I teach this?
After some research, I decided to use the old television series "Alfred Hitchcock Presents." At the start of each week, I would show one episode to my five classes. Each program lasted 20 minutes—a perfect tool to teach my students about short story plot development. Once they achieved proficiency, I decided to assign a new challenge to stimulate their creativity.



After having watched about 12 episodes over the course of three months, I decided to stop one of the shows before its conclusion and let the students write their own endings. They were so excited by the assignment that they wanted to read their work aloud the next day in class.
But what I heard both horrified and sickened me.
The students' writings were like something out of the Friday the 13th film series. After the third student had read his paper in front of the class, I decided to read the rest myself. There were only a few that were appropriate to read aloud.
When I later addressed the graphic content of their papers, my students were quick to tell me that media violence didn't affect them because the graphic scenes they saw on TV and films were "fake." But when I asked them how they would feel if they saw a dog on TV getting riddled with bullets, they cried out in unison how horrible that would be.
My point was simple: Unlike the human carnage they regularly witnessed in the media, they found animal deaths appalling because they had seldom seen them. Sadly, they were more moved by the deaths of animals than image-bearers of God.
For the first time, they realized how desensitized they had become to violence. And it served as a real awakening to all of us to the hazards of media violence and the need for media discernment.
Not only were their eyes opened that day, but mine as well. Providentially, this was the same year I met Dr. Ted Baehr.
As I prepared to begin graduate school that summer at Dartmouth College, my father-in-law had arranged a lunch for the two of us to meet. Since Ted was a Dartmouth alum, I thought our conversations would be spent on his glory days and/or possible tips to survive graduate school. Little did I know how God would use our time together!
It was during this lunch that I first learned of the history of Hollywood and the Church's powerful role from 1933-1966, as well as the ways God was growing Ted's ministry and influence in Hollywood. Inspired by Ted's words on the importance of media discernment in the lives of teens, and his challenge from 2 Corinthians 10:5 to "take captive every thought to make it obedient to Christ," I ended up changing my masters program at Dartmouth to study history and film.
While at Dartmouth, I did a two-term independent study on the effects of TV-movie violence on real-life violence. Through the help of Ted and his invitation to one of his early Gala awards dinners in Beverly Hills in 1994, I was able to interview several prominent Hollywood figures including Charlton Heston, Ron Maxwell (writer and director of Gettysburg), Bob Yerkes (the top stuntman in Hollywood), and Richard Kiel (the actor who played "Jaws" in the James Bond movies), among others. Although I tried to get my documentary produced in the spring of 1994, God closed all the doors. I was both deeply discouraged and confused. It would not be until the spring of 1998 that the Lord would re-open the doors to produce the film—the same year school shootings occurred on campuses all over the country.
In a whirlwind of three months, the Lord provided the resources, $35,000 in all, to produce the documentary. My film debuted at a Ravi Zacharias' ministry event in 1998 when Ted and I did a presentation to adults and middle school students respectively. By God's grace and Ted's promotion, the documentary went on to become an award winning film and was distributed nationally for 10 years under Active Parenting publishers.
During this time, and through Ted's referral, I was also invited to Focus on The Family's Youth Summit in 1999 for Entertainment leaders where I was able to share clips from my film. My presentation opened the door for me to appear on the 700 Club, as well as to two articles in Citizen magazine—one being a cover story on Harry Potter that went worldwide and resulted in two TV debates on MSNBC concerning the harmful effects of this series on young people.
---
Lastly, Ted's friendship and mentorship led me to develop a Media Discernment course. Through Ted's encouragement, as well as my recent Centurion training program through Chuck Colson's ministry, the Lord has used me to educate thousands of students, teachers, adults, and youth leaders on media discernment over the last 13 years—through classes, seminars, films, and local and national op-ed pieces.
For the past two years, I have taught a class at Fourth Presbyterian Church in Bethesda, MD, entitled "Hollywood Meets The Apostles Creed." This fall, I will be teaching this course to our first graduating 8th grade class at Fourth Presbyterian School in Potomac, MD. My goal is to prepare them with the biblical worldview and media discernment they need to navigate high school and prayerfully engage their generation for Jesus Christ.
As Proverbs 27:17, states, "As iron sharpens iron, so one person sharpens another." I praise God for Ted and his ministry, and the way God has used Him to sharpen my life and use my gifts for God's glory. I pray that He will continue to multiply Ted's work, as we equip youth and adults in the vital areas of faith, virtue, and knowledge.