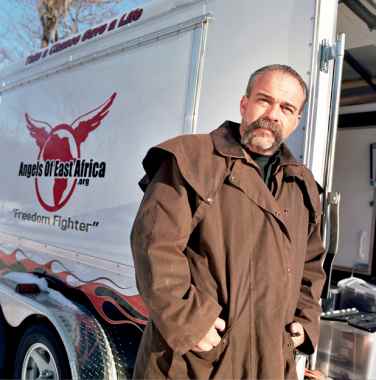 By Evy Baehr, Associate Editor
Haven't you heard? This is the real deal: a preacher who preaches through his machine gun. Hmm sounds interesting. Well let's take a look at what we have heard by hearing some words from the man who was given this title, Sam Childers. We hear about the reality, but also about the Hollywood drama, Machine Gun Preacher, coming out September 23, staring Garald Butler as the infamous Sam Childers.
First off, Sam Childers started to use drugs at the early age of 11, but realized that "if we choose the wrong choice, we need to stand up and say hey I made a mistake."
But, his slide down the dark path wasn't over. He started selling drugs and became a shot-gunner for drug dealers. He even began robbing dealers.
Then, he says, "I was in a bad fight and a shoot out in Orlando, Florida." This experience led Sam to think, "I don't have a problem with dying, I have a problem with what I am dying for. If I am going to die, I want to die for something good, not for something stupid."
Just as the movie shows, Sam was clearly at a very intensive state of drug use and going down the wrong path. After being in jail a few times, then moving away from his criminal life, Sam tells MOVIEGUIDE®, "Something brought me to my knees to make me want to change." From that change came a whole new life.
So, although Sam did not go back to a life of drugs, he spends a lot of time with people who do, witnessing to them and telling them of the good news of Christ. He even started a church for "the sinners." Sam also goes around the country speaking about the consequences of drugs.
"There's really no one who can speak on drugs like I can because I lost my son to heroin," Sam said.
Which is a very harsh reality, saying that he knew his son partied, but he never knew the extent, even though Sam's son knew his fathers past and looked up to his dad. This showing that Christ transforms, but there will always be pain in this world, it is the afterlife we there is total grace and peace.
Now, Sam does a lot of work with children in Sudan with his ministry, Angels of East Africa, where he works "rescuing children out of sex trafficking." The ministry has grown tremendously and saved many children who are in hiding from the rebels who also try to enlist them in their armies.
Sam said, when his daughter came on board with the ministry she told him, "I want to run your non-profit. . .. Dad, you remember when we didn't have money for clothes and we would go to the warehouse for clothes? I was right there getting mine. Do you remember when there wasn't much food on our table; I was eating at that same table. If any one can sacrifice for this mission, I can."
For the rest of Sam's incredible story, mature media-wise viewers should go see MACHINE GUN PREACHER, which opens Friday, Sept. 23. Sam says, "The movie was all based on the truth." Be forewarned, however. MACHINE GUN PREACHER contains strong foul language, explicit violence and drug references, so strong caution is advised.