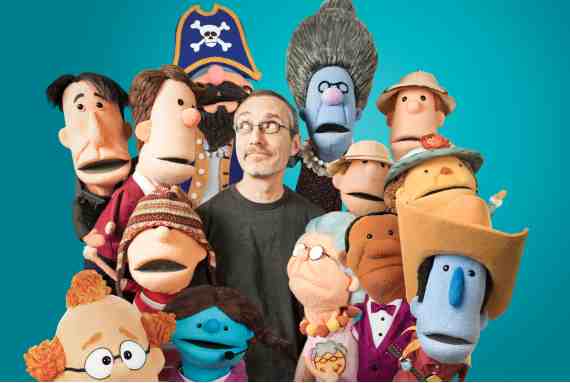 By Jeff Holder, Contributing Writer
VeggieTales creator Phil Vischer will soon be releasing the fourth volume of his new series for children of all ages, "What's In The Bible?"
MOVIEGUIDE® had a moment to chat with Phil to find out what's happening inside his new company, JellyFish Labs.
Phil explained the goal of the new video series:


"We want to help Christian parents pass on their faith to their kids. Over the years (in Christian media for kids) we have taught a lot of Christian values but have not really explained Christianity. We needed to go deeper."
Telling what Phil calls 'the big story' of the Bible is what makes "What's In The Bible?" so unique. Instead of an unrelated collection of Bible stories, this new series connects the stories to paint the overall plan of God for people. And, as you'd expect from Phil, the stories are told in a fun way that quickly engages both children and adults alike.
The first three DVD volumes are out and very successful. Parents and kids expecting another VeggieTales will be in for a surprise. For starters, Phil has traded in his "hat" of animator to wear the new hat of puppeteer.
"People first say, 'Wait. Puppets?' but then they get into it," Phil says. "I made my first animated film when I was eight. But, I started puppets when I was six."
This probably explains why Phil's two heroes are Walt Disney and Jim Henson.
Phil sees the new DVD series as one part Muppet Show and one part Disney Sunday night events when Walt Disney would explain atoms or the space program.
Phil says, "This way families can sit down together and learn something together."
Puppets aren't the only thing new at JellyFish Labs.
Phil coordinates a virtual studio with animators, musicians, and craftspeople all around the country. With four members on staff with Phil in Chicago, there are about two dozen more working long distance.
---
This is quite different from Phil's previous company, Big Idea, which at one point had over 200 people under one roof. The new way of working has breathed a new life into the direction of the new series.
Phil calls on parents to visit the web site (www.WhatsInTheBible.com) and to visit local Christian bookstores to get the new video series.
Phil discussed his theological motivation for creating this educational series.
"We have all this storytelling craft that our kids love on Nickelodeon and Disney Channel, but every Sunday, they go to church and someone just lectures. We then wonder why only one out of two Protestants can define the word 'grace.'"
Phil continued, "We need to take advantage of how effectively you can teach with visual media. We're trying to start a new movement of Christian education."
You can read MOVIEGUIDE®'s review of the first volumes of "What's In the Bible?" HERE.