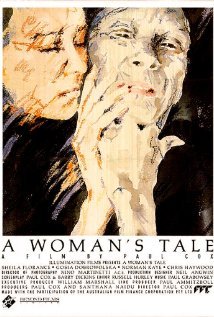 | | None | Light | Moderate | Heavy |
| --- | --- | --- | --- | --- |
| Language | | | | |
| Violence | | | | |
| Sex | | | | |
| Nudity | | | | |
What You Need To Know:
A WOMAN'S TALE, a drama that deals with death, chronicles the life and death of Sheila Florence who died nine days after portraying the dying Martha in the movie. Everyone in this unique film turns in a memorable acting performance, and the movie's theme on dying will provoke viewers to consider this sometimes taboo subject in a life affirming way.
Content:
(L, S, N) One obscenity; implied fornication & implied homosexual couple; and, very brief nudity (two times).
More Detail:
In A WOMAN'S TALE, Sheila Florence registers a special beauty in this moving drama, which, in effect, documents her own death. Last October 12, 1991, nine days after her portrayal of the dying Martha received the Australian Film Institute's nod for best actress, Sheila Florence died of cancer. A WOMAN'S TALE is her life-affirming legacy, fashioned with loving care. The travail that occupies Martha as she reaches the end of her road on this earth is viewed in proper perspective: the greedy landlord hovering impatiently around her apartment; homosexual neighbors with similar designs; and, a friend next door lost in a mind-fog that lifts only for his glory days as a World War II officer. Overall, however, the film focuses on the reflections and wisdom of one who is nearing death.
Sheila Florence gives a fearlessly unsentimental performance that reverberates in the mind long after the film has run its too brief course. Ultimately, A WOMAN'S TALE is a testament to some 70 odd years of character building, indelibly displayed by the actress and her role. Furthermore, for the Christian, A WOMAN'S TALE not only points up the importance of knowing Jesus as Savior, but also affirms life itself.