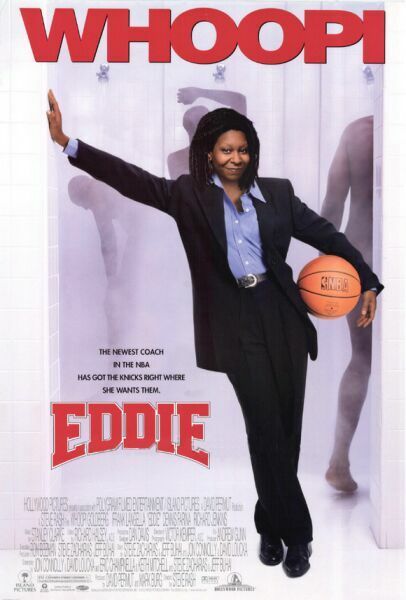 | | None | Light | Moderate | Heavy |
| --- | --- | --- | --- | --- |
| Language | | | | |
| Violence | | | | |
| Sex | | | | |
| Nudity | | | | |
What You Need To Know:
EDDIE depicts a fan given the opportunity of a lifetime: to coach her favorite NBA team. She struggles with attitudes because she is a woman who lacks self-confidence. She ends up encouraging and working hard at interpersonal communications and eventually helps the New York Knicks win the season.
Content:
(B, LLL, S, A) Moral worldview involving perseverance; 33 obscenities & no profanities; a couple of promiscuous situations but no sex; no nudity; and, alcohol use
More Detail:
In Eddie, Whoopi Goldberg plays Edwina Franklin, whose life changes with one free throw shot at a New York Knicks game. Eddie is a Manhattan limousine driver. Eddie knows every statistic imaginable about the team. The new owner, Wild Bill Burgess, rides into town ready to take control. At a game, Eddie is selected to be an honorary coach by sinking a free throw. The fans love her, so Wild Bill decides to bring her back causing coach John Bailey to quit. Eddie attracts the fans, even though the Knicks are still in last place. Eddie attempts to make the players realize they are not only out there for themselves, but also for the fans who spend money to see them. The team morale is boosted as is their ranking in the NBA. Eddie eventually rallies the team and the fans to keep the team in New York.
This movie contains a lot of basketball action, creating a very fun atmosphere. Whoopi and 49 of NBA's stars whoop it up. The movie provides an opportunity to see what is being said and done on the sidelines. It is a movie without sex or violence, but some foul language, and it offers a fantasy to any woman who ever wanted to be a part of the NBA.