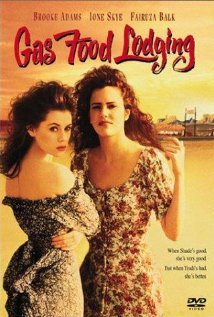 | | None | Light | Moderate | Heavy |
| --- | --- | --- | --- | --- |
| Language | | | | |
| Violence | | | | |
| Sex | | | | |
| Nudity | | | | |
What You Need To Know:
A mother and her two teenage daughters search for love in the dusty, desert town of Laramie, New Mexico. In view of numerous sexual encounters, the women's view of loving relationships do not square with Christian values.
Content:
(H, LLL, SSS, NN) A humanist worldview complete with: 28 obscenities & 4 profanities; explicit sexual encounters & innuendo; and, upper female nudity.
More Detail:
Set in Laramie, New Mexico, GAS FOOD LODGING focuses on Nora and her two teenage daughters, Trudi and Shade. Nora objects to her daughter having sex with a teenage boy and threatens to kick her out of their trailer if she does not stop. However, this lesson seems to be lost on Nora herself when she fornicates with a satellite dish installer. Meanwhile, the oldest daughter, Trudi, exhibits some courage when she becomes pregnant out of wedlock by carrying the child to term. However, the reasoning she uses is problematic. She insists on keeping the baby because "it's my choice." Shade, the youngest, falls into the same traps as they do. Shade establishes a relationship with a theater projectionist in the very same theater her ideas are conceived. Unfortunately, this relationship deteriorates when she and he end up in bed.
The film's ending emphasizes its skewed vision. The father of Trudi's baby is found dead in a cave where he had been exploring. The filmmaker would have us believe that this makes everything okay since he was committed to the very end. Obviously, this is not a vision we can share with the filmmaker. It simply is not possible to have love without commitment.