"Young Hearts Searching for Answers"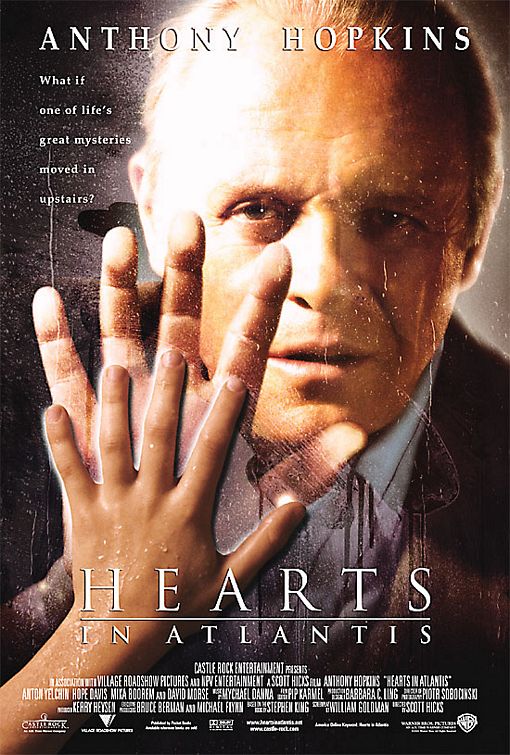 | | None | Light | Moderate | Heavy |
| --- | --- | --- | --- | --- |
| Language | | | | |
| Violence | | | | |
| Sex | | | | |
| Nudity | | | | |
What You Need To Know:
HEARTS IN ATLANTIS is the story of a young boy, Bobby Garfield, who, because of past and present parental wounds, opens his heart to his mother's elderly renter, Ted Brautigan, a psychic who befriends and encourages him. Bobby soon discovers, however, that Brautigan has a secret past and the ability to read minds, foresee the future and sense imminent danger. When the renter's dark past comes back to haunt him, Ted must search for the hero within himself to help avert impending danger.
Anton Yelchin gives a commanding performance as Bobby, and Anthony Hopkins plays Brautigan with his usual skill and style. The cinematography and art direction are beautiful, but the movie is woefully marred by overtly occult elements and the use of psychic occult powers to solve problems. No one in the movie acknowledges or calls upon the One True God, and the majority of the movie carries a pessimistic, anti-innocence worldview. The one good lesson, driven home quite thoroughly, is that children are empty, indeed, without good fathers. This is not enough, however, to redeem HEARTS OF ATLANTIS, which is loaded with occultism and New Age pagan concepts
Content:
(PaPaPa, OOO, FRFRFR, Ro, B, L, VV, SS, AA, D, MM) Strong New Age pagan worldview with grossly occult themes & false religion touting psychic powers; romantic notions regarding the innocence of children & the negative impact of the outside world as people mature, plus some positive moral elements about the need for fathers; several mild obscenities, one blasphemy, several instances of homosexual name-calling, & two instances of flatulence humor; relatively strong violence elements with mother being raped (veiled images), girl being fondled by bullies, & girl being hit with bat; portrayal of an affair with a slightly-veiled rape scene; no overt nudity, but dress is ripped away during brief, veiled rape scene; moderate abuse of cigarettes & alcohol; and, miscellaneous immorality such as gambling, betrayal, lying, deceit; relativism, pessimism, anti-innocence themes, & themes of premature romance.
More Detail:
Told in flashback, HEARTS IN ATLANTIS is based on Stephen King's story of Bobby Garfield (Anton Yelchin), an eleven-year-old boy who lives with his single mother, Liz (Hope Davis), in Connecticut. Liz is a neglectful, self-focused woman who is unable to understand or relate to her son. She spends what little money she makes on her sexy wardrobe, and she continually disparages the name of Bobby's deceased father, apparently a card gambler. For Bobby's 11th birthday she gives her son a library card, instead of the new bike he wanted, but Bobby covers up for his mother's selfish ways as he converses and explores the neighborhood with his friends, Carol (Mika Boorem) and Sully (Will Rothhaar).
Bobby is understandably thrilled when a kind stranger, Ted Brautigan, played by Anthony Hopkins, rents the apartment upstairs. He soon discovers, however, that Brautigan has a secret past and the ability to read minds, foresee the future and sense imminent danger. Brautigan is kind, but mysterious… encouraging, but foreboding. The old man speaks of childhood as "Atlantis," a happy, magical place that people grow out of as the realities of life make them cynical.
Brautigan offers to pay Bobby one dollar each week to read him the paper AND to watch out for the "low people," shady, ruthless men in dark suits and expensive cars who would soon be coming to find him. Bobby assures the man that he won't let the "boogie man" get him. Brautigan affirms Bobby and shares stories of authors and sportsmen, perseverance and courage.
The young boy and old man become friends, and one day Brautigan inadvertently imparts his powers to Bobby, who suddenly finds himself with unusual abilities. His best friends, Sully and Carol, are impressed and amazed as his new gift unfolds in such ways as card-winnings (his father's downfall). Bobby continues to lose respect for his mother, though, as he draws close to his new friend, and he becomes even more angry at her when he is taken to a pub and enlightened as to how great his father really was.
As the very real danger for Brautigan increases, and as one of his friends gets into harm's way, Bobby seeks to draw on the newly found hero within himself. Having had only betrayal and cynicism modeled for him, he undertakes to show true loyalty and friendship in an unsafe and scary world.
HEARTS IN ATLANTIS is a well-acted (especially by Yelchin), beautifully filmed movie horribly marred by New Age elements such as crystals, pagodas, chimes, and psychic phenomenon. As Christians, we understand that psychic powers are the world's substitute for God's true gifts of the Word of Wisdom, Word of Knowledge, and Prophecy, just as lust is the enemy's substitute for true love. A believer with God's true gift can impart life to others and speak the Father's heart of unconditional love and purpose. The psychic can give temporary hope and initial fruit, but the end result is darkness and despair. Because they probably lack this understanding, the filmmakers do not go far enough in showing this dark end.
HEARTS IN ATLANTIS also portrays romantic love between Bobby and Carol, the two eleven-year-olds. Having an 11-year-old girl myself, I was appalled to see yet another movie sensitizing our hop-scotching, girl-scouting children to this kind of pressure. Do we not have a whole lifetime to do the kissing and such? Let's protect the eyes and hearts of innocence for as long as possible.
The writers do, however, seem to understand that a child's view of God and the world is completely dependent upon his or her view of "Dad." Children long to see heroic qualities in their fathers – to really believe in them and trust them, and the story demonstrates this concept well. Bobby's whole goal in life is to receive the love and approval of an adult male, the affirmation he had never known from his father.
It is interesting that though Brautigan has a vision of childhood being the happy, magical Atlantis, he actually brings into Bobby's life a great measure of adult fears and responsibilities. Much psychological research has been done about the negatives of such parental inversion issues, but these dark elements will be overlooked because Brautigan represents friendship and affirmation to the boy.
Overall, many of the characters in this movie seem to have empty hearts, and the despair of life is evident in such quotes as, "Time is the old, bald cheater" and "Wishing it were so does not make it so." The filmmakers missed a great opportunity to reveal the One True God who heals every wound and fulfills every longing. As those who know the source of life and truth, this movie will feel dark and sad, with only a few smatterings of laughter and hope.
Because of its abhorrent theme(s), MOVIEGUIDE® cannot recommend HEARTS IN ATLANTIS for anyone of any age.