"Discovering What It Means To Be a Father and a Leader"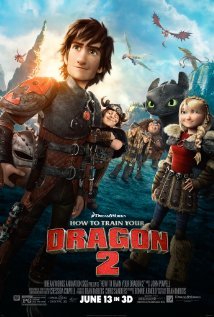 | | None | Light | Moderate | Heavy |
| --- | --- | --- | --- | --- |
| Language | | | | |
| Violence | | | | |
| Sex | | | | |
| Nudity | | | | |

What You Need To Know:
The animated family adventure HOW TO TRAIN YOUR DRAGON 2 takes place five years after the first movie's events. The now thriving Viking village of Berk has made peace with the dragons. Everyone has his own personal dragon to ride. Hiccup struggles with the thought of filling his father's shoes as the village's next chief. Hiccup learns his long lost mother is still alive, and a war is threatening to come to his village. This news quickens Hiccup's transition to manhood. Eventually, he learns what it means to be brave and to serve others.
HOW TO TRAIN YOUR DRAGON 2 is extremely entertaining with beautiful animation and a very well written story. There are some very inspiring moments where a father forgives and fights for his family, as well as themes of bravery, courage and sacrifice, showing what it takes to be a real leader. Hiccup's father is shown positively, and the undying affection he exhibits toward his wife is refreshing. Caution is advised for younger children, however, because of the action, some scary dragons and brief references to pagan Viking gods.
Content:
(BBB, C, PP, Pa, E, PC, Ho, L, V) Very strong biblical worldview, with some redemptive and patriotic elements, extolling bravery, forgiveness, sacrifice, peace, defending one's homeland, and family love, with light pagan elements during a funeral where Norse gods are mentioned and in exclamatory pagan profanities, light environmentalist worldview with a politically correct view of nature, plus a subtle, comical borderline homosexual reference when man with pegleg says he never got married for "one other reason"; light pagan profanities with a few utterances of "gods" or "oh my gods," and a man says "soil my britches"; some tense animated action violence including a war, but nothing gruesome or violent, one character does die, and some dragons are scary; no sexual immorality, but kissing between married couple and a boyfriend/girlfriend kiss, plus a few boys fight for the same girl's attention; no nudity; no alcohol; no smoking or drugs; and, nothing else objectionable.
More Detail:
The animated family adventure HOW TO TRAIN YOUR DRAGON 2 takes place five years after the events of the first movie.
The now thriving Viking village of Berk has made peace with the dragons. Everyone has their own personal dragon. Also, Hiccup is no longer a scrawny boy, but is transitioning into adulthood. Along with this change, his father, Stoick (Gerard Butler), wishes to appoint Hiccup as Berk's next chief, but Hiccup has no desire to be chief. Instead, he wants to explore new undiscovered territory with his trusty dragon, Toothless.
During one of Hiccup's quests into the unknown, he and his girlfriend, Astrid, discover a group of men on a ship who are capturing dragons. Hiccup and Astrid confront the men, who reveal that a dragon hunter named Drago has assembled a dragon army and will stop at nothing to take over Berk. When he warns his father Stoick of the upcoming attack, Stoick decides to lock the village down in preparation for war. Hiccup suggests reasoning with Drago to find a peaceful resolution, but Stoick says that one cannot reason with men with no reason. Hiccup decides there's got to be a better way, so he leaves Berk to convince Drago that dragons can be trusted.
Along the way, a mysterious dragon rider captures Hiccup and takes him to a dragon lair. This dragon rider is revealed to be Hiccup's mother, whom he thought had died when he was a baby. She explains that she tried to convince Berk to seek peaceful measures in their dealings with dragons, but to no avail. When Hiccup was a baby, one battle on one fateful night resulted in her being taken by the dragons. Now, years later, she is a protector of the dragons and fights for their safety.
After reuniting the family, Drago's army arrives and the lives of all the people and dragons of Berk are in danger.
HOW TO TRAIN YOUR DRAGON 2 is much more epic and inspiring than even its predecessor. With some of the best animation ever created, the vast scope of and scale of the world is truly remarkable. The sequel also improves on the first movie's story, giving a more rich and inspiring message for families. Clever jokes, hilarious moments and lovable characters, including people and dragons alike, make this sequel an enjoyable ride.
The movie's dominant worldview is morally inspiring. The movie's main theme revolves around Hiccup becoming a man. At first, he struggles with the idea of filling his father's shoes, because he doesn't think he can live up to his father's selflessness and bravery. Eventually, however, instead of running from this responsibility, he finally embraces it. Although Hiccup doesn't always listen to his father, he looks up to him. Even better, Stoick is seen as a much more positive father figure in the sequel. For instance, when Stoick reunites with his long lost wife, instead of responding with anger because she stayed away, all he has is love for the woman he lost. Thus, his sense of forgiveness brings them closer together.
Also supporting the movie's strong moral worldview are some wonderful themes about using violence as a last resort and being prepared to defend one's people, plus a couple redemptive moments of sacrifice. Hiccup's father represents a loving and selfless protector, not just of his family, but of all those in Berk. This is perhaps the movie's most inspiring part. It makes HOW TO TRAIN YOUR DRAGON 2 a good movie for Father's Day.
One failure in the movie is the lack of a realistic motivation for Hiccup's mother to stay out of their lives for 20 years. Her reasons for staying away weren't good enough, and her regret about it wasn't strong enough. Improving this part could have improved her character arc.
Regrettably, the movie's moral, redemptive themes are accompanied by minor environmentalist elements, some pagan religious references and a very subtle homosexual joke.
Similarly to the first movie, the dragons are seen as these innocent creatures that humans corrupted. While it's true that the fall of man brought sin and death into this world because of Adam, it's not fair to guilt trip children into thinking that violent animals are always the result of human cruelty. This is a common politically correct viewpoint that should be responded, not with hostility towards the environment, but with a biblical God-fearing respect of God's creation, and our duty to care and take dominion of it.
DRAGON 2 also has a reference to pagan Norse gods at a Viking funeral. While this may be historically accurate, it would have been much more positive if they had included a Christian monk or missionary character who preached the gospel of peace to the Vikings in that era.
Lastly, there's a minor reference to homosexuality where one character, who has a pegleg, says, "That's why I never got married; well, that and one other reason." This line wasn't in the original script, but the actor giving voice to this character decided to throw it in as an ad-lib. Extremely subtle, the joke will likely go over the heads of most children and many adults, but it's still there.
Overall, HOW TO TRAIN YOUR DRAGON 2 is a fun, relatively clean, inspiring movie with only minor, animated action violence, but a caution is advised for younger children due to the action, some scary dragons and the contradictory, dubious worldview elements.