"A Real-Life Big Fat Hindu Wedding"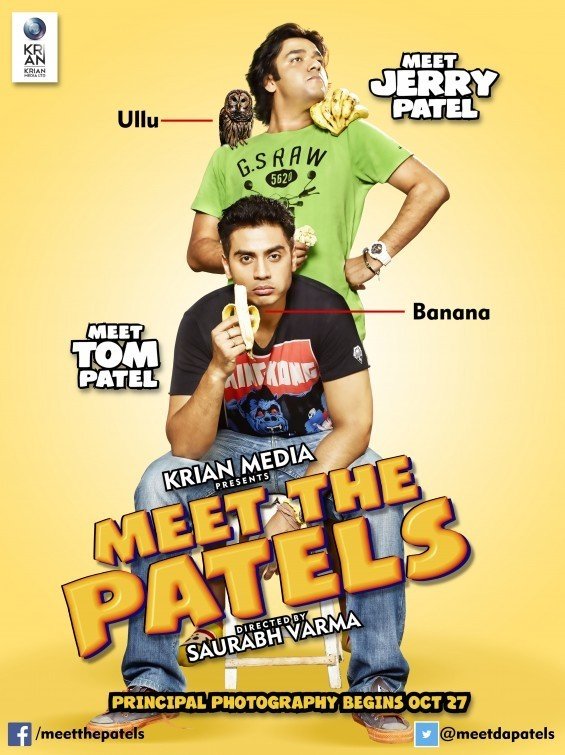 | | None | Light | Moderate | Heavy |
| --- | --- | --- | --- | --- |
| Language | | | | |
| Violence | | | | |
| Sex | | | | |
| Nudity | | | | |
What You Need To Know:
MEET THE PATELS is a laugh out loud movie about a 30-year-old Indian-American trying to find love in the United States, despite his parents' desire for him to marry a traditional Indian woman. What his parents don't know is Ravi has been in a romantic relationship with an American girl for two years. After a fresh breakup with his secret girlfriend, Ravi decides to take part in his parents' traditional methods of finding someone to marry. Caught in a love triangle between what he wants and what his parents want for him, Ravi learns that finding love isn't easy, and you can't please everyone.
MEET THE PATELS is a unique documentary. It displays qualities of a romantic comedy, but intertwines cartoon graphics to cater to children as well as adults. The movie is very wholesome. It also stresses the importance of family and love, but in a Romantic context where religion and culture don't matter as long as you love the person you marry. Also, MEET THE PATELS contains general references to the Hindu lifestyle of Ravi's family, so caution is advised.
Content:
(Ro, PC, BB, C, Pa, FRFR, A, M) Light Romantic worldview promoting multiculturalism where romantic love overrides religious or cultural differences and concerns, with strong moral elements showing a heavy emphasis on the value of family, honoring one's parents, redemptive forgiveness, and the importance of healthy relationships between men and women, plus positive relationships between interracial couples show Christ-like quality of acceptance of all people regardless of race, interviews with Christian men who married Hindu women display a strong belief in God, but the family in the movie is clearly Hindu showing Indian people going to temples and praying, probably to Hindu gods, but no details are mentioned, and there are references to arranged marriages; no foul language; no violence; no sexual immorality but boyfriend and girlfriend hold hands, boyfriend talks about falling for a girlfriend and how their first kiss was a little awkward, Indian husband and wife display loving marriage with strong family values; no nudity; light alcohol use, including man has an alcoholic drink on a date with a woman to ease his nerves; no smoking or drugs; and, light immortality when son lies to his parents for two years about his secret girlfriend.
More Detail:
MEET THE PATELS is a laugh out loud documentary. It's a humorous love story with elements so similar to a romantic comedy that viewers may forget they're watching an eye-opening documentary about the issues of race, love and traditional Indian beliefs.
After a recent breakup with his long-term girlfriend, Ravi Patel decides to go along with his parents desire to find him love. The movie begins with Ravi and his sister, Geeta, on a family vacation to India. While on vacation, Ravi's parents give him unwanted parental advice on what their son needs to be happy: a good Indian Patel woman. Patel is a common name in certain regions of India and originates from a group of Indians who branched out of farming and landowning to various business ventures, especially hotels, but also in medical trades. They are often doctors or lawyers in the United States. The problem is, the percentage of Patels living in the United States is still slim. To make matters more complicated, Ravi is an American-raised Indian and his traditional Indian heritage is far from the American lifestyle to which he's accustomed. He worries a Patel woman wouldn't understand his American lifestyle. In an attempt to please his parents, however, he goes along with their desire to set him up with a traditional Indian woman in the States.
From this point, the movie is filled with non-stop laughter as Ravi embarks on a series of interesting dates. His parents join Indian matchmaking websites for their son and send him to weddings. They set him up on blind dates through Patel organizations and sign him up for a Patel speed dating event only intended for Patels to find a spouse to marry. His parents see no harm in these methods for marriage as they themselves only met one time before they married. Yet, Ravi can't seem to find a connection with any of these Patel women.
Throughout the movie, Ravi uses cartoon graphics to display his most personal thoughts. Through the cartoons, the audience gets a glimpse into how Ravi truly feels. From these images, the audience learns Ravi is still in love with his ex-girlfriend, a Caucasian American woman. The problem is, his parents don't know about her, and Ravis' afraid to tell them. Fearing they might reject him if he expresses his love for her, he keeps his mouth shut.
Yet, after much agony, a conversation with his sister and a phone call to his ex-girlfriend, Ravi realizes he still loves the woman he thinks his parents might reject. He finally tells his parents he's been dating the girl for the past two years but was afraid to tell them because she is not of Indian Patel descent. Stunned and heartbroken, his parents can't understand why he kept this relationship a secret from them for so long. His parents' reaction to his confession brings the movie's overall theme together, an emphasis on the love of a family. According to the movie, a loving, healthy family will love you for who you are, not who you decide to marry.
This comical documentary uses humor to appeal to the questions every person struggles with at some point in their lives. What is love? How do we find it? How do we balance our family's desire for our future versus our own desires? Is there a happy medium? MEET THE PATELS explores the societal pressures of marriage in a first-generation Indian American family, but it's a movie everyone can relate. With the pressure of marriage and the heavy emphasis on "finding the one," many viewers may feel a great sense of relief after watching this movie and learning they are not alone with this pressure.
MEET THE PATELS displays positive morals needed for a healthy relationship including love, respect and compromise. The movie talks about the joy that comes from a working marriage and the love it creates in a home for a child.
Despite this uplifting message of family and love, MEET THE PATELS does show people going to Hindu temples and praying, apparently to unmentioned Hindu gods. It also discusses the Hindu, Indian tradition of arranged marriages. These things may be confusing for young children to comprehend, so caution is advised for MEET THE PATELS.
Now more than ever we're bombarded by darkness in media, movies, and TV. Movieguide® has fought back for almost 40 years, working within Hollywood to propel uplifting and positive content. We're proud to say we've collaborated with some of the top industry players to influence and redeem entertainment for Jesus. Still, the most influential person in Hollywood is you. The viewer.
What you listen to, watch, and read has power. Movieguide® wants to give you the resources to empower the good and the beautiful. But we can't do it alone. We need your support.
You can make a difference with as little as $7. It takes only a moment. If you can, consider supporting our ministry with a monthly gift. Thank you.