"A Little Sister Goes a Long Way"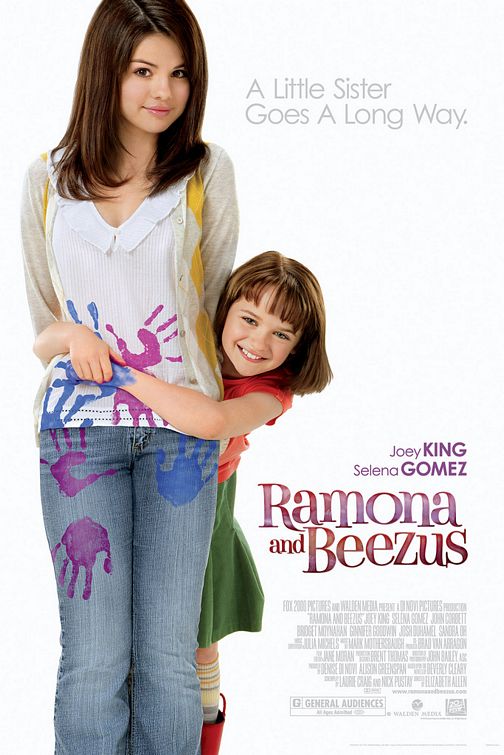 | | None | Light | Moderate | Heavy |
| --- | --- | --- | --- | --- |
| Language | | | | |
| Violence | | | | |
| Sex | | | | |
| Nudity | | | | |
What You Need To Know:
RAMONA AND BEEZUS is a funny, heartfelt family film. It follows the exploits of young Ramona Quimby. The middle child of three girls, Ramona struggles to fit in both at home and at school. At home, she must please her parents while following in the footsteps of her older sister Beezus, who is beautiful, popular and gets perfect grades. Ramona looks forward to getting a room of her own, but then her father loses his job, so she tries to help out by making money selling lemonade and auditioning for a TV commercial. When her efforts fail, Ramona begins to think that her family is better without her. So, she thinks about running away.
Based on a popular series of children's books, RAMONA AND BEEZUS is a delightful, winsome family movie that will entertain both young and old. Joey King is a perfect Ramona. Her endearing performance is reason enough to see the movie. In fact, there is good chemistry among the whole cast. Most importantly, RAMONA AND BEEZUS is appropriate for children of all ages. It also contains many Christian, moral values such as love, family, perseverance, and individual worth.
Content:
(BB, C, V, A, M) Strong moral worldview with light redemptive content showing strong mother and father figures and a family structure based on love, support and faith in one another; no obscenities or profanities but some mild insults such as "jerk" and "pest" and "shut up"; comic water fight scene between
More Detail:
RAMONA AND BEEZUS is a funny, heartfelt family film that follows the exploits of Ramona Quimby (Joey King) as she uses her vivid imagination and sense of adventure to try and help save her family's home when her father (John Corbett) loses his job. Although her efforts often end in disaster, you can't help but fall in love with her sweet spirit, positive energy and love for her family that ultimately motivates her to do good.
The movie opens with Ramona and her friend Howie (Jason Spevack) playing on the jungle gym at school. When Ramona is suddenly frightened of slipping off the bars, her imagination takes her into a world of her own where she pictures her life on the line as she dangles from a bridge far above a rushing river. At this moment, the audience sees the world through Ramona's eyes, which immediately sets the stage for audiences to better understand and appreciate her creative mind and rambunctious personality. These scenes in "Ramona's World" happen a number of times throughout the movie and add a lovely, childlike understanding of how children view life and the experiences around them.
As the middle child of three girls, Ramona struggles to fit in both at home and at school. At home, she must please her parents while following in the footsteps of her older, "perfect" sister Beezus (Selena Gomez), who is beautiful, popular and earns perfect grades. At school, Ramona struggles to understand and obey the rules that academics and her teacher (Sandra Oh) strictly outline for her. Because she doesn't fit the mold of those around her, she often ends up being ridiculed and teased, but instead of getting her down it encourages her to work harder to prove herself.
Ramona marches to the beat of her own drum, but is also aware of disappointing the people she cares about so she takes it seriously when her father tells her it is time for her to grow up. From helping with the laundry to feeding her baby sister to taking care of the family pet, Ramona puts forth effort to prove she's grown up and responsible enough to deserve the new room her parents are having added on to their house.
In the midst of these efforts, however, her father loses his job, and her focus shifts to making money so she can help keep her family's home. Ramona fears the bank will take away after she overhears her parents discussing the possibility. To make matters worse, Ramona's classmate tells her that her own parents divorced after her father lost his job, so Ramona's urgency to help her family increases out of fear of losing her father as well. From a lemonade stand using her grandmother's expensive crystal that results in her sister swallowing a bee to a car wash mishap that ends with her neighbor's car being coated in multiple cans of brightly colored paint, all of Ramona's efforts fail. What's worse is when she decides to audition for the local peanut butter princess commercial through which she thinks she'll make a million dollars and save the day, Ramona trips and falls during the audition. This not only blows her chances at landing the commercial, but also causes her homemade tiara made out of pinecones and burrs to get stuck in her hair. This results in a haircut by her father that makes her hair stick out in every direction.
With all of these failed efforts, Ramona eventually loses heart and decides her family is better off without her. She tells her mother (Bridget Moynahan) she is running away. Instead of trying to stop her, her mother surprisingly helps her pack her bags so she is well prepared for life on her own. Suitcase in hand, Ramona leaves and makes it as far as the bus stop before she discovers that her mother has purposely packed her bag with a bowling ball and other items to make it as heavy as possible to stop her from getting too far from home. As Ramona digs deeper through her suitcase, she finds her baby sister's room monitor and hears her mother's voice calling her name. Will Ramona come home or run away? The climax is totally touching and heartfelt.
While the movie focuses on Ramona and her antics, there are other peripheral stories that add to the meat of the story. The love story between Aunt Bea (Ginnifer Goodwin) and Hobart (Josh Duhamel) is portrayed morally as Hobart courts her appropriately and they get married before living together. The friendship between Beezus and Henry (Hutch Dano) is greatly emphasized as the core of their relationship and the basis of any romance that develops between them. Furthermore, issues such as Ramona's father losing his job and struggling to find work and her mother sacrificing staying at home to raise the children in order to work and help support her family are reflective of our current economy and the trials that so many families face today. Unlike many real-life families, however, the Quimby family is portrayed as cohesive in the midst of such trials. Also, the father is honored and supported as he transitions into the role of primary caretaker.
Toward the end of the movie Ramona's father is offered a new job, but this is not without consequence, since the new job is hours away, so the Quimby family must sell their home. Ramona and Beezus are heartbroken about leaving everything familiar behind until their father is offered a last minute job at Ramona's school as an art teacher. This is the creative position about which he had always dreamed, but had sacrificed years prior to become an accountant and provide for his family.
The movie title implies that this movie is based solely on Beverly Cleary's book RAMONA AND BEEZUS, but it is actually a conglomeration of scenes from the entire Ramona Quimby series. While there are several tender moments between the sisters to justify the title, including Beezus styling Ramona's hair for picture day and the girls consoling one another when their cat dies, the biggest disappointment is that many great scenes from the book series are sacrificed in order to make one film.
This movie is creatively shot so as to reflect a child's imagination at times, but it also maintains a contemporary, realistic feel so that older audiences are also entertained. The dialogue and story line are geared more towards children and teenagers, but there are elements in the movie that are definitely relevant to adults as well. Overall, the movie is well made, the cast has good chemistry onscreen, and the relationships and experiences shared among family members, friends, and romantic interests come together to create a true feel good experience at the theatre. Joey King is a perfect Ramona. Her endearing performance is reason enough to see this movie. Most importantly, this movie is appropriate for children of all ages and includes many Christian-influenced themes such as love, support, perseverance, and acceptance of individuality.