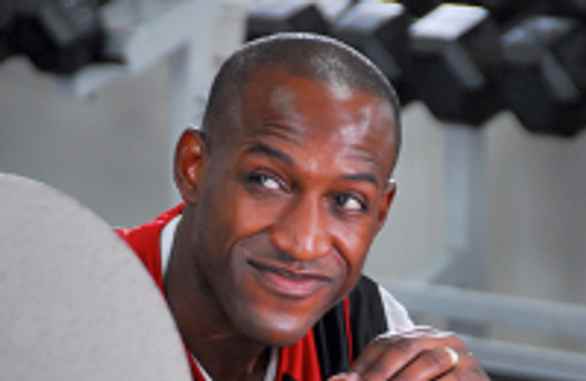 By Carl Kozlowski, Contributing Writer
Most megachurch ministers are busy enough tending to the thousands in their pews each week Ken Bevel and his fellow pastors at Sherwood Baptist Church are also attempting to reach millions more by catching people in the nation's movie theaters.


A recently retired Marine who now works full-time as the senior associate pastor of Sherwood Baptist Church in the small rural city of Sherwood, Georgia, Bevel found himself launched onto the big screen in 2008, when he played a fireman in the movie "Fireproof," which was fully produced by Sherwood Baptist before making the unprecedented leap from a mini-budgeted Christian church production to a nationwide major-studio release as Sony took a leap of faith and found its trust rewarded when the movie became the most profitable movie of the year.
That's not just hype. In fact, "Fireproof" was the third movie fully created by Sherwood under the leadership of its pastor Alex Kendrick, who co-wrote and produced that movie and its two predecessors "Flywheel" and "Facing the Giants" with his brother Stephen while also directing all three movies. Each of the Sherwood productions touched audiences in a bigger way than anyone ever expected, as "Flywheel" became a DVD hit on just a $20,000 budget, "Giants" cost just $100,000 and earned nearly $11 million through a release by indie distributor Samuel Goldwyn, and "Fireproof" earned nearly $35 million while costing just $500,000.
Each movie from Sherwood has had its cast and crew composed almost entirely of amateurs, as Kendrick led the way after making his own leap of faith when he felt God's surprise call to bring modern-day parables to the masses. "Flywheel" focused on a lying used car salesman who learns to be honest, while "Giants" refashioned the David and Goliath story for the world of high-school football, and "Fireproof" used the example of firefighters teaming with each other in death-defying circumstances to show the importance of keeping strong marital bonds. Now Bevel is back along with the rest of the Sherwood gang in the new movie "Courageous," which is again being released by Sony on even more screens than "Fireproof" ever reached.
(To put this in perspective, most major release movies play on at least 2500 screens, but "Fireproof" never played on more than 900 and "Courageous" is debuting on just 1100.)
Focusing on small-town Georgia police who learn to re-establish their family priorities ahead of career after a tragedy hits their town, "Courageous" marks a bold leap forward for the Sherwood creative team. Taking into account secular criticism that their earlier movies' plotlines were too simple and black and white in their depiction of often-complex moral situations, the new movie is resoundingly Christian in its perspective but has adopted a multiple-plotline structure that reminds viewers of the Best Picture-winning "Crash." In case you think you know how everything in a Christian movie will happen, be aware that Sherwood's explosive breakthrough with "Fireproof" inspired the stunt coordinator of the "Bourne Identity" trilogy to donate his time supervising some rock 'em-sock 'em shootouts and carjackings in this one.
This reporter was on the set in the midst of some of the most intense (yet still Christian-friendly) action, and the results were impressive. Speaking by phone from Sherwood Baptist, Bevel reflected on their wild ride and his unflinching devotion to spreading Christ's message through this and possible future movies.
MOVIEGUIDE: So this must be a thrilling week, waiting for the big release.
BEVEL: I'm just excited about what God is gonna do with the movie.
MOVIEGUIDE: Tell me about your own background. Did you ever want to be an actor before Fireproof? How does it balance with your work as a minister?
BEVEL: Being an actor for the movies "Fireproof and Courageous" had never remotely entered my mind. I was only a tree in a preschool play over 30 years ago. I feel God called me to do it while at Sherwood, so I don't feel it's anything different than serving in a capacity as usher, door greeter or out in the parking lot. I'm just excited about "Courageous" and God using it to call fathers back home.
MOVIEGUIDE: What was the biggest challenge in this movie vs. "Fireproof"? Do you feel it got easier doing the second movie, and what do you think you've learned as an actor?
BEVEL: When I go into acting there's always a difficult portion of it. The first thing is, am I doing it for self or for the right reasons, which is to save lives. I have to check my motives first. The second thing is if I feel that God is calling me to act in this movie, then know my lines and make sure I identify with my characters. One of the difficult parts about the movie is just taking myself out of the way and letting God do the work for "Courageous" and "Fireproof" – taking Ken out of the way and allowing God to be seen through me.
MOVIEGUIDE: How do you get the word out on the movie? You have to really fight it out against the secular blockbusters.
BEVEL: We travel a lot promoting the movie to churches, theaters and organizations, getting it in the hands of leaders so they'll share it with their people. The campaigns absolutely get bigger. Each time from "Flywheel" with a $20,000 budget all the way to Courageous there's a huge jump in responsibility.
---
For the acting, we've brought on a few more paid actors where in Flywheel just about all the people were from our church. Each time the pastor and staff have wanted to add a little bit better and do better for God's kingdom. Each time they're trying to hit a new level of excellence, and along with that comes its challenges like greater publicity in the country. As we get a bigger platform, we continue to push so that we get praise not to us but the Lord.
MOVIEGUIDE: Did you yourself study acting? You've got a real charisma onscreen.
BEVEL: No acting lessons at all, good acting coaches on the scene give us a lot of pointers. Stephen and Alex are great guys, full of grace and willing to work with me. Praying to God allowing me to be real, and multiple people behind the scenes praying that I would be believable to get me through this.
When my wife and I came to Sherwood in 2007 we didn't know that this church made movies. We'd heard about "Facing the Giants" and thought if a church made it had to be cheesy or bad acting, but we were impressed and our lives were literally changed by looking at Sherwood Pictures. A few weeks later, my wife and I were sitting in sanctuary during service and talking about putting out fires and sliding down firepoles, and stuff every guy wants to do, and I thought I'd love to do that, and Alex asked me to audition. I tried out and did terrible, had no experience in doing that. When the audition was over, they brought me back in and said Ken we'll give you the part not because of your acting ability and because you have a heart for the Lord, and He'll provide everything else"
MOVIEGUIDE: This movie seems more complex and the action more intense than in "Fireproof." Do you know if there were any struggles in finding where to draw the line while still making sure there was enough action?
BEVEL: I wasn't involved in the process of what scenes would be cut out and added to it. We prayed over it corporately, how far to take it. You want to be as real as possible but at the same time you don't want someone to stumble or a child to have nightmares because they've seen the movie. They prayed a lot on what lines to leave in, take out and what was pushing too far. They ultimately tried to figure can we tell the story with this or that taken out, and is the Gospel still telling its story and holding the Christian beliefs that we have here?
MOVIEGUIDE: What do you have to say about the new movie's message and theme of fatherhood and its importance?
BEVEL: It's incredible. That's my one word to describe the movie – being a father and how to model out fatherhood. About being there in the home, I hear about guys being fathers but what does it really mean to be a father? Men and women out there who want to know what a real father should look like and be modeled out of this.
MOVIEGUIDE: How's the response been at early church screenings across the country?
BEVEL: It's incredible. People in the theater are clapping and crying, saying this is the best movie Sherwood has put out, but they also say this movie really challenged them to take it to another level and to bring their families better for the Lord.
One of the things that we've seen is that we always work with a relatable theme. When you look at "Flywheel," it starts out as our local community and some areas around it, and basically Christians came to watch the movie. As it got out on different channels, more unbelievers gravitated to the movie. Even if you're not Christian you want something wholesome for your family and movies that show a good message. "Flywheel" was about dishonest car salesmen, and everyone can relate to that.
With "Facing the Giants," 70-80 percent of American men love football so they could identify with the football. With "Fireproof," people don't get married to get divorces, but to be happy and have a family. In an age of skyrocketing divorce, you want to see a happy marriage.
With "Courageous," no one grows up wanting to be a deadbeat dad, so this will resonate throughout our culture and beyond, this will cross over tremendously in the secular market as well as very well in the Christian markets. Being a Marine for 20 years, then running and falling and shooting was my ball of wax. It was exciting at the same time it was challenging. I can do this, knowing it was for the Kingdom.