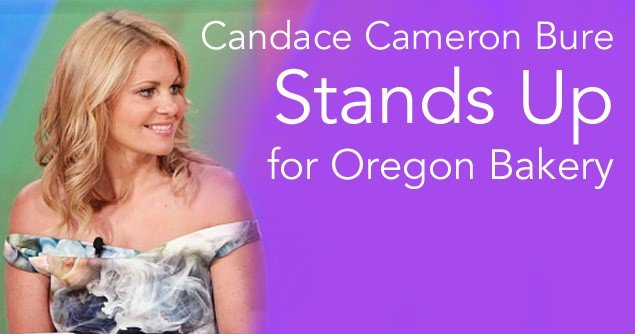 Candace Cameron Bure Stands Up for Oregon Bakery
By Jonny Zachary
UPDATE, August 25, 2015: Candace Cameron Bure has just announced in a statement that she will be permanently added as a co-host on The View, starting in September. Regarding this, Candace commented, "I am thrilled to be joining 'The View' as a regular co-host this fall. I am honored to be a new addition to such a strong group of bright and opinionated women, and I look forward to sharing this exciting journey with viewers new and old." What an exciting opportunity!
On The View's Tuesday, July 7th episode, Candace Cameron Bure co-hosted the show and got into a bit of a heated discussion with Raven Symoné. During the Hot Topics segment, a discussion arose about a bakery in Oregon that refused to serve a cake to a lesbian couple.
Host Whoopi Goldberg brought up the topic and let her co-hosts know that the owners of the bakery were ordered to pay $135,000 to the couple for the "emotional and mental suffering that resulted from the denial of service." She went on to ask the rest of the group, "Is this right or did they actually violate [a law]?" The first thing brought up was that the price to pay was outrageous, but immediately after that, Symoné mentioned that "the Oregon law bars businesses from discriminating against sexual orientation, race, disability, age, or religion, and, to me, it's the same exact thing that they did back in the day, saying that black people couldn't do certain things because it's 'my religious belief.'"
Cameron quickly responded, saying, "I think you are comparing apples to oranges, here. I don't think this is discrimination at all. This is about freedom of association; it's about constitutional rights; it's about First Amendment rights. We do have the right to still choose who we associate with," to which Symoné said, "I refuse to associate with you right now." Cameron went on to explain that the owners of the bakery, the Kleins, had baked cakes for the couple before, but they didn't feel comfortable baking a cake for the ceremony itself, due to their religious beliefs.
Goldberg jumped in and asked, "But, were they invited to the wedding?" Cameron jumped to their defense, "No, but it was to provide a service. They have the right to refuse service."
"But, apparently they don't, according to Oregon's [laws]," Goldberg refuted.
Cameron went on, saying, "But, it wasn't against sexual orientation."
Symoné then said, "Sexual orientation also goes hand in hand with marriage in that situation. If it was a man and a woman, and one was black and one was white and they [were] discriminated against, we could also go back into the Constitution that's had many amendments saying they should be able to take care of this family, as well." The panel went on, discussing that the law regarding this matter is very up in the air, at the moment, and it's hard to decide where to draw the line on a case like this.
Cameron changed the subject, saying, "Here's the thing I wish we could do as a society, as a culture, as a country, is to respect that we have opposing views. We're never going to agree, but we can be respectful to agree to disagree on these things, and we can go to different businesses […]."
A visibly upset Symoné agreed to disagree, but added, "If you're going to be a religious party or if you're going to be someone that believes in an Almighty Being, you should be respectful from the get-go," to which Cameron argued that the Kleins were respectful in their denial to serve the cake. Goldberg quickly stopped the argument before it got out of hand, and Symoné and Cameron gave each other a big hug.
The panel then asked Goldberg what she thought on the matter and she told them, "I know that many Christians feel this is a bias against Christianity, that they feel under attack. Well, I'll tell you, when there was a separation between church and state, we didn't have these issues, because you have the right to believe whatever you want under our Constitution—everybody does. Everybody has the right to believe what they want. Now, if you're going to be a pharmacist [for example], I don't know if you're going to want to go into that business, that is a service business, that puts you in contact with people you may not want to be around.
According to an article by The LA Times earlier this year, the Kleins' car was "vandalized and broken into twice" due to the negative media attention they began to receive after they would not bake a cake for the wedding. "Photographers and florists severed ties with the company," Klein says, which led them to close the storefront shop in September of 2013.
http://www.latimes.com/nation/la-na-oregon-bakery-wedding-cake-20150703-story.html