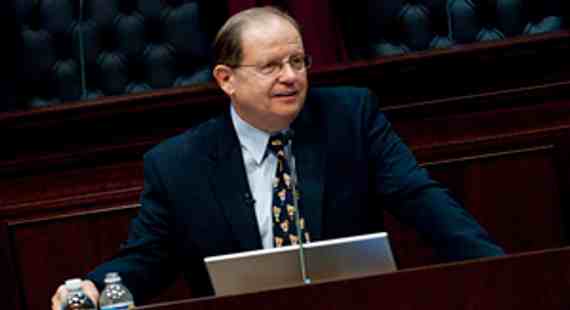 With tensions running high in South Korea over the North Korean shelling of an island near the North Korean border in which four people were killed, including two South Korean marines, Dr. Ted Baehr, publisher of MOVIEGUIDE® and author of "THE MEDIA-WISE FAMILY," who had traveled from Southern California was still able to give the keynote speech this week at
the International Christian Educators Conference in Suwon, South Korea, near Seoul.
Over 880 Christian teachers from all over the world, were briefly able to put aside the tensions to hear Dr. Baehr's message on how to train children and teenagers to be media-wise consumers and to make good decisions in their media choices.
Dr. Baehr also taught four classes on media wisdom at the conference.
"The mass media creates the culture that influences the hearts and minds of children and teenagers," Dr. Baehr said. "That's why it's so important for parents and teachers to train their children and students to be media wise, to be careful, informed consumers."
During his visit to South Korea, Dr. Baehr met throughout the week with several leaders in South Korea's burgeoning film industry, to discuss with them the importance of making family movies and movies with faith.
"They were excited to hear that family films with faith and values do very well worldwide," Dr. Baehr said.
Among the people he met were a couple film directors, a film financier and one of South Korea's top actors, all of whom pledged to make family movies and movies filled with Christian faith and values.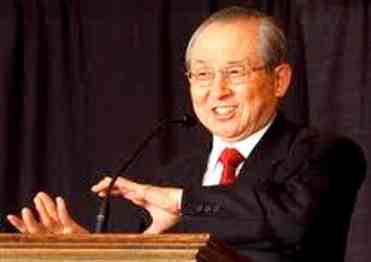 Also attending the meeting was the Rev. Dr. Billy Kim, one of South Korea's leading Christian evangelists, founder of Youth for Christ in South Korea and pastor of Suwon Central Baptist Church near Seoul.
In 2000, Dr. Kim became the first Asian to be elected President of the Baptist World Alliance.
Dr. Baehr is author of "THE CULTURE-WISE FAMILY" and "THE MEDIA-WISE FAMILY" and founder of MOVIEGUIDE®: The Family Guide to Movies and Entertainment and the Christian Film & Television Commission® (CFTVC).
CFTVC and MOVIEGUIDE® are an international non-profit ministry dedicated to "redeeming the values of the entertainment industry by influencing industry executives and by informing and equipping the public about the influence of the entertainment media."
As Dr. Baehr was visiting the country, South Korean protesters demanding a harder line against neighboring North Korea, on Saturday, November 27, 2010, scuffled with police outside the defense ministry in the capital, Seoul.
---
The demonstrators, former members of the "Underwater Demolition Team," set off fire extinguishers and waved sticks as they called on the government to take action after four people were killed as a result of North Korea shelling of Yeonpyeong island, near the disputed Yellow Sea maritime border.
"We can not help expressing our anger about the behavior of the defense ministry and the government in general that failed to take due retaliatory action," they said.
Elsewhere in the city on Saturday, about 1,000 Marine veterans gathered, to burn a North Korean flag along with a picture of Kim Jong-Il, the North Korean leader, and his son Kim Jong-un, who is expected to take over when his father dies.
"We cannot tolerate North Korea's barbarous provocation any more. We ex-Marines will lead the rally to show our decisiveness to punish North Korea. That's why we are here," Ahn seung-choon, a protest leader, said.
Lee Kwang-Sun, a retired Marine, said that the veterans were prepared to return to active duty if their nation called on them.
"We are ready to rush to the front line if we are asked to do so," he told the AFP news agency.
Two South Korean Marines stationed on Yeonpyeong were among those killed after scores of North Korean shells rained down on the tiny island on Tuesday. Dignitaries and relatives paid tribute to Sergeant Seo Jeong-woo and Private Moon Gwang-wuk as they were laid to rest on Saturday (November 27, 2010).
"There is a lot of nationalism now on the streets, particularly here in Seoul," Al Jazeera's Marga Ortigas, reporting from the South Korean capital, said.
"The South Korean government has faced a lot of criticism for what many people see as their lackluster performance in terms of retaliating for the North Korean attack.
"On the other hand there is also a large section of South Korea's population who think this all getting much too heated. What they want is for the government to find another more peaceful way to re-engage with North Korea."
South Korea is now preparing for joint military maneuvers with the US beginning on Sunday, November 28, 2010. The US is sending a nuclear-powered aircraft carrier to South Korean waters for the military drills in the Yellow Sea.
On a more positive note, during one of my visits to South Korea, I met with South Korean Christians who are preparing to go into North Korea when the opportunity arises as evangelists and church planters. One told me, "I am prepared to lay down my life if the country closes up again after I go in. After all, Jesus laid down his life for me and also for the North Korean people."
These believers realize that their task is extremely dangerous as North Korea has been named by Open Doors in their World Watch List as "The World's Worst Persecutor of Christians" for the eighth straight year. The report says every religious activity in the communist nation is viewed as an insurrection against the dictator, Kim Jong-Il. Arrests, torture and death are routine as North Korean officials desperately try to control all of society. Open Doors reports an estimated 200,000 North Koreans are in political prisons, including 40,000 to 60,000 Christians.
Editor's Note: Dan Wooding, is an award winning British journalist now living in Southern California with his wife Norma, to whom he has been married for 47 years. He is the founder and international director of ASSIST (Aid to Special Saints in Strategic Times) and the ASSIST News Service (ANS). He was, for ten years, a commentator, on the UPI Radio Network in Washington, DC., and now hosts the weekly "Front Page Radio" show on KWVE in Southern California and which is also carried on the Calvary Radio Network throughout the United States. The program is also aired in Great Britain on Calvary Chapel Radio UK. Wooding is also a regular contributor to The Weekend Stand on the Crawford Broadcasting Network, and a host for His Channel Live, which is carried via the Internet to some 192 countries. He is the author of some 44 books. Two of the latest include his autobiography, "From Tabloid to Truth", which is published by Theatron Books.
Do you enjoy articles like this?