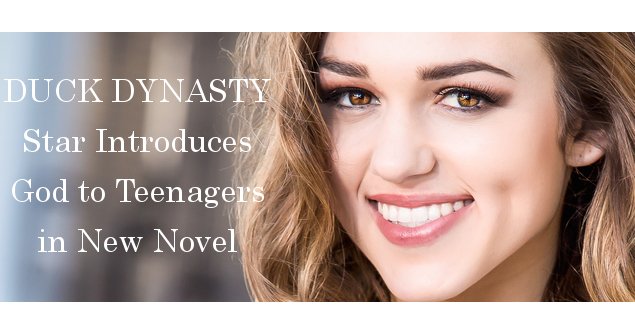 DUCK DYNASTY Star Introduces God to Teenagers in New Novel
Sadie Robertson, star of A&E's popular DUCK DYNASTY program, has written a novel for young adults titled LIFE JUST GOT REAL. The book is intended in part to introduce today's teenagers to God and faith.
In the novel, Kate, a fashion-minded teenager, and 16-year-old tomboy A.J. Smith are at odds with different lifestyles from different parts of Tennessee. "Kate's brother Val is drawn to A.J.," a description of the book on publisher Simon and Schuster website says, "and when prom comes around, he asks her to be his date – much to his sister's displeasure.
"However, Kate has bigger things to think about, including the reality show REAL LIFE. Everyone says the show is her chance to make it big. But, then, the producers decide to bring A.J. into the show.
"As the producers of Real Life try to stir up the drama, Kate's idea of the perfect prom spins out of control. When Kate's life goes disastrously wrong, it is A.J. who steps up to help, with no questions asked. A friendship between the two girls just might grow, but only if they both live original and stay true to whom God made them to be."
Sadie Robertson, who co-authored the book with Cindy Coloma, said she patterned the novel's story after her own life before and after DUCK DYNASTY.
She said she recognizes that the fame she's received from the program and her other ventures isn't all about her.
"God gave me this and this is all about God," Sadie told the Christian Post. "If I would have came into this saying 'all of these followers are for me and these fans are for me,' then it would have been really difficult. I think I would have gotten lost in it all. But, coming into it with the mindset of all these followers are for God, all of this fame is for God, it's not about making me famous."
– Sources:  Christian Post, 06/10/16.