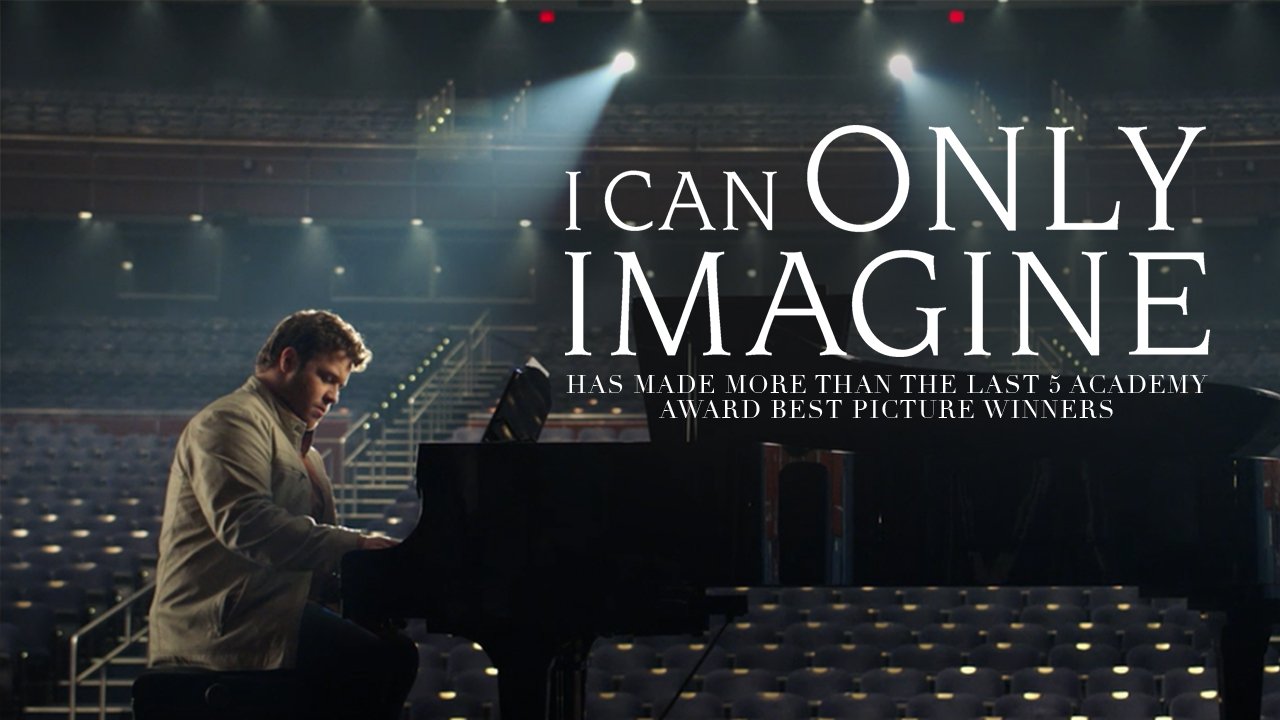 I CAN ONLY IMAGINE Has Made More Than the Last 5 Academy Award Best Pictures Winners
By Ben Kayser, Managing Editor
Continuing its streak of success, the faith-based movie starring Dennis Quaid I CAN ONLY IMAGINE, about MercyMe lead singer Bart Millard, crossed $79 million at the domestic box office. For some perspective, that's more money than the last five Best Picture Academy Award winners made at their domestic box office. In a matter of weeks, it also became the highest grossing movie for its distributor Roadside Attractions, passing by the Academy Award-winning movie MANCHESTER BY THE SEA. The movie also became the third highest grossing Music Biopic, overpassing RAY, making it third place behind WALK THE LINE.
Faith-based movies that make major waves at box office have become more and more common in recent years. Movies like WAR ROOM, GOD'S NOT DEAD and HEAVEN IS FOR REAL all exceeded expectations. This shouldn't be a surprise though, since the vast majority of the country identifies with the Christian faith, and tens of millions of Americans attend church every week. However, I CAN ONLY IMAGINE co-director Jon Erwin said that many studios in Hollywood passed on their small budget movie and few believed it'd make money. When it comes down to it, Erwin said that people want to be inspired. 
For over 35 years, Movieguide® has worked in and with Hollywood to encourage more faith-based movies from the industry, as well as more faith content in mainstream Hollywood movies. Many movies released by the major studios target niche audiences with edgy, vulgar content, from the teenage sex comedy BLOCKERS, to the broken marriage thriller ACRIMONY. A recent poll by Vanity Fair and "60 Minutes" revealed that nearly three-quarters of Americans, 73%, would rather see "a beautiful love story that ends in marriage" rather than a story about "a torrid affair that breaks up a marriage." The poll confirms what MOVIEGUIDE® has always contended, and what box office figures clearly show, that moviegoers generally prefer movies with romantic relationships ending in marriage rather than movies about sexually explicit adulterous or promiscuous affairs outside of marriage. Movies like I CAN ONLY IMAGINE help set higher moral standards as to what sort of content and stories American families want to see. 
Best of all, movies like I CAN ONLY IMAGINE change and shape lives. Movieguide® has received hundreds of comments and personal messages about how the movie has brought reconciliation to families, peace to troubled hearts, and hope to those who have none. There's power and influence in movies, so why not impact people with good news, with the best news: that we can find hope through Jesus Christ. For the millions of people that have seen I CAN ONLY IMAGINE, and the millions of more that will, that good news will shine through clearly and have a lasting impact. 
We pray that Hollywood too is impacted by this news.