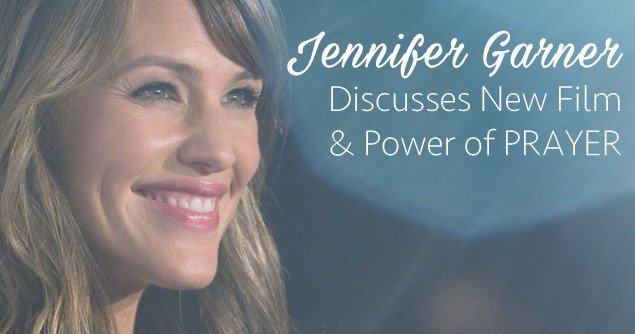 Miracle Story: 
Jennifer Garner Discusses New Movie, Power of Prayer
By Rachal Marquez, Contributing Writer
MIRACLES FROM HEAVEN is exactly the kind of story that can seem like Hollywood fiction, too impossible to be true. That's exactly the point. Based on the memoir written by Christy Beam, the movie tells the story of how Beam's daughter Annabel was cured of a rare digestive disease after a dangerous fall.
The first trailer for the upcoming film, starring Jennifer Garner as Beam, was just released by People. The trailer shows the movie's premise, and highlights the family's struggle through Annabel's illness, as well as the miraculous way she was healed.
Garner said that reading Beam's story made the choice to sign on to the movie an easy one.
"I stayed awake all night after reading Miracles from Heaven," she said in an interview with People. "There was something about this family, this mother and daughter, and this telling of the story that I felt I just had to be a part."
The trailer paints a picture of the Beam family, who, when challenged with daughter Annabel's terminal disease, never gave up or stopped fighting for her. In the trailer, Garner's character looks to her husband Kevin Beam (played by Martin Henderson) during one hospital scene, and says, "We're not giving up."
Yet, it becomes clear that the journey is not going to be easy, as the family learns there is no cure for Annabel's illness.
In the trailer, when Beam becomes desperate for a solution, her husband assures there that they will get one, "by not losing our faith."
The solution comes from the most unlikely of places. After falling 30 feet from a tree, Annabel is cured from her illness. According real-life Christy Beam's memoir, her daughter said she went to heaven, and told her mother that Jesus told her she "would be fine."
This moment is shown in the trailer, and Beam is seen staring at her daughter in amazement.
According to Garner, the mother/daughter sort of bond with Kylie Rogers, who plays Annabel, was just as real off-screen as it was on-screen.
"She is special beyond compare," Garner told People, when discussing how she spent time bonding with Rogers "over crafts and books and braiding hair."
The movie's producer, Joe Roth, wholeheartedly agreed.
"[Garner] made Kylie feel really comfortable," he said. "You never don't feel that they're mother and daughter."
In addition to the importance of family, Garner said there are a few other things the audience takes away from the film.
"When people see this movie I hope they are reminded of the power of love and hope and family and prayer," she said.
MIRACLES FROM HEAVEN is set to release March 18, 2016.
– Source: People, 11/11/15.