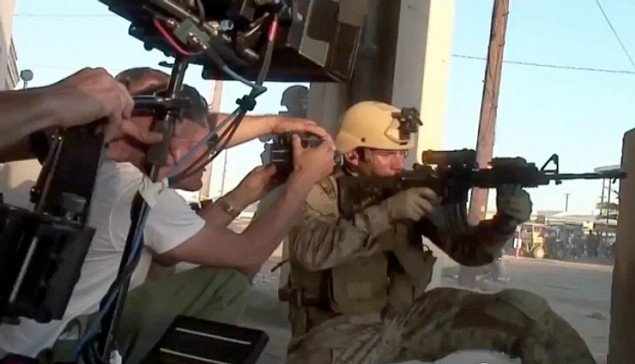 By Jeremy Carroll, Staff Writer 
When former stuntman, turned action movie director, Scott Waugh directed 2012's film, ACT OF VALOR, he had no idea his presence in Hollywood would be promoted to superstardom in such a short amount of time. ACT OF VALOR, a fictional feature movie that uniquely starred active duty Navy SEALs, became a classic among war movies and even won an award from Movieguide® as one of the Ten Best 2012 Movies for Mature Audiences.
After ACT OF VALOR's positive reception and big gains at the box office, National Geographic is looking to get in on the action. Literally. National Geographic Channel U.S.'s Relativity Studio and Tandem Communications are looking to produce an action drama television series with the same name as the hit movie, ACT OF VALOR.
The series won't follow Navy SEALs but pararescuemen, or parajumpers (PJs for short). PJs parachute into combat zones and natural disaster areas to provide medical expertise and extraction of critical patients if needed.
The series will be written by Erik Jendersen, who was a supervising producer on the multi-award winning and critically acclaimed military miniseries, BAND OF BROTHERS. Shooting is scheduled to start early 2014.
CEO of Relativity Television Tom Forman is enthusiastic about the upcoming project.
"The film ACT OF VALOR was ground-breaking in its unique approach, and we look forward to apply its gritty, realistic vision to television," he told The Hollywood Reporter.
Working with the PJs is nothing new for National Geographic. Last year, National Geographic successfully launched a documentary-style series about the elite force called INSIDE COMBAT RESCUE, which followed PJs into combat zones in Afghanistan.
Howard Owens, President of National Geographic Channels explains, "After the success of our documentary series INSIDE COMBAT RESCUE about PJs in Afghanistan, we wanted to tell more incredible stories of these heroes, and this series will allow us to do so in an exciting and dramatic way, while still delivering real, authentic stories our viewers expect from us." 
National Geographic officially green-lit the ACT OF VALOR series at the MIPCOM conference on Oct. 6, 2013.
Tandem COO Tim Halkin sums up the project, "With a powerful contemporary storyline of global anti-terrorism, ACT OF VALOR is an intense, fast-paced series that will resonate with viewers worldwide."
Sources:  Deadline, The Hollywood Reporter, Bandito Brothers.