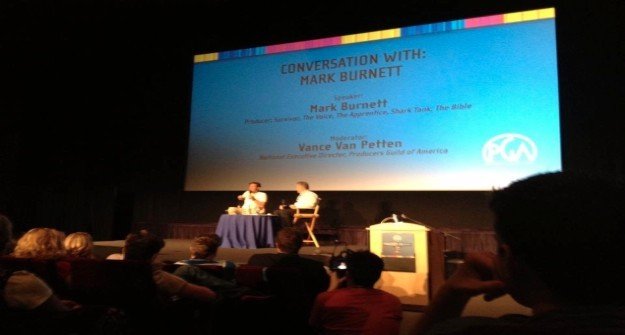 Pitching Faith & Values:
Good News at the Producers Guild of America 2013 Conference
By Dr. Ted Baehr, Publisher, with Dr. Tom Snyder, Editor
Movieguide® had the opportunity to participate in the 2013 Producers Guild of America's "Produced By" Conference on the backlot of 20th Century Fox. Some of the top producers in the world shared their insights and were available for important questions. These included Jerry Bruckheimer, J.J. Abrams, Mark Burnett, Jon Favreau, Lynda Obst, Lorrie McCreary, Roberto Orci, and many others.
What was most surprising at the conference was the amount of faith and values that these Hollywood behind-the-scenes superstars exhibited.
Mark Burnett was introduced as having invented Reality TV with SURVIVOR.
Mark started off by saying he loved America. Unlike England, where class is stratified, he came to America because his special service unit parachute instructor was an American major who spoke to everyone as equals and gave everyone a chance to excel. He saw America as the land with the freedom to live your dream. He says his dream was to live the life of an adventurer. He called on the producers to think big and pray big.
"You can never wait to be 100 percent certain," he said.
In America, Mark started off as a nanny for a very wealthy Beverly Hills couple and decided he wanted a home like that. So, he pursued his dream with vigor.
He says the key to SURVIVOR was treating everyone as important, including the toilet cleaner…and the toilet cleaner was very important in the jungle! He loves motivating people, and he loves big crews. He took people who had been working for peanuts for National Geographic and the Discovery Channel and gave them major television network wages on SURVIVOR. He said his keys to success were: think differently; loyalty; integrity; and, help each other.
His latest venture, of course, is THE BIBLE, which he said had 100 million viewers. When asked what he wants to do next, Mark said he could spend the next 20 years doing more and more on The Bible. He was adamant that the Bible was true and that Jesus is real, which brought enthusiastic applause from the thousand or so producers in the big Zanuck Theater on the Fox lot. He said he's now taking the footage he shot and turning it into a new two-hour movie about Jesus.
Imagine! In the heart of Hollywood, on the Fox lot, Jesus was being lifted up. That wasn't the only time, however.
In a panel on the film financing, Cathy Schulman, president of Mandalay Pictures, talked about the "world of other." She said there's no longer an independent market, there are the other markets aside from the audience Hollywood has always courted, and those markets could be incredibly successful and lucrative. She emphasized the faith-based movie market and said, when you want to reach this market, it depends how many times you say the name Jesus.
Cathy said she also looks for movie projects that are "self-distinguising" or "worthy of conversation."
"It's got to be great, not just good," added Cassian Elwes, producer of the upcoming movie THE BUTLER.
Co-President Howard Cohen of Roadside Attractions, which is involved with the upcoming faith-based movie GRACE UNPLUGGED, said he also wants movies "that have a willingness to entertain" and that are marketable.
David Linde, CEO of Lava Bear Films, said the DVD market has collapsed by 35 percent, so to fund a movie, you have to go overseas to markets that never existed before. China has gone from being a small market to a place where you can make $300 million in three weekends. Russia, India and Korea are all major sources of funding…and these are the countries where God just recently called Movieguide® to have offices and make a difference! These countries make their own movies now, which Producer Bill Block (of DISTRICT 9 and the upcoming ELYSIUM with Matt Damon) said are good movies, but they want big broad audience, American movies they can take their children to see. Elwes added that, now that the big Hollywood studios are concentrating in tentpole movies and franchises, the bigger stars are starting to make more independent movies, but that this means independent movies with lesser-known stars may really struggle to find an audience.
Linde pointed out that theatrical distribution, DVD and Video on Demand (VOD) are complementary markets.
Cathy Schulman ended the session by talking about the benefits of crowd funding, where individual people can give money to projects they would like to support without earning an investment from them.
Another session involved Jon Favreau, who was the director and producer of many Movieguide® favorites such as the first IRON MAN movie. Jon said the entertainment industry is all about power; and, "God is the ultimate vertical integration power." He said the question of producing and directing involves whose vision is being realized. Movies are director driven, and the producer enables the director to realize the director's vision. Television is producer driven, however, and the director enables the producer to realize the producer's vision.
Jon had nothing but good things to say about all the people with whom he has worked. He said the key to the industry is relationships, the people you touch and help. He also advised filmmakers to "be grateful, be very, very grateful."
A little later, he put it another way:  "It's about loyalty, friendship and taking responsibility for what you put on the screen."
J.J. Abrams (of television's LOST, STAR TREK, STRA TREK INTO DARKNESS, and the upcoming STAR WARS sequels, was introduced as one of the kindest, most philanthropic people in the industry. He lived up to the introduction.
In the beginning, he said it's important to make money for the studios "and not go to Hell" in the process. It's important to have a purpose, to trust and to give back, he said. J.J. kept thanking God and saying he celebrated his role in the industry.
He also spent some time talking about his three children: 14, 13 and 7. He said he was concerned about new technology and limits their video game time to the weekends. He also tells them to turn off their cellphones and spends time with them. He said some of his friends complain that their 17-year-olds are getting into trouble. J.J. said parenting starts when children are young, not at 17. He had wonderful, heartwarming statements about his wife, Katy McGrath.
J.J.'s heart can be shown in the first script he wrote, REGARDING HENRY, which Movieguide® loved, and his consistent concern for values in his movies.
He said one of the great turning points is when he went to Kuwait to show a movie to the troops. He became a very strong supporter of the veterans. He has a close friend, an officer, and a veteran, who has a ministry called the Mission Continues for veterans, to help them find purpose after they leave the service. If you wait until the end of STAR TREK, he dedicated it to the 9/11 vets.
Jerry Bruckheimer was another super producer who talked about faith and values. He's been producing for 40 years, from TOP GUN to THE LONE RANGER, some of the biggest movie franchises and TV series of all time. He grew up in a lower middle class German family in Detroit. He says he tries to put into every one of his movies heart, as well as themes of not giving up and striving for excellence. He says he makes movies he wants to see.
"I make movies for the big audience," Bruckheimer added, echoing the words of the great Hollywood entertainer Cecil B. DeMille. "I don't care what the critics say."
He said you have to go with your gut when making movies. One studio hired the head of a major company who tested everything and the movies failed.
He commended our friend Dick Cook for greenlighting the PIRATES OF THE CARIBBEAN movies. He talked about how Johnny Depp made PIRATES because he just had a child at that time. Everywhere Johnny goes, he takes an extra suitcase with a Jack Sparrow costume so he can show up at hospitals to entertain the kids.
He said, "Make what you want to go see and populate your production team with talented people…and hope for the best."
He says he loves doing things the old fashioned way, so on LONE RANGER, he got his actors on the train, not on blue screen. When he was asked about the new upcoming Superman movie, he said, "I root for our competition to be successful, because good movies increase the appetite for more movies."
Being the best, most successful producer in Hollywood doesn't mean it's been easy, Jerry noted. He said he's never made a movie that wasn't canceled at some point during the production. He also said that Tom Cruise and he have been trying for 30 years to make a sequel to TOP GUN, and they've never given up.
When asked about all the producer credits on a movie these days, he said, if someone writes a check to finance a movie, they deserve the credit because it's a risky business.
In a session titled "Every Number Tells a Story," President Gary Lucchesi of Lakeshore Entertainment said that research works.
"You need research and guts," he said.
Producer Marc Shmuger of Global Produce said research is useful as a tool and fear of it isn't helpful. Vincent Bruzzese, CEO of Worldwide Motion Picture Group, said try not to make your movie too thought provoking.
Nearly every speaker said it's all about a great script, a great story and a great team.
In a session on the state of the art, Victoria Lonzo, who's responsible for production at Marvel, said prayer works, "You've got to pray a lot."
A session with some leading showrunners behind successful Cable and Broadcast television series such as PARENTHOOD, 90210, SONS OF ANARCHY, the new SAVE ME, and Netflix's new phenomenon HOUSE OF CARDS showed the important of story and producing great scripts. In fact, most of them started out as writers, with some of them going straight from acting to writing. For instance, Darlene Hunt of 90210 and SAVE ME started in acting, then went to writing her own stand-up comedy routines to create work for herself.
A couple of the showrunners were more protective of the script than others. For example, Kurt Sutter of SONS OF ANARCHY said he holds an extensive "tone meeting" on each script where he goes through the script beat by beat with the cast and crew.
"My scripts are not blueprints," he said, contrasting his approach to that of one of the other showrunners on the panel. "There's a lot of time and energy put into those scripts."
Sutter said, however, he does have an open door policy with the actors on the show. Also, if a change does need to be made on the set, he has a writer or producer on the set to make the changes.
In choosing the cast and crew for SONS OF ANARCHY, he said, "I look for people who can turn what's a seven on the page into a nine or 10."
One of the biggest problems with SONS OF ANARCHY, he laughed, is that some of the actors disappear into their characters so much that they actually start believing they're part of a tough biker gang.
"It's just a big conversation you're always having with the actors," said Jason Katims of PARENTHOOD. "I respond to what the actors are doing in the editing room. Every actor is different. They work differently. You're constantly responding to who they are. Some of them don't even watch the show."
"I'm too impatient to wait for the editing room," said Beau Willimon of HOUSE OF CARDS, adding that there's nothing like watching an actor take a fictional story "and make it seem true."
Darlene Hunt advised newcomers to "stay in the race" because other people will start falling away around you and you will be able to hammer out a career for yourself because you stayed in the race.
"Writers write," Kurt Sutter noted. "I write every day. I wrote every day. Some of it was crap, but it didn't matter."
"If you start out in the theater," Willimon added, "you don't do it because you're going to make a fortune. There's no guarantee. If you're afraid, you'll die forgotten, and you'll never make it. Hollywood is very fickle. That's the nature of the beast. Keep banging your head against the wall until you break the wall or the wall breaks your skull."
Finally, many of the conference speakers discussed the many technological changes taking place, from 2K to 4K, from 24 frames to 48 frames, from broadcast to cable to video on demand.
Some said the increased clarity in 48 frames per second is too much and removes the gauze that helps movies become more imaginative. So, the question boils down to special effects versus visual effects. Everyone agreed, including the digital mavens, that miniatures are better because they replicate reality and make for "happy accidents."
The TV showrunners agreed that the model for television is changing, what with companies like Netflix producing 13-episode season and releasing it all at once, etc.
"The studio needs to make their money back," Darlene Hunt pointed out.
"We're either selling soap or subscriptions," Kurt Sutter added, noting that things will eventually work themselves out.
"I've always believed that what's [behind] a successful television show is a distinctive voice," summarized Marshall Herskovitz of THRITYSOMETHING, MY SO-CALLED LIFE, I AM SAM, and THE LAST SAMURAI. "They show the creative power of a single vision."
Two days with some of the giants in Hollywood was an incredible experience. To stereotype them as businessmen only concerned with the bottom line, or as predators out to destroy American culture, is easy, and would be false. Instead, the reality is that the most successful people were concerned about faith, values, honesty, integrity, loyalty, and decency, things that Movieguide® cares about deeply.