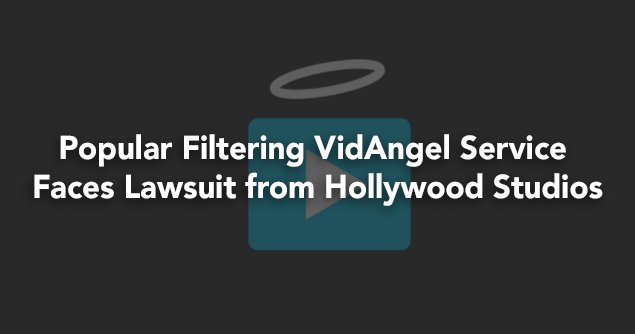 Popular Filtering VidAngel Service Faces Lawsuit from Hollywood Studios
By Aaron Minguez, Contributing Writer
"Watch movies your way – however the bleep you want" states the controversial slogan from video service VidAngel, a company that prides itself on allowing users to remove explicit content from the movies it provides.
VidAngel advertises itself as video service that allows its users to purchase new releases from its website stream them and then with one click sell them back for a significant refund. However, the relatively young company now finds itself faced with a controversy of its own, a lawsuit filed by some of the industry's largest studios.
VidAngel, a relatively new arrival to the distribution scene, has built a reputation on allowing its users to filter movies and TV shows they purchase through the site.
VidAngel CEO Neal Harmon boasts his service provides users a "customized experience that offers the highest degree of personal choice in the entertainment marketplace." The ability to filter out material that its users find objectionable is not the only reason that the company has gained support in the marketplace. The service also allows users to stream new releases on multiple devices for significantly less than its competitors and often weeks before they are available from other Video on Demand services.
According to its website, VidAngel sells movies to its users for $20. Since the users own the movie, they can legally set their filters, watch the movie, and then sell it back to the service for credit. The amount of credit users receive depends on how many days' users keep the video at a deduction of $1 a day. The result is often a $1 viewing of many new and popular releases. The company markets many of its titles as not yet available on Netflix. As a result, many of its competitors claim the service has an unfair competitive advantage, prompting the studios to take action.
VidAngel was sued in California federal court recently by Disney, 20th Century Fox and Warner Bros. Details from the complaint outline the studios concerns over the legality of VidAngels services.
The studios claim, "VidAngel accomplishes the very core of its service, which is copying and streaming copyrighted motion picture content, by violating copyright law and plaintiffs rights."
If the studios allegations are proven true, it could spell disaster for VidAngel. However, the company has no plans of backing down. In response to the legal action, the company announced today it had retained the services of Baker Marquart, a highly respected Los Angeles firm that has prevailed in similar landmark legal disputes. In its official statement, the company announced, "We are confident in our case, and equally confident that the interests of consumers will prevail."
The outcome of this case is certain to have a lasting impact on the future of copyright law. These types of controversies will continue to increase in frequency as digital consumption of media and entertainment quickly surpasses more traditional distribution. The decision should set an important precedent for future cases in helping resolve what constitutes ownership of digital and physical medium, and VidAngel and Baker Marquart's response to this action is certain to set the tone.
Now more than ever we're bombarded by darkness in media, movies, and TV. Movieguide® has fought back for almost 40 years, working within Hollywood to propel uplifting and positive content. We're proud to say we've collaborated with some of the top industry players to influence and redeem entertainment for Jesus. Still, the most influential person in Hollywood is you. The viewer.
What you listen to, watch, and read has power. Movieguide® wants to give you the resources to empower the good and the beautiful. But we can't do it alone. We need your support.
You can make a difference with as little as $7. It takes only a moment. If you can, consider supporting our ministry with a monthly gift. Thank you.