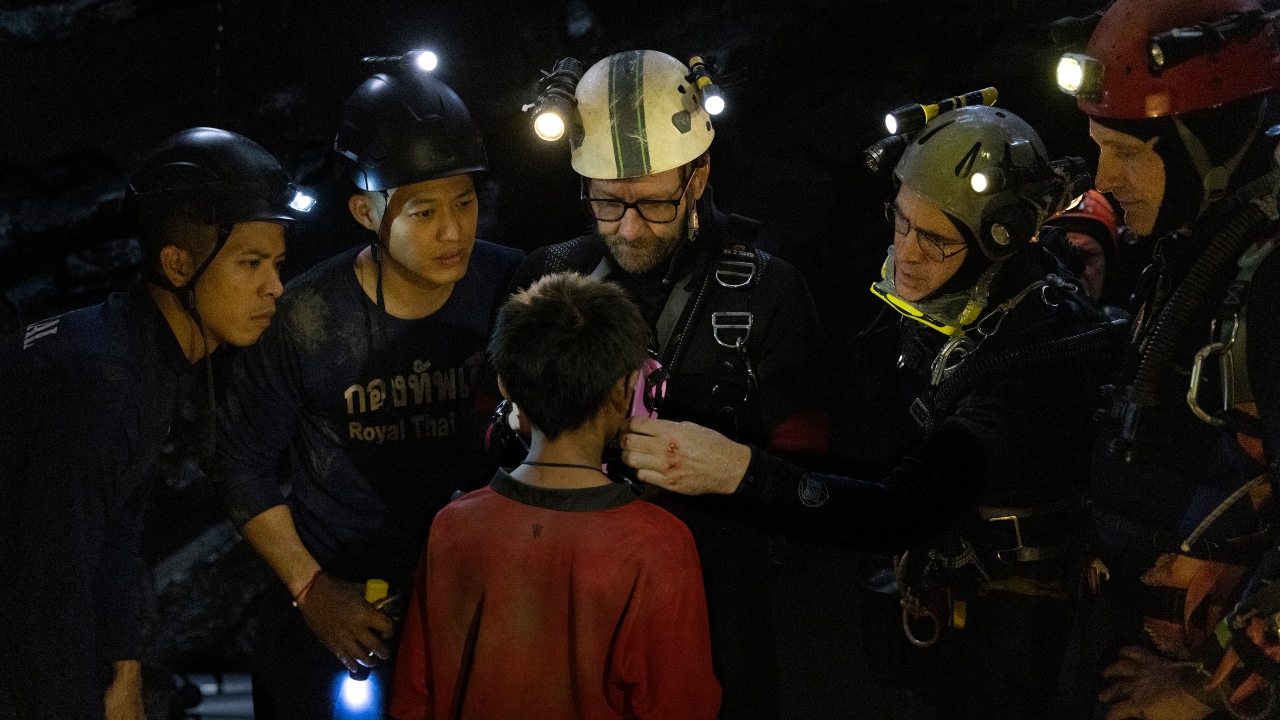 Ron Howard on THIRTEEN LIVES: 'When People Pull Together, Incredible Things Can Happen'
By Lillie Jaenchen, Movieguide® Contributor 
Teamwork, collaboration and dedication made director Ron Howard's new movie THIRTEEN LIVES and the real-life rescue of the Thai soccer team that he based his movie on possible.
"I knew that by getting really granular and personal and emotional that this could be a very extreme version of my favorite kinds of films—the kinds of films that prove that remarkable outcomes are not the stuff of fiction—that when people pull together, incredible things can happen," Howard explained in a press conference.
Movieguide® previously reported on the movie: "THIRTEEN LIVES tells the remarkable true story of the global effort to rescue a Thai soccer team that got stuck in a cave after in flooded in 2018. Faced with insurmountable odds, a team of the world's most skilled and experienced divers – uniquely able to navigate the maze of flooded, narrow cave tunnels – join with Thai forces and more than 10,000 volunteers to attempt a harrowing rescue of the twelve boys and their coach. With impossibly high stakes and the entire world watching, the group embarks on their most challenging dive yet, showcasing the limitlessness of the human spirit in the process, according to the movie's press release."
With an impressive and exciting story to share, Howard knew he had to "engage the nervous system of the audience" by telling this story with "honesty and integrity."
"Everybody on the production felt this and shared it," said Howard. "It's one of those really joyous situations where you just knew you didn't have to ask for an extreme effort from people. They were just giving it. By the way, they were volunteering it. This is such a story of volunteerism."
Actor Viggo Mortensen, who plays diver Rick Stanton, detailed the actors' collaborative relationship with the real-life rescue divers: "The way we worked as a team reflected, I think, what they described to us what the rescue entailed. You know, we really work together above water as much as underwater."
"Everybody worked hard. Everybody pulled together," Mortensen explained. "And it reflected the real rescue in that it was a very selfless, team-oriented effort."
Colin Ferrell, who plays John Volanthen, explained that, while he "can't really swim," he felt both the burden and honor of telling this story.
"It really was a great gift. And we felt that spirit of collaboration. We felt that spirit of harmony the whole way throughout the shoot," Farrell concluded.
The spirit of collaboration also expanded into the technical challenge of creating the cave. Howard and his team met with the real divers Stanton, Volanthen and Jason Mallinson, and they described areas in the cave where they faced challenges.
The result: the set looked "exactly exactly like a cave to me. They were perfect," Stanton said.
Howard understood the importance of accurately portraying this epic rescue's emotional, career and physical risks. But "that's why you choose these true stories that are extraordinary, that are stranger than fiction."
"I think we're all just really grateful to have tackled the story with a point of view and a set of reasons in that it hopefully does remind us of what is possible when we come together, unify and work," Howard reflects.
THIRTEEN LIVES will hit select theaters on July 29 and launch globally on August 5. Movieguide® has yet to review THIRTEEN LIVES and cannot advise on its content.
Movieguide® previously reported on THIRTEEN LIVES: 
Director Ron Howard says his new movie, THIRTEEN LIVES, is built around "the anatomy of a miracle."

"People think they know the story, but there's so much more to learn, and what there is to learn is suspenseful and emotional," Howard said during a press conference on June 27.

THIRTEEN LIVES tells the remarkable true story of the global effort to rescue a Thai soccer team that got stuck in a cave after in flooded in 2018. Faced with insurmountable odds, a team of the world's most skilled and experienced divers – uniquely able to navigate the maze of flooded, narrow cave tunnels – join with Thai forces and more than 10,000 volunteers to attempt a harrowing rescue of the twelve boys and their coach. With impossibly high stakes and the entire world watching, the group embarks on their most challenging dive yet, showcasing the limitlessness of the human spirit in the process, according to the movie's press release.

"Hopefully [the movie] does remind us of what is possible when we come together, unify and work together," Howard said. "I always did sort of put on my script, 'The anatomy of a miracle.' And as simple and kind of corny as that sounds, that's what I was always trying to build in the most granular, detailed way, but also to understand in a very clear-eyed way, the price of that the sort of emotional risks, the career risks, the physical risks involved in doing the right thing."

Producer Raymond Phathanavirangoon also found inspiration in the miraculous story.

"There's a lot of darkness around the world, and if I can make a film that actually can show the world that everybody can come together, despite all the differences, and create a miracle, and to basically give some positivity back, that would be something that is truly amazing," Phathanavirangoon said. "I was very moved when [Howard] said that, because that was really the vision that I felt that I was really responding to."