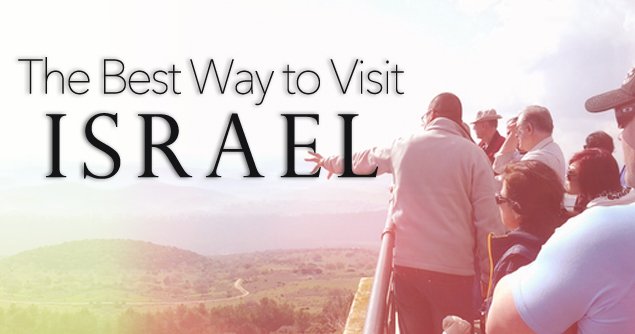 By Dr. Ted Baehr, Publisher  
Having been to Israel several times since the 1960s, and having served on the Israel-Christian Council, it is with great joy that I reiterate that Israel is the Fifth Gospel and, as such, is an incredible, transforming, inspiring experience. I've had the pleasure of canvassing Israel for a big Hollywood movie and being part of a Christian leadership tour. It's still a surprise that more studios don't film in this beautiful country. 
All of this is to say, that I've had guides who are Israeli, American Christian, Palestinian, and local Christian. One of the Israeli guides was wonderful and the head of the Israeli Tourism University.
However, the best guide I had in 1968 was a convicted Christian and recently on the movie-scouting trip was a very passionate Christian named Rami Fellemon. Whereas all the guides are very knowledgeable, Rami had an extraordinary ability of understanding a country in light of its Christian history. Several others did sort of tour guide eisegesis, reading in their own opinions to the different places where we went, but, Rami uncovered the facts that brought the Gospel to light.
Therefore, if you get the great opportunity to go to Israel, I recommend Rami.
Rami Fellemon is a passionate Christian entrepreneur who started Philemon Tours: a tour operator offering outstanding experience in the Holy Land, Jordan, and Egypt. His love and expertise in the geography, archaeology and theology of the Holy Land has enabled him to create tour experiences that are unforgettable. Philemon Tours offers you, your friends, family or larger groups the opportunity to come and explore the diversity of this part of the world. Its cultural, spiritual, and historical richness will put your senses into action, impacting your whole life.
It is our pleasure to design for you tour trips that suit your needs and desires. Our tours ensure high levels of safety, reliability and personalization where you do not have to worry about all travel-associated nuisances.  With Philemon Tours, you are joining us for a life-changing trip bundled with hospitable and insightful experience.
www.philemontours.com
info@philemontours.com
Furthermore, Rami heads The Jerusalem Evangelistic Outreach (JEO)
The Jerusalem Evangelistic Outreach (JEO) is a ministry based in the Holy Land that seeks to reach Arabs (nominal Christians and Muslims) with the message of Christ through Christian Media, Community Outreach and Relief, and Evangelism. For 25 years, JEO Ministry has been reaching out to the untapped segments of the society in Israel and Palestine (including Gaza) changing people's lives and challenging their perceptions in creative ways.  
Every day, Jerusalem Evangelistic Outreach aims to plant a seed of hope, love, and salvation for the people they serve. This is done through helping impoverished families, sharing the compassion of Christ with individuals, and equipping people with the word of God. The Jerusalem Evangelistic Outreach operates across the Holy Land in isolated villages and cities where people never heard about Christ. The Jerusalem Evangelistic Outreach partners with local churches and ministry partners to spread the love of Christ for everyone.
JEO ministry depends on the generous donations of its supporters who believe in the important work for the glory of God. To help change lives for the better please contact us today make a donation towards our ministry and gain more insights about the needs in the Holy Land.
www.jeoministry.org
info@jeoministry.org