"Hilarious, Patriotic Comic Thriller Starring Bogie"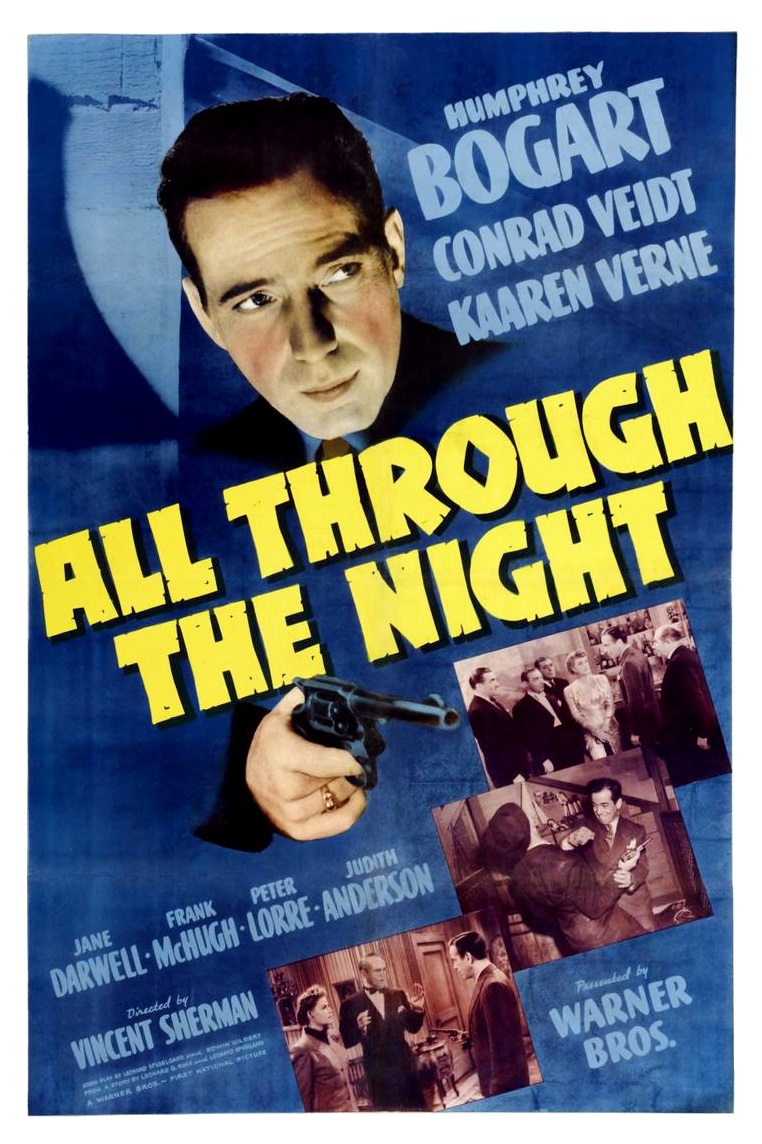 | | None | Light | Moderate | Heavy |
| --- | --- | --- | --- | --- |
| Language | | | | |
| Violence | | | | |
| Sex | | | | |
| Nudity | | | | |
What You Need To Know:
ALL THROUGH THE NIGHT is a classic comic thriller from 1942 starring Humphrey Bogart. Bogart plays "Gloves" Donahue, a professional gambler and shady sports promoter. When the neighborhood baker who makes his favorite cheesecake is murdered, Gloves and his perpetually grumpy right-hand man, Sunshine, played by William Demarest, investigate. Their trail leads to a den of Nazi spies intending to blow up a Navy ship in New York Harbor. The Germans are blackmailing a beautiful German singer by holding her father in a concentration camp.
What a great piece of Hollywood entertainment this movie is! ALL THROUGH THE NIGHT is a wonderful, hilarious, patriotic, heroic, exciting masterpiece. There's nonstop suspense, comedy, excitement, and jeopardy. Also, it tells a rousing patriotic story. Bogart gives such an assured performance here that he totally commands the screen. To top it off, he gets great support from a stable of comical character actors, three classic villains played by three icons of the silver screen, including Peter Lorre, and a beautiful, sympathetic damsel in distress. ALL THROUGH THE NIGHT is a treat the whole family can enjoy.
Content:
(BBB, PPP, ACACAC, V, A, D, M):
Dominant Worldview and Other Worldview Content/Elements:
Very strong morally uplifting, patriotic, anti-socialist worldview in a comical thriller where a classic American tough guy opposes a den of National Socialist or Nazi spies trying to blow up a Navy ship in New York harbor
Foul Language:
No foul language
Violence:
Light violence in includes some gunplay, lots of slapstick comedy, hero discovers a murdered man's body, villain shoots a man dead, and the hero is framed for the murder, hero and his buddy are tied up after hero is knocked out, villains chase hero and heroine through Central Park, a rousing and comical street fight between patriotic American guys versus a bunch of Nazi spies, and an explosion
Sex:
No sex
Nudity:
No nudity
Alcohol Use:
Some alcohol use
Smoking and/or Drug Use and Abuse:
Some smoking but no drugs; and,
Miscellaneous Immorality:
Gambling and protagonist is a shady sports promoter who runs a gang and is involved in illegal gambling activities (the activities are kept purposely vague, however, because he's the hero).
More Detail:
In between making a huge name for himself in THE MALTESE FALCON and CASABLANCA, Humphrey Bogart did a wonderful comic gem in 1942 called ALL THROUGH THE NIGHT. With great support from a stable of comical character actors, three classic villains and a beautiful, vulnerable damsel in distress, Bogart, Director Victor Sherman, and Screenwriters Edwin Gilbert and Leonard Spigelgass created a wonderful, hilarious, patriotic, heroic, exciting, underrated masterpiece.
In the story, Bogart plays professional gambler and shady sports promoter "Gloves" Donahue. Every morning, he must eat a slice of his favorite cheesecake at Lindy's in New York City. The cheesecake, however, doesn't come from Lindy's but is made by Mr. Miller, a little Jewish baker in the neighborhood.
One morning, Gloves notices the slice of cheesecake comes from another bakery, not Miller's. When Gloves asks what gives, he's told that Miller's slices of cheesecakes never made it to Lindy's. With his right-hand man, a perpetually grumpy man nicknamed "Sunshine" (played by William Demarest in a wonderful comic performance), in tow, Gloves goes to the bakery. There, he learns that Miller has disappeared. Gloves' mother, "Ma" Donahue, tells her son she's "got a feeling" something sinister has happened to Miller.
Egged on by Ma, Gloves searches the bakery's basement, where he finds Miller's dead body. A young singer, Leda Hamilton, quickly leaves the bakery when she hears about Miller's demise.
Of course, Ma Donahue's "got a feeling" the girl knows something. So, she goes down to the club where Leda sings and makes a fuss about Miller's untimely death. Marty Callahan, co-owner of the club, calls Gloves and demands he come down and take his busybody mother home.
At the club, Gloves has his mother driven home and tries talking to Leda. They're interrupted by Leda's piano player, Pepi, played by Peter Lorre. Pepi forces Leda to a back room, where they're surprised by Marty's partner, Joe, who heard them talking about some nefarious Nazi plan. Pepi shoots Joe, and runs outside, where he and Leda disappear in a taxi.
Suspicious, Gloves sees them leave in the taxi. He enters the side entrance of the club, where he finds Joe dying in the hallway. Before he dies, Joe is unable to talk, but he holds up five fingers before he passes. Gloves hurriedly leaves to track down the taxi carrying Leda and Pepi, but he inadvertently leaves behind one of his signature gloves.
While the police hunt for Gloves, his men track the taxi to an antiques auction house run by a smooth-talking German immigrant, Hall Ebbing, played by the great Conrad Veidt (Cesare in THE CABINET OF DR. CALIGARI and Major Strasser in CASABLANCA) and his female assistant, Madame (played by Judith Anderson, who was so good as the evil Mrs. Danvers in Hitchcock's masterpiece REBECCA and was one of the greatest female stars of yesteryear on Broadway). In one of the first of many hilarious scenes, Gloves poses as a crazy bidder but ends up seriously buying an item. While he disappears in the back to pay for it, he causes more chaos, but Pepi recognizes him, and Leda appears and knocks him out on purpose.
The auction house is next to a toy warehouse, and Gloves ends up tied next to Sunshine among a bunch of toys in the warehouse. Leda soon appears and unties them, but she has no time to explain to Gloves what's happening and why she knocked him unconscious. She leaves them, so Gloves and Sunshine decide to investigate the warehouse. As they investigate, Sunshine comically keeps tripping over all the toys and making noise.
Their investigation leads them to a freight elevator, but a guard appears and tries to kill Gloves. However, Gloves ends up the victor.
Shortly thereafter, they find their way back to the large auction house. They explore some rooms in the back. One of the rooms has a picture of Adolph Hitler and a secret backroom with maps, radios and charts of New York harbor. Gloves and Sunshine realize what Joe was trying to tell Gloves. Pepi, Ebbing and Madame are a bunch of "fivers," or Nazi fifth columnists, aka spies. In the room, Gloves also finds a notebook with Miller and Leda's name in it as well as her father's. Gloves takes the notebook but tears out a page saying that Leda's father has died in the Nazi concentration camp in Dachau.
Shortly thereafter, Gloves is reunited with Leda. As the Nazis chase them through Central Park, Leda tells Gloves the only reason she was helping Ebbing was because the Nazis were threatening her father's life. However, while Gloves is fighting a Nazi trying to kill him, she comes across the torn-out page. After dispatching the Nazi, Gloves comforts Leda.
Gloves and Leda go to the police to tell them about the Nazi spy ring, but when the police search the antique house, it's empty. They try to arrest Gloves, but he escapes.
Eventually, Ebbing and Pepi kidnap Leda. So, it's now up to Gloves and his gang to rescue Leda and stop the Nazi spy ring from carrying out their nefarious plans. It all leads to a rousing, comical, patriotic ending.
What a great piece of Hollywood entertainment this movie is! There's almost nonstop suspense, comedy, excitement, and drama. Bogart is famous for his iconic roles in thrillers and adventures like HIGH SIERRA, THE MALTESE FALCON, CASABLANCA, ACTION IN THE NORTH ATLANTIC, TREASURE OF THE SIERRA MADRE, TO HAVE AND HAVE NOT, THE BIG SLEEP, and THE AFRICAN QUEEN. However, he gives such an assured performance in ALL THROUGH THE NIGHT that you can't take your eyes off him. He just commands the screen!
Bogart has tremendous support from the rest of the cast. Not only does he face three menacing villains played by Conrad Veidt, Judith Anderson and Peter Lorre. He's also surrounded by a stable of comical character actors. Just look at the names! In addition to the aforementioned William Demarest (comic star of THE GREAT MCGINTY, THE LADY EVE, SULLIVAN'S TRAVELS, THE MIRACLE AT MORGAN'S CREEK, HAIL THE CONQUERING HERO, all written and directed by Preston Sturges, and TV's long-running MY THREE SONS), there's Phil Silvers (IT'S A MAD MAD MAD MAD WORLD, A FUNNY THING HAPPENED ON THE WAY TO THE FORUM and TV's SERGEANT BILKO), Frank McHugh (FOOTLIGHT PARADE and Oscar winner GOING MY WAY), Dick Elliot (Mayor Pike on THE ANDY GRIFFITH SHOW), and Jackie Gleason (THE HONEYMOONERS, SMOKEY AND THE BANDIT and the iconic Minnesota Fats in THE HUSTLER). Kaaren Verne plays Bogart's love interest, Leda Hamilton (sadly, she put aside her career when she married Peter Lorre, a marriage that quickly went downhill). Some critics have criticized Verne's performance, but she's really quite charming and appealing here. She also becomes very sympathetic when the movie reveals she's helping the Nazis only because they're holding her father in a concentration camp, Dachau no less (this is before the Holocaust became so widely known). Finally, the great Jane Darwell, who appeared as Ma Joad in 1939's THE GRAPES OF WRATH to great acclaim, plays Bogart's mother. The movie ends with her character getting another "feeling," this time about the milkman's disappearance, while her son's gang groans.
ALL THROUGH THE NIGHT is a treat the whole family can enjoy. Enjoy the movie and eat a slice of your favorite cheesecake!