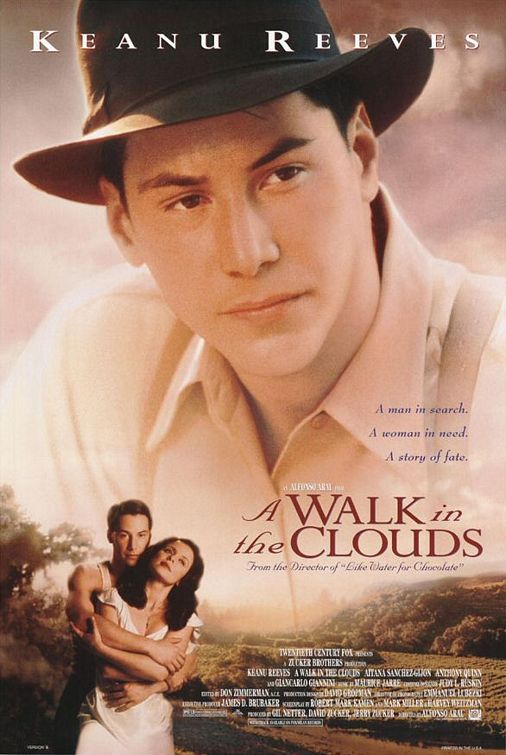 | | None | Light | Moderate | Heavy |
| --- | --- | --- | --- | --- |
| Language | | | | |
| Violence | | | | |
| Sex | | | | |
| Nudity | | | | |
What You Need To Know:
In A WALK IN THE CLOUDS, GI Paul Sutton returns home to encounter Victoria, a pregnant, unwed young college woman, who needs a substitute husband to show her overbearing father. Paul and Victoria fall in love, but they realize he is not to marry her. Victoria's family, who are at first tired of the relationship, grow to love Paul and teach him the importance of family, tradition and commitment.
Content:
(C, B, NA, Ro, L, V, SS, A) Ultimately moral, redemptive worldview showing strong Christian family committed to the bond of family, grace before meals and tradition and a priest giving the harvest blessing, marred by adultery which is condemned, Aztec ritual blessing of the four winds during harvest & romantic elements; 3 obscenities & 1 profanity; brief violence showing war scenes, corpses of children & haunting memories; 1 depicted act of adulterous sex & 1 implied act of adulterous sex; and, alcohol use & abuse.
More Detail:
A WALK IN THE CLOUDS is a romantic tale of a young GI, Paul Sutton, who returns home to his bride of four years to discover they do not share the same dreams. He leaves his wife to find his dream but instead encounters Victoria, a vineyard owner's daughter who is returning home to tell her domineering father, Alberto, she is pregnant and unwed. Paul agrees to pose as Victoria's husband. During the harvest, Paul and Victoria's passion ignite, yet Paul refuses to let the relationship go any further because he is still married. Alberto becomes increasingly suspicious of the two, questioning whether they are really married. At the harvest celebration, Alberto lays his doubts aside and demands a proper church wedding that evening. In disgrace, Victoria is forced to reveal the truth to her bewildered family. Paul returns to his wife, and discovers she has attained an annulment. He rushes to Victoria's father for her hand in marriage.
In this film, adultery is not an option, but honor, respect and God's blessing of a marriage are a necessity. This is refreshing because Hollywood usually shows free sex and broken vows. A WALK IN THE CLOUDS, offers a look at a strong moral Christian family where God and family are of utmost significance. It should be noted that there are a few obscenities and mild sexual situations.