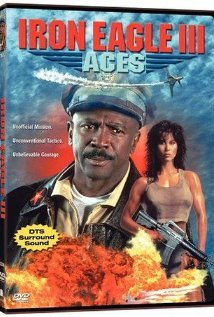 | | None | Light | Moderate | Heavy |
| --- | --- | --- | --- | --- |
| Language | | | | |
| Violence | | | | |
| Sex | | | | |
| Nudity | | | | |
What You Need To Know:
In the movie ACES: IRON EAGLE III, when a friend's family is held captive at a cocaine production facility in South America, Col. Chappie Sinclair breaks the rules again and, with the aid of his fellow pilots, launches an illegal air strike to free them. ACES is loaded with laughable impossibilities, an utterly predictable ending, bloody violence, and profane language.
Content:
(LL, VVV) Over 25 obscenities & profanities & battle action.
More Detail:
"The man, not the machine," is the philosophy of Air Force Col. "Chappie" Sinclair towards modern air combat in ACES: IRON EAGLE III. When not on duty, Chappie participates in a WWII air show. Chappie is disturbed by the downing of airman Ramon Morales over Columbia. Even more disturbing are allegations that Ramon was flying cocaine. Anna Morales, Ramon's sister, turns up in Texas, having escaped from Peru where her village is held as forced labor for Kleiss, an ex-Nazi pilot supervising drug operations there. Chappie and Anna urge commander Simms to launch an illegal strike in Peru. Simms refuses. Chappie enlists his air show buddies in a plan to attack the base themselves. However, Simms is involved with the drug lords himself and is planning to intercept our heroes. Outfitting their planes with rockets "borrowed" from the base, the aces then cross the border and head south to engage the enemy.
I don't know which is more ludicrous, a head-busting muscle babe, or the notion that four old men flying four old planes can out gun a half dozen super pilots in advanced jet fighters. ACES is loaded with such laughable impossibilities. Needless to say, the ending is utterly predictable and formula silly, not to mention bloody and profane enough to put it out of the reach of children.