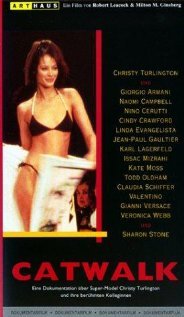 | | None | Light | Moderate | Heavy |
| --- | --- | --- | --- | --- |
| Language | | | | |
| Violence | | | | |
| Sex | | | | |
| Nudity | | | | |
What You Need To Know:
CATWALK tries to tell the story of how models live and work, primarily through its central heroine, the famous Christy Turlington who takes the viewer through three cities, Milan, Paris and New York, for their spring collection fashion shows. The documentary without a strong story angle is boring and shows nothing new than is what generally thought of fashion models.
Content:
(Pa, L, N, A, D) Pagan worldview focussing on self-love; 1 profanity, 4 vulgarities & 1 obscenity; naturalistic nudity with models undressing & models in underwear; alcohol use; and, smoking
More Detail:
CATWALK professes to throw some light on the inner world of the fashion industry, through its central heroine, the popular Christy Turlington. Following Christy through her paces over a three-week period during which she jet-sets to Milan, Paris and New York for work and pleasure, the documentary goes backstage to show the work before the show. It also shows the awe and applause that follow Christy wherever she goes. Throughout the documentary, Christy does not emerge with greater depths than these, showing only a great capacity to giggle and shop. CATWALK also throws in the presence of some of the industry's brightest designers and fellow models as well as some Hollywood stars.
It is a shallow and aimless project that has missed all its cues. CATWALK will be a dismal disappointment. Fawning over the models, and especially Christy, is not enough to make a movie. While the peculiarities of the individual designers make for some fun, the rest of the documentary just seems to follow in the shadow of Christy, who has no earth-shattering insights. Fame, fortune and fans are the order of the day in CATWALK with physical beauty as the commodity that is being sold. God, the creator of all things beautiful, is forgotten, and all that preening and priming in CATWALK has no further dimension than the self which is as shallow as the movie.