"Fight for Life"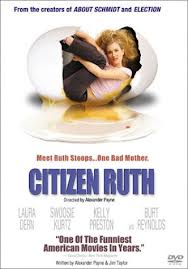 | | None | Light | Moderate | Heavy |
| --- | --- | --- | --- | --- |
| Language | | | | |
| Violence | | | | |
| Sex | | | | |
| Nudity | | | | |
What You Need To Know:
CITIZEN RUTH tells the story of Ruth Snoops who, in the early stages of pregnancy, sniffs toxic vapors. Ruth is told by the court to get an abortion. This gets the attention of a group of Christian pro-lifers, who make Ruth a symbol of their cause, until Ruth goes to a pro-abortion group lead by a lesbian couple who also see Ruth as a powerful message to their cause. As the media catches on to all this, money is offered to Ruth from both sides. Ruth finally wises up to her own cause and schemes to turn the situation to her advantage.
This is a well done comedy, as it battles the issue of abortion. Presenting both sides of the controversy, the movie positions anti-abortionists as godly Christians who pray and sing hymns to support their cause, denouncing abortion as sinful. There are plenty of positive references to God, but there are occasions when the film does poke fun at the Christians "baby-savers." It also shows a seamy, slick preacher. Despite its strong Christian references, the comic satire contains strong language, fornication and profanity. While the film does show two sides to the abortion issue, it does not take a stand, leaving the issue to be resolves through Ruth Snoop's own personal insight and understanding of the issues involved.
Content:
(CC, Ab, Ho, LLL, V, SS, NN, A, D, M) Moderate Christian worldview where Christian anti-abortionist groups fight their crusade, quoting the Bible, pray and sing hymns with some anti-Christian & lesbian elements; 30 obscenities, 15 vulgarities & 13 profanities; mild violence involving anti & pro-life demonstrations, use of guns in threatening situations, car crash where a small boy is hit, & toilet cistern cover hits man on the head; promiscuity, unwanted pregnancies, & 1 actual & 1 implied sexual situation; obscured female nudity; alcohol use & abuse; substance abuse involving hazardous vapor inhalation while pregnant; and, miscellaneous immorality including abortion, parental neglect, fetal abuse, stealing, & lying
More Detail:
In CITIZEN RUTH, Ruth Stoops (Laura Dern) watches the ceiling dispassionately as her lover has sex with her. Then, he throws her out along with her television set, and Ruth takes to the street. Yet, it is not long before Ruth finds her true calling. She finds a can of auto-paint, inhales it and passes out, only to be arrested for the 16th time for hazardous vapor inhalation. When the court finds out she is pregnant, Ruth is also charged for a felony, criminal endangerment of her fetus. She is strongly told by the judge to "take care of the situation." Wailing and writhing in jail, she catches the eye of a Christian women's group, who lead Ruth to the home of godly Christians, Gail Stoney (Mary Kay Place) and her husband Norm (Kurtwood Smith). In their home, Ruth is given food, a room, a bath, and even a hair-do and manicure. They take Ruth to a doctor who shows Ruth the heinous crime she would commit by having an abortion and even give the baby a name, Tanya.
The Stoneys have a bigger mission than just providing Ruth with lodging. They are part of a strong anti-abortion group, and Ruth is a strong symbol of their cause, so it is a matter of time before the media catches onto the story. When Ruth is caught by the Stoneys inhaling again and then hitting their young son, they give up on her and pass her on to another of their group, Diane (Swoosie Kurtz). Unknown to the Stoneys, Diane is actually a pro-choice spy, and together with her lover, Rachel (Kelly Preston), she tries to dissuade Ruth from keeping the baby.
Ruth is now bombarded with propaganda about women's rights where their bodies are concerned. In between, she listens to Diane and Rachel sing to the goddess moon. When Ruth lets the cat out of the bag to the Stoneys about Diane's masquerade, there is literally war, with Ruth caught in the middle.
As the fight between anti-abortionists and pro-lifers takes on national proportions, money is brought into the picture. Anti-abortionists offer Ruth $15,000, an amount that is equaled by a supporter in Diane's camp. Ruth shrieks with glee over this sudden fortune and is oblivious to the warring factions. Instead, she listens to a self-help tape on how to put down money for a house. As the fight between the two camps escalates, Ruth starts to make her own plans to escape being the pawn of either group.
Taking a heavy-handed issue like abortion and making light of it is no easy task, but director/writer Alexander Payne effortlessly spins the story of Ruth Stoops into an entertaining tale. While grains of reality are evident everywhere in the story, the film caricatures without offending. Kurtwood Smith and Mary Kay Place together are delightful — a parody of godly goodness, who show determination for their cause. In contrast, we see a lesbian couple fighting for their cause. Although the fight builds up to gigantic proportions, and there is some use of guns to threaten and some pushing here and there, the film is never mean-spirited and cruel. Everything is done with whimsy.
It is undeniably Laura Dern who holds center stage. Ruth Snoops, who is constantly passing out between inhalation sprees or wailing when she doesn't get her way, is the show-stealer. Playing Ruth to a perfect beat, Laura Dern creates a sympathetic character who finally, and funnily, wises up to her own troubles.
The film has numerous moments of strong and positive references to God and the Bible, with plenty of praying and hymn-singing. It portrays the anti-abortionists as people who turn to the foundation of godly teachings to fight their cause, and who are not afraid to say so. Regrettably, Burt Reynolds as the celebrated preacher Blaine Gibbons hints at having a seamier side to his character. There are moments where the film pokes fun at Christians, along with many profanities. While the film does show two sides to the abortion issue, it does not take a stand leaving the issue open and only resolving it through Ruth Snoop's own personal insight and understanding of the issues involved.
Please direct your comments to:
Harvey & Robert Weinstein, Co-Chairmen
Miramax Films
375 Greenwich Street
New York, NY 10013
(212) 941-3800