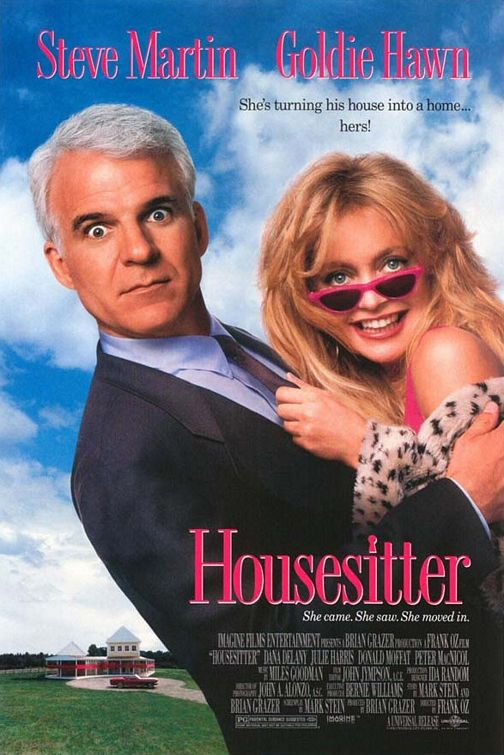 | | None | Light | Moderate | Heavy |
| --- | --- | --- | --- | --- |
| Language | | | | |
| Violence | | | | |
| Sex | | | | |
| Nudity | | | | |
What You Need To Know:
HOUSESITTER is an absurd comic take off on the FATAL ATTRACTION premise: a professional man's dalliance with a stranger leads to constricting entanglement. However, HOUSESITTER is not a tale of terror, but a comedy of errors, as a waitress named Gwen sets herself up in the vacant house of architect Newton Davis and convinces the town that she is his wife. This silly movie unfortunately includes implicit adultery and a somewhat graphic, though unsuccessful seduction scene.
Content:
(LL, S, V) 6 obscenities, 7 profanities & crude references; implied one-night-stand and somewhat more graphic, although comic, seduction scene (no nudity); man strikes man in the nose; pseudo-psychologist priest offers inept marriage counseling; and, constant comic treatment of lies and deception.
More Detail:
HOUSESITTER is a comedy of errors where a lie grows to outrageous proportions and alters the lives of its authors. Newton Davis (Steve Martin) is an architect who builds a beautiful house to get Becky to the altar. When she rejects him, he has an affair with a waitress named Gwen (Goldie Hawn). However, feeling guilty, he leaves in the middle of the night. Miffed, Gwen travels to Newton's home town, where she sets herself up in his vacant house and poses as his wife. She impresses the shopkeepers, Becky and Newton's parents. With Newton's mother, she furnishes the house. However, as irritated as Newton is when he drops by the house, he realizes that the bogus marriage has some benefits: it has restored communication with his parents and has sparked a new interest in Becky. So he strikes a deal with Gwen: they pretend to be unhappily married until Newton can win Becky. This farce takes on a life of its own, as agendas collide.
Only in the movies could such a scam result in a happy marriage. Other problems with HOUSESITTER include Gwen's initial seduction of Newton, and an attempt by Newton to seduce Becky, which Becky stops before it gets too far. On the other hand, HOUSESITTER is a silly, fun movie, typical of Martin's recent "mature films."