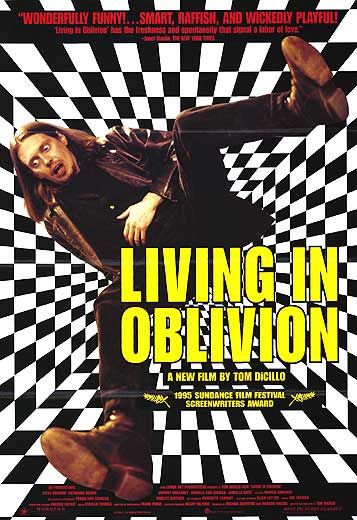 | | None | Light | Moderate | Heavy |
| --- | --- | --- | --- | --- |
| Language | | | | |
| Violence | | | | |
| Sex | | | | |
| Nudity | | | | |
What You Need To Know:
Nick Reeves is an independent filmmaker in New York City. He has a project, but he only a limited budget to make his film. This is a story of his dream and the dreams of the crew. Though potentially inspiring, it shows the brutal conditions of a low budget film by including angry foul words and some nudity, which is common in seedier pictures.
Content:
(Ro, LLL, V, NN, M) Idealistic worldview; 38 obscenities (hard) & 1 profanity; minor violence including fighting scenes; 2 topless woman lying on bed; and, some smoking.
More Detail:
In LIVING IN OBLIVION, Tom DiCillo wants to tell us the difficulties of being a director. As Nick says in the movie, "In the graduation of my film study, my teacher told me to go teach Spanish in a woman's school. You can't make a film." Ignoring this advice, Nick battles onward and makes a low budget picture. As the director, Nick acts like a mother, a social worker, a psychaitrist, a business man and an artist. Throughout it all, this movie tells us a lot about the things that happen behind the screen. We discover the inter-relationships of all of the crew members from the director down to the production staff. The plot hangs loosely on lead actor Chez and his desire to gain access to Quentin Tarantino through director, Nick. Most of all, the dreams of each individual are realized as they hope for greater success in the film business.
Every minute of LIVING IN OBLIVION is full of fun. Film students and film makers will particularily enjoy this picture and relate to familiar experiences. It may inspire dreams of film making or warn others to stay away from it. Ultimately it tells of lost dreams and missing the mark. Caution should be advised as this film does contain many obscenities and some brief nudity.